Recently, Starbucks stock (NASDAQ:SBUX) has experienced a bit of a sell off, falling roughly 6.7% from its recent 52 week high of $82.50. The company beat bottom line earnings estimates in November, however narrowly missed top line estimates, which appeared to have sent the stock into a choppy sideways pattern. Later in December, a research note by ITG Investment Research suggested that same store sales in the Americas might be slowing, sending the stock into a quick decline. Since the report, the stock has moved below its 50 day moving average and just as it seemed investors might have been buying the dip, the stock could not find enough momentum to break back above that same moving average. I went back and looked through the earnings release, and as I cannot completely refute ITG's claim, I do not exactly see it as a major reason for investors to continue selling the stock, but rather a reason some investors may want to consider buying.
Fiscal Year 2013 and Q4 Highlights
Let's first take a quick look back at the company's Q4 fiscal results and 2013 full year results. The quarter enjoyed a 37% year-over-year surge in earnings per share (NYSEARCA:EPS), rising to $0.63 per share from $0.46 per share during the same period in 2012. Full year 2013 EPS came in at $2.26 per share, up 26% from 2012 results. Global comparable store sales grew at 7% for both the full year 2013 measurement and the most recent quarter. Q4 revenue came in at $3.8B, barely meeting or missing most analyst estimates. Revenue for 2013 was up 12% at $14.9B while operating income was up 23%: influencing a 150 basis points increase in operating margin for the year. The company also opened over 1,700 new stores, bringing its total store count to 19,767 stores across the globe. Moreover, the company created significant shareholder value, returning near $1.2B to shareholders through the purchase of 10.8 million shares of common stock and dividend payments. The company can still purchase roughly 26 million shares as part of its current share repurchase program.
Looking through Starbucks' 2013 income statement, one thing that stood out to me was the rate at which its store revenues grew in comparison to store operating expenses. Global company-operated stores and licensed stores grew 11.9% and 12.4%, respectively, while store-operating expenses only increased by 9.4% since 2012. The company mentions in its earnings release that in various territories, store portfolio optimization efforts had aided in lowering costs along with increased sales leverage and lower coffee costs. Portfolio optimization efforts include an increase in licensed stores in the European region, reducing costs for the company as only company-owned stores incur day-to-day operational expenses. As the company expanded through 2013, total net revenues increased by 12% to $14.9B while total operating expenses increased 10.2% to roughly $12.7B. While I believe the margin between operating costs and revenues will continue to widen in the long run, the current margin still serves as a useful measurement to quickly gauge the success in scalability Starbucks has had through expansion.
Further, 2013 operating income increased in nearly every global region for the company. Emerging segments for Starbucks was the only region to post an operating loss, which was attributable to increased investment spending in those regions. Below is a table of 2013 operating income percentage growth, segmented by region.
| | |
| --- | --- |
| Region | Operating Income (loss) percentage growth |
| Americas | 17.10% |
| Europe | 844.10% |
| China / Asia Pacific | 27.20% |
| Channel Development | 22.10% |
| Other Segments | -25.90% |
2014 Targets and Brief Outlook
Below is a table of the company's 2014 fiscal targets.
| | |
| --- | --- |
| Revenue Growth | 10% or Higher |
| Global Comparable Store Sales | Mid Single Digits |
| Operating Margin Improvement | 150 - 200 Basis Points |
| EPS | $2.55 - $2.65 |
| New Stores | 1,500 |
Taking a look at the above-mentioned numbers, I don't see a business that is in trouble, but rather a growing company that is financially stable. Starbucks has a bright future ahead of it, and contains a variety of catalysts that I think will continue to help the stock move higher through the next year. There is a reason many people recognize the long lines often in place at locations around the world, and this is another company, similar to Nike (NYSE:NKE), that enjoys incredible consumer loyalty.
In addition, as of last month we witnessed the unemployment rate creep down to 7% and the Michigan Consumer Sentiment Index finally move back up to levels seen prior to the September government shutdown. This reflects a slightly better economic and consumer picture, which I think is pivotal for consumer discretionary names such as Starbucks. The company is not narrowing sights either: as it plans to open nearly 1,500 stores worldwide in 2014, including a joint venture location in Columbia. Columbia was the 4th largest global exporter of coffee beans in 2013 and thus entering this market may be an interesting development to watch for Starbucks.
As 2014 continues, growth in Teavana stores along with growth in the La Boulange pastries brand should continue to materialize and help support the stock. The Evolution Fresh juice brand should also have a similar effect: in part due to the new state-of-the-art juicery that was recently opened to help increase its innovation and distribution capacity. The recent dispute between Starbucks and Mondelez (NASDAQ:MDLZ) has also been settled; and although the company was ordered to pay $2.79B to Mondelez, I am under the impression that the adverse effect of that news has already been priced into the stock.
Valuation
From a valuation perspective, Starbucks stock is not cheap; however as the company focuses on expansion, the premium paid is for future growth. The stock opened today at $76.65, and using this price along with the company's 2013 EPS of $2.26, I calculated a Price-to-Earnings (NYSE:PE) ratio of 33.87 for it. According to Morningstar Investment Research, this value is higher than both the industry average PE ratio of 28.7, and that of the S&P 500, which is currently 18.6. Another measure I always consider before an investment is a company's price-to-cash flow (NYSE:PCF) ratio, which is currently 20 for Starbucks. The industry PCF ratio is currently 5.5 and the S&P 500 sports a PCF ratio of 11.2. Clearly Starbucks trades at a hefty FCF multiple premium to the broader market and its industry, forcing investors to decide if this premium is valid.
For most stocks, I believe relative valuation is essential. However, I find it difficult to find companies that share similar business models and operate at the same scale as Starbucks. I have read reports comparing Starbucks to McDonald's (NYSE:MCD) or Chipotle (NYSE:CMG), yet I find that each of these companies incorporate a much different core business to their respective growth, and so I chose not to use such comparisons. Dunkin Brands (NASDAQ:DNKN) is one company that I cautiously use for a more general valuation comparison as its core business incorporates coffee based drinks and baked goods. Dunkin Brands currently trades at a PE multiple of 36.6 and a PCF multiple of 31.4: considerably higher than the market, its industry and Starbucks.
Similar to Dunkin Brands, Starbucks' fairly high PCF multiple may be of concern to some investors. Yet as the company continues to expand locations around the globe, free cash flow should not be expected to grow rapidly, if at all: aiding in the inflation of the PCF multiple. The company also increased its pay out ratio (NYSE:POR) in 2013 from 35% to 45% which will eat into its free cash flow generation, also contributing to the inflated PCF multiple.
Investors should also be aware that the company can still purchase 26 million shares as part of its share repurchase program. This could lift the stock higher and in turn increase valuation multiples. Lastly, the stock currently has a beta of 1.15, higher than the market beta of 1. Investors should take note of this metric as we navigate through the uncertainty of the market this upcoming year.
Potential Trade Strategy
Below is a 6-month chart of the stock that will be helpful in understanding my potential trade strategy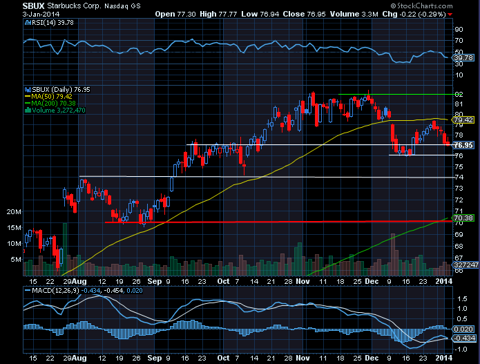 I am very bullish on Starbucks' future outlook, however the above chart warns me that a continued decline in the stock should come as no surprise either. The recent price fluctuations in the name should not worry long-term investors, but trade opportunities could be present, if risk is defined. That being said, I want to take a position that could express my bullish views on the stock while still limiting my downside risk. To do this, I am looking into a bullish options risk reversal trade: buying an out of the money call and simultaneously selling an out of the money put with the same expiration.
I am currently looking for the stock to hold around the $76.95 level, which is where the stock closed last Friday and also where I have a support line drawn in above. If shares can hold this level, bounce and find momentum through the 50 day moving average, then I am inclined to think that shares may be heading considerably higher; however, just simply looking at the chart, the stock could easily trade lower to my next support level drawn in at $76, or even lower to $74. The bold red line below, is the last support level I think the stock could potentially trade down to: reflecting a move to its current 200 day moving average and a 9% decline in the name. I don't anticipate a major decline of that sort occurring, however if it does, I would be more than willing to own shares at that price point. Keeping that in mind, I would like to structure a trade for a move back to the stock's 52 week high, reflecting a 6.5% move higher to the $82 range.
To do this, I am looking to buy the March 80 calls for around $1.89 and sell the March $72.5 puts for around $1.44, giving me a net debit of $0.45 per option in my account. If the underlying stock trades up to $82 before expiration, I am looking at a 3.4/1 return to risk ratio. This scenario would allow me to profit $1.55 per option before transaction costs, while only risking $0.45. If the stock were to decline beneath the $72.5 level, the shares in each option contract would be put to me; I would happily own them there, and could continue selling out of the money calls against my shares to generate income. That would be a decision for later, but is certainly something to consider depending on the stock's price action at that point in time. If the stock was to trade somewhere between the $72.5 and $80 range at the time of expiration, both the calls and puts would expire worthless, leaving me with a net loss of $0.45 per option before transaction costs.
The options market can provide an excellent method to find exposure to the stock while limiting risk, however it is crucial that you understand the structure and potential loss of your trade before taking a position. I want to highlight that the above described trade is a speculative one by nature and that I may or may not execute it.
Disclosure: I have no positions in any stocks mentioned, but may initiate a long position in SBUX over the next 72 hours. I wrote this article myself, and it expresses my own opinions. I am not receiving compensation for it (other than from Seeking Alpha). I have no business relationship with any company whose stock is mentioned in this article.