Micron Technology (NASDAQ:MU) reported great Q1 2014 results yesterday and shares are 7% up in after-hours trading as a result. Micron's Q1 2014 net sales rose to $4.04 billion vs. $2.84 billion in Q4 2013 (an increase of 42%) and $1.83 billion in Q1 of fiscal 2013 (a jump of 120%). At the same time Micron's gross margin skyrocketed to $1.28 billion in Q1 2014 compared to $708 million in Q4 2013 (a plus of 81%) and $217 million in last year's quarter (a whopping plus of 490%). Operating and net income levels showed a major turnaround, too: Micron's operating income for the first quarter 2014 stood at $551 million vs. $207 million in Q4 2013 and ($97) million in Q1 2013. Net income came in at $358 million compared to $1.71 billion in the prior quarter and vs. a massive loss of $275 million in Q1 2013. Micron's fourth quarter 2013 gain of $1.71 billion included a distorting, non-recurring $1.48 billion gain on the Elpida acquisition which implies an ex-Elpida net income of $224 million. I have previously argued that the bargain purchase acquisition of bankrupt Elpida could be a substantial catalyst for Micron's EPS growth and I expect more positive surprises in the coming quarters.
Strong growth in adjusted earnings
Adjusting for a variety of extraordinary items such as the acquisition gain for Elpida, the Rambus (NASDAQ:RMBS) settlement, Elpida's inventory step-up and other non-recurring effects, Q1 2014 non-GAAP net income hit $881 million: A plus of 178% compared to last quarter where non-GAAP net income stood at $317 million. Adjusted diluted EPS for the most recent quarter climbed to $0.77 which compares to $0.29 in the prior quarter (an increase of 166%). Diluted GAAP EPS came in at $0.30 vs. $1.51 in the fourth quarter 2013. About $1.31 of the reported $1.51 in Q4 2013 EPS is attributable to the Elpida acquisition.
Business unit performance
The chart below summarizes and compares Micron's business unit results for the first quarter of fiscal 2014 and fourth quarter of fiscal 2013. Not only did sales and operating income increase across the board, but Micron also achieved much operating margins with the exception of ESG. The turnaround in WSG is particularly noteworthy.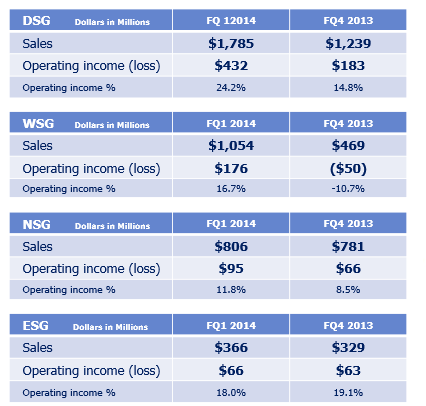 Possible upgrades in light of Q1 2014 performance
Roth Capital increased its price target for Micron from $21 to $25 per share. Needham still has a $30 price target on Micron although the investment bank might very well adjust its outlook on the stock after Q1 2014 results. Micron currently trades at still less than 10x forward earnings despite outstanding quarterly performance. I expect other brokerages to come forward in the next couple of days to deliver upward adjustments for Micron's target prices.
Share performance
After a short and healthy correction at the end of December, Micron has received new impulses from its Q1 2014 results. Shares are up more than 200% over a trailing twelve month period and ongoing momentum could give shares even more room to edge higher. It is likely that Micron's quarterly results will attract new buyers which previously weren't convinced with respect to the acquisition and integration of Elpida.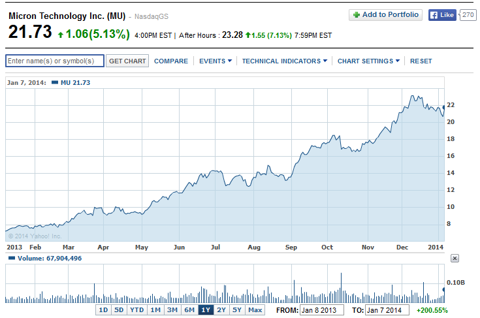 Conclusion
Micron couldn't have presented better results. Revenue, operating income, net income and EPS all increased markedly in the first quarter of fiscal 2014 and its looks that the Elpida transaction is paying off for Micron. Not surprisingly, shares are up substantially in after-hours trading and I expect continued short-term momentum for the shares. Many investors are still negative when it comes to memory chipmakers. DRAM prices have rebounded quite significantly over the last year and industry consolidation could provide further boots to company profitability. Micron definitely has raised the bar and has shown investors that strong turnaround results can be achieved in a highly competitive industry. Strong, long-term BUY.
Disclosure: I am long MU. I wrote this article myself, and it expresses my own opinions. I am not receiving compensation for it (other than from Seeking Alpha). I have no business relationship with any company whose stock is mentioned in this article.