Pandora (NYSE:P), the Internet radio service, reported its listener metrics for December. While the total number of active listeners has increased, year-over-year rate of growth continued to decline: from over 30% in July to 13% in December.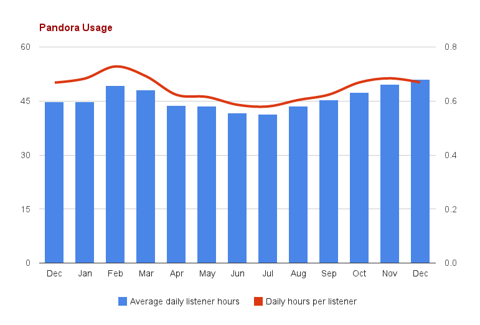 A growth rate of 13 percent is a respectable number for most companies, but not for the high-flying Internet stock like Pandora. Investors cheered the news regardless, sending the stock up 15%. They seem to be relieved to see the company survive the debut of iTunes Radio a few months ago. This reaction would have been understandable for a struggling company with its share price at all-time lows, but Pandora is valued at $6.5 billion - 10 times its current revenues, so merely surviving the emergence of a new strong competitor is not enough to justify its valuation.
With the user growth slowing down considerably, and the average hours per listener unchanged for the last two years, it is becoming increasingly clear that any growth in Pandora's revenues may come only from the higher ad rates. The company did make progress in that regard over the past year, mainly by opening multiple offices across the country and going after smaller "local" budgets. Hiring hundreds of new salespeople is a sure way to boost revenue, but it remains to be seen if this is a profitable business model. So far, a substantial growth in ad revenues was only enough to bring the company closer to the breakeven line - the company still lost $1.7 million in its most recent quarter. Currently Wall Street analysts expect the company to make $0.27 per share in 2014, which means that after the Monday's surge the stock trades at over 110 times forward earnings. December audience metrics provided no new data points to change these expectations - or to justify the stratospheric valuation of Pandora.
Insiders seem to understand how crazy the current valuation is. Most of them started selling their shares when the price was still below $10. Needless to say, they continue to sell at an increasing pace as the stock continues to hit new highs. Investors will be well-advised to follow their lead and to lock in their gains before this bubble bursts.
Disclosure: I am short P. I wrote this article myself, and it expresses my own opinions. I am not receiving compensation for it (other than from Seeking Alpha). I have no business relationship with any company whose stock is mentioned in this article.