The Commerce Department reports that, despite the inclement weather in many parts of the country during February, retail sales saw broad-based gains, up 0.3 percent on a seasonally adjusted basis following a gain of 0.1 percent in January.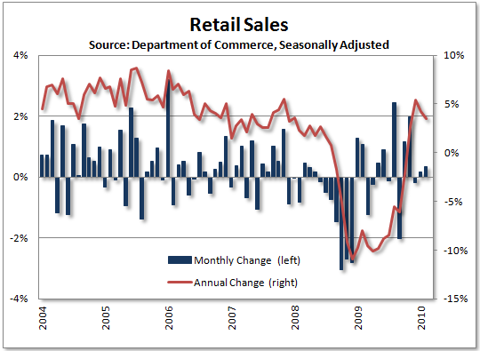 This marks the fourth increase in the last five months and, on a year-over-year basis, sales are now up 3.5 percent in what looks to be a return to the pre-2008 pattern, however, February retail sales are now at about the levels seen in 2006, about five percent below the peak level sales seen in 2007 and 2008 in a data series that naturally rises with population growth.

Data for previous months were both revised downward, turning the originally reported decline of 0.1 percent in December to a loss of 0.2 percent and the January increase of 0.5 percent was lowered to 0.1 percent.

February gains were paced by a 3.7 percent increase in sales at electronics and appliance stores while miscellaneous retailers, grocery stores, and sporting goods stores saw strong gains as well. Auto sales fell 2.4 percent in February after a drop of 1.7 percent the month before.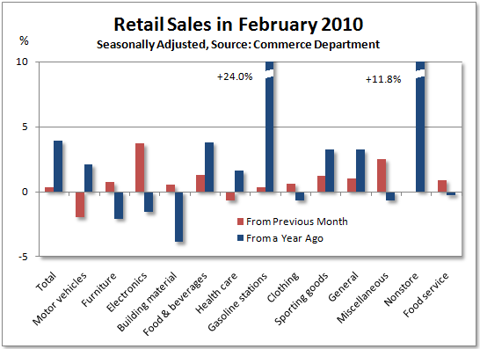 Excluding autos, sales rose an impressive 0.8 percent after a gain of 0.5 percent the month prior. Gasoline station sales rose just 0.3 percent in February and, excluding both autos and gasoline, the monthly gain was 0.9 percent, following a 0.5 percent increase in January.