Infosys (NASDAQ:INFY) reports 3Q 2013 earnings before the open on Friday, January 10, 2014. Infosys finished 2013 with impressive 33.81% gains after experiencing sharp moves last year. During the recent earnings report, the company tightened its outlook for fiscal 2014 and now expects top-line growth of 9%-10%, versus 6%-10%. For the December quarter, analysts expect Infosys to earn $0.75 a share on revenue of $2.09 billion. Projected EPS growth for the next 3 to 5 years is 12.50%, lower than 13.85% growth expected for the IT services industry.
During the last 3 years, revenue grew by 15.5%, operating income rose by 9.35% and net income rose by 9.52%. Figure 1 highlights year-over-year change in revenues, operating income and net income since 2005.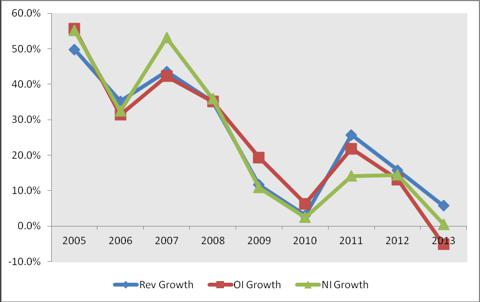 Figure 1. Y-o-Y Growth in revenue, operating income & net income (Source: Morningstar)
The company is expanding its current product portfolio to include low-end business process outsourcing services. These growth opportunities are creating headwinds for preserving the pricing power. Figure 2 highlights the declining trend in operating and profit margins since 2010. Management is trying to preserve a fine balance between revenue growth and operating margins. Last year, there were several management changes including the return of its co-founder.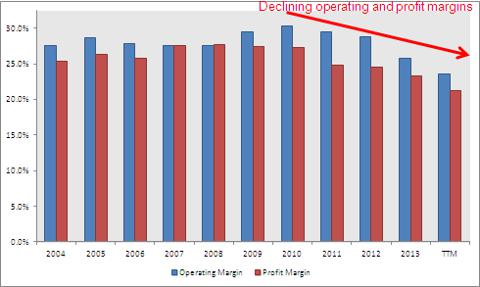 Figure 2. Operating & Profit margins since 2004
Valuation
The growth story for Infosys in future is the improving global economy and acceleration in IT spending. The company is also expanding its presence in Europe and Latin America to insulate its business exposure to the US market. Reinvestment needs of the business have outpaced the revenue growth since 2010 as presented in Figure 3. Even though the firm enjoys a strong customer base, and scale -upholding pricing power will be a challenge in future. Rise in employee related expenses, higher marketing costs and rising competitive threats will depress the margins for the company in future.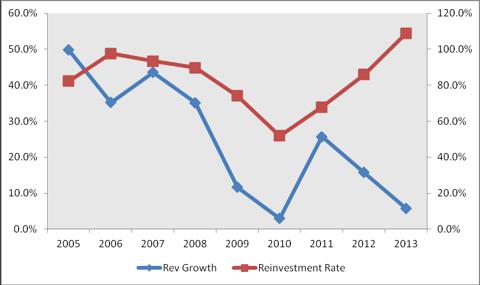 Figure 3. Revenue growth and Reinvestment rate
Risk resides in the future growth for this company. Investors need to be aware of the price they are paying for future growth. A reverse DCF model can help in finding what market inferred growth rate is. Isolating value of existing assets from the market price yields growth premium built into the stock price. Using a cost of capital of 15.6%, we estimate the value of assets in place, and the price we are paying for growth.
| | |
| --- | --- |
| Value of assets in place | $22.83 |
| Price you are paying for growth | $34.25 |
Growth premium stated with price earnings ratio is the difference between ttm P/E and P/E ratio for existing assets. Current trailing twelve month price earnings ratio for Infosys is 19.1.
PE for existing assets = 7.47
Growth Premium = Actual P/E- P/E for existing assets = 19.1-7.47 = 11.65
At current price levels, Infosys needs compounded growth rate of 44.5% in operating income for the next 5 years. Excellent customer relations, strong delivery model, and leading market position has enabled the company to earn excess returns on capital invested. Median return on invested capital for Infosys since 2003 is 33.8% against cost of capital of 15.6%. These returns show quality growth created and value creation for shareholders. With these reasons accounted for, my fair value estimate for Infosys is $43.5 (implying operating income growth of 32% over the next 5 years).
Stock Movement on Earnings Events
Infosys historically has shown volatile movements after the earnings release. Stock has moved close to 8.2% on an average after earnings release for last 12 quarters. Table 1 below presents the implied volatility levels for first two months before earnings, expected volatility crush after earnings release, stock and at the money straddle performance.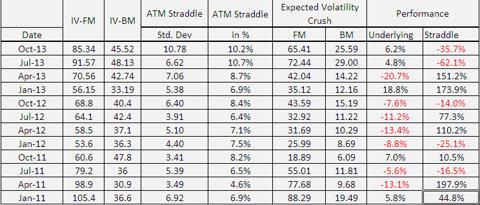 Table Implied volatility levels, straddle pricing, stock and straddle performance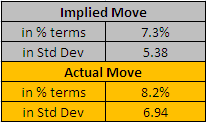 Table Implied and actual move in stock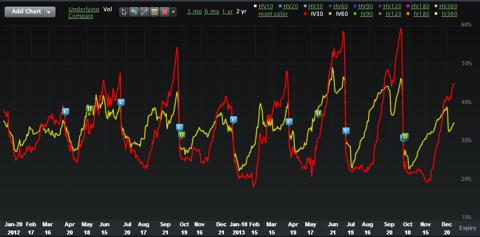 Figure . 30 and 60 day implied volatility levels (Source: Livevol Pro)
At present, the options market is pricing a move of 8.3% in the stock (Close to 12 quarter average move). 30 day and 60 day implied volatility levels shown in figure 4, presents options as fairly priced.
With fair value estimate of $43.50 (22.3% below market price), and reasonably priced options - investors should hedge their gains in the stock before earnings.
Disclosure: I have no positions in any stocks mentioned, but may initiate a short position in INFY, over the next 72 hours. I wrote this article myself, and it expresses my own opinions. I am not receiving compensation for it. I have no business relationship with any company whose stock is mentioned in this article.