PIMCO's High Income Fund "PHK" has received a significant amount of negative publicity on many market newswires and on Seeking Alpha. This article will be one of several articles tasked to investigate PIMCO's holdings and to determine how risky they actually are, instead of how risky they appear to be to the average investor. Before jumping into the credit quality of PHK's portfolio, PHK is made up of 98.31% Bonds, 7.47% Cash, and 5.79% Other. The 98.31% of Bonds will be the focus of this investigation.
On a high level (taken from PHK's Semi-Annual Filings - 09/30/2013 Unaudited), PHK's Credit Quality is the following (based on Moody's Ratings as a % of total investments): 20.6% AAA, 11.6% Aa, 7.9% A, 14.3% Baa, 3.8% Ba, 2.2% B, 15.3% Below B, and 22.9% Not Rated. At first glance, that has to be alarming to the average investor, but the reality is, BBB or lower bonds and "not rated" bonds do not necessarily mean that they are not good investments (this is where many people mix up their view of PHK's creditworthiness), and take general note, BBB or BB bonds are not necessarily considered "low quality" from a business operations perspective. I would refer to them as not of highest quality rather than low quality since a substantial amount of primary issuances by American investment banks are rated as BBB, or BB, due to the complexities in the underwritings/deals, which are primarily driven by the requests of their clients to securitize/raise capital/underwrite/etc. Key takeaway here is, just because a portfolio consists of credit quality bonds that aren't A or higher, does not mean you are investing in an unpredictable asset. Furthermore, PHK's bonds aren't as risky as the average investor may think.
Now, to address why some bonds may not be rated in the PHK bond portfolio. PIMCO is known to be the bond king on The Street, with access to any and/or all primary issuances in the Americas (fixed income related, mainly), and the acquisition of "not rated" paper isn't necessarily "not rated," but either no rating has been requested or there is insufficient information on which to base a rating (source: all credit rating companies' websites). Since PHK actively manages its bond heavy portfolio to seize market opportunities (with an annual portfolio turnover of 70%), is it that surprising that the big bond managers decided not to sit on the sidelines and act on a profitable investment if there was no rating requested or that the rating agencies had insufficient information on which to base a rating? Probably not. Like every top investment manager, in-depth diligence is made for a variety of comparable investment vehicles before the bond is even offered on the market and an investment opportunity is then executed to capture the alpha-driving opportunity with risk-adjusted foresight. That being said, my point here is PIMCO portfolio managers know what they are doing.
So, if the last paragraph was very theoretical/hypothetical, let's take a deeper dive into the actual bonds listed on their most recent Semi-Annual Report and Morningstar's website. Here is a list of the top 5 holdings in PHK's most recent filing in descending order by portfolio weight: Lloyds Tsb Bank 144A FRN (5.09% weight), Nota Do Tesouro Nacional Notes 01/21 10 (4.25% weight), FNMA CMO (3.53% weight), New York NY City Transitional Fund 5.932% (3.16% weight), Verizon Common 6.55% (3.14% weight), and Farm Cr Bank Tex Preferred (2.94% weight). The top five holdings make up roughly 21% of the entire portfolio, and cater the most risk on the entire fund if they each individually perform terribly. As a sophisticated investor, analyzing each company's bond paper is probably the most thorough approach to determining if PHK is a bullet proof investment, however, the average investor will probably not churn through hundreds of various bonds, with various ratings, to determine the risk/reward of their investment in PHK.
To briefly review one of PHK's bond holdings, let's look at Lloyds Bank which makes up 5.09% of the portfolio (the largest bond in the portfolio), yielding 12% per year, expiring on 12/16/2024. Lloyds Bank "LYG" is a British retail bank with branches across England and Wales, and is considered one of the big four clearing banks. It's been around since 1765, so based on their strategic objectives and most recent filings, Lloyds seems like a fairly stable bank operating in one of the fastest growing banking services: Securities Clearing (which is now required by European Laws and Basel Accords in Europe and their counterparts). With growing business, that yields little risk (OTC clearing), it is fairly unlikely to see the Cash Flows of this bank to be disrupted, and therefore, default on paying out distributions to PHK (which later pays out to PHK investors). Now, it turns out that PHK's investment in Lloyds Bank is "144A-Exempt from registration under Rule 144A of the Securities Act of 1933. These securities may be resold in transactions exempt from registration, typically only to qualified institutional buyers. Unless otherwise indicated, these securities are not considered to be illiquid (source: PHK's semi-annual filing)," and "All or partial amount transferred for the benefit of the counterparty as collateral for reverse repurchase agreements," meaning, there is a good chance that this investment in PHK's portfolio is one of the unrated securities. When running a similar exercise for PHK's bonds, similar findings are found: PHK's bonds and investments aren't as risky as the average investor may presume. That being said, in-depth due diligence is required for all bonds in PHK's portfolio for sophisticated analyses.
Betalyst View: It would require some serious resources to gage absolute accuracy of PHK's performance on all underlying assets to guarantee risk-adjusted returns. However, I will say that I strongly believe PHK is a great investment that offers substantial yield to an income portfolio, consistently, and that historical performance is a reflection of how future performance looks.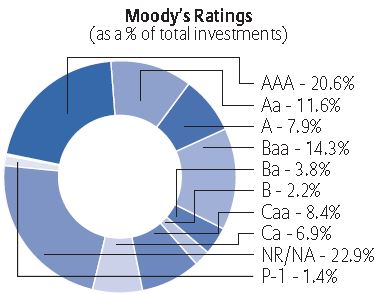 Disclosure: I am long PHK, . I wrote this article myself, and it expresses my own opinions. I am not receiving compensation for it (other than from Seeking Alpha). I have no business relationship with any company whose stock is mentioned in this article.