Forbes has declared Mexico's telecom billionaire Carlos Slim the world's richest man, beating out Bill Gates by a nose. What's good for Slim should be good for the little investor, right? Not so fast. I would rather go for the land of Lula instead - Lula da Silva's Brazil that is. It seems a much better investment.

Take a look at the 10-year return history of the two countries. For the sake of comparability and investability, I used prices for the iShares ETFs on Mexico (ETF: EWW) and Brazil (ETF: EWZ) respectively. I threw in the SPDR S&P ETF (ETF: SPY) as a benchmark.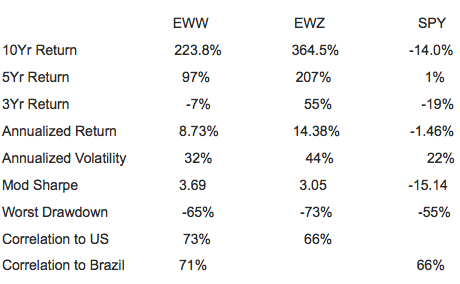 Here's a chart of the same.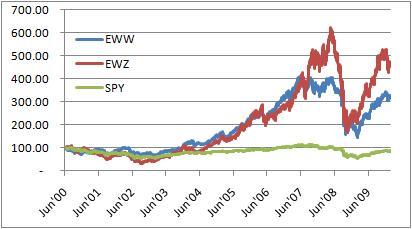 Over the last 10 years, Brazil beat Mexico on absolute returns, with slightly higher volatility. It's easy to see why when looking at their economies, because Brazil comes out stronger:
Stronger GDP growth rate this year and next: high 4% versus low 3%

Lower inflation: 4.7% vs 6.3%


Small trade surplus vs. Mexico's deficit
Both have budget deficits that are manageable relative to their GDPs: -3.4% for Brazil and -1.6% for Mexico. Finally, regarding their yield curves, absolute rates are high - in keeping with the higher GDP growth - but both are positively sloped, which is better than being inverted.

| | | |
| --- | --- | --- |
| | 3 Mth | 10 Yr |
| Brazil | 9.42% | 12.97% |
| Mexico | 4.49% | 7.49% |

Other positives for Brazil:
government committed to low inflation and sensible policies

prudent banking regulations and mostly local borrowings protect local banks from failure

growing middle class, now more than 50% of the population for the first time ever

2016 Olympics will spur investment (thought the post-Olympic headache might be painful, as Greeks can attest to).

strong interest from foreign direct investors

Mexico also has a stable banking system (a benefit of the Tequila crisis of the mid-90s), and inflation and interest rates are under control. But Mexico has been the laggard of Latin America, both equity returns and economic growth, for several reasons.
Mexico heavily depends on oil revenues even as oil production is falling, down to 2.6 million barrels per day recently from 3.4 million in 2004. The narrow tax base and the government's unwillingness to expand it have led to persistent budget deficits. A bloody drug war scares foreign investment and consumes government attention and money. Last but not least are the monopolies: a major reason why Carlos Slim is the world's richest man is that Mexico is dominated by monopolies that restrict competition.

Until Mexico resolves some of these issues, Brazil will be the preferred destination, both for investors and Carnaval revelers.

Disclosure: Long EWZ, no positions in EWW or SPY (Long IVV)