In one of my recent article, I discussed companies that have remained long term players in the industry despite challenges. Just like Intel or IBM, Coca-Cola (NYSE:KO) needs no introduction. Their flagship product Coke retains a 17% market share in the US and 23% worldwide. The company has been able to add nearly $9 to its current stock price of $40.7 over the last three years. The price chart bellows shows the upward trend.

Source: Morningstar
During its latest quarter the company saw volume growth (2%) for the 25th consecutive period resulting in revenues of nearly $12 billion. Excluding the impact of structural items, the company generated comparable currency neutral net revenue growth of 4% with 2% coming from favourable price mix.
Diluted EPS increased 8% year over year to $0.54 with dividends increasing by more than 10% to $0.28. Clearly, the fact that consumers are shifting to healthier choices has not had a significant effect on volume or price. If we exclude the fact that Coke is the major brand that Coca Cola sells its beverage (tea, juices, water) volume still grew by nearly 5% along with favourable price mix.
The company has been able to outperform the industry with regards to return on assets, equity, and margins.

Source: Morningstar
So what drives this volume growth and will it be continue into the future? I believe so. Now let us discuss how the company manages to stay ahead and maintain its strong presence in the market.
Coca Cola Effectively Targets the Right Market
China
China is one of the markets that Coca Cola is targeting. Last October, Coca-Cola opened its 43rd plant in China. The new plant represented a $106 million investment from the $4 billion investment plan the company is implementing and is expected to complete this year. The location has a population of 72 million and per capita GDP of $5,259. It has delivered double-digit cumulative average annual growth since 2008 which makes this area within China one of the most important growth markets. The company has been generating volumes in the country on a quarter over quarter basis as well. This expansion will further contribute to sustaining the future growth of the company.
India
Similar to China Coca Cola is emphasizing its focus on India. India possesses a huge opportunity for whichever company decides to operate within that economy. That's the reason why the country has seen an influx of foreign companies such as Google increasing their presence within. Indians, on average, consume only 12 eight-ounce bottles of Coke a year compared with 230 in Brazil and 92 bottles globally so there's a huge potential to tap into. Coca Cola plans to invest $5 billion by 2020 in an attempt to make Coke India's favorite drink. This plan comes in a period where India's volume growth dropped to 6% and 1% respectively in the last two quarters down from double-digit growth experienced last year. I believe this a strong counteractive move that the company has established to offset declining volume growth and that will allow the company to sustain moderate growth.
Coca Cola's Marketing is the Reason For its Success'
The main reason behind the volume growth experienced by Coca Cola is its marketing strategy. Coca Cola's effective marketing has not only allowed the company to become the market leader but has enabled it to stay market leader as well. Going back two years, Coca Cola bought Parle's four leading soft drinks brands, Thums Up, Limca, Gold Spot and Maaza, giving the company an instant 60% share of the Indian soft drink market. At that time, rival PepsiCo held a less than 30% market share. The Parle acquisition not only gave Coca-Cola market share but also a nationwide bottling and marketing system on which to supplement the selling of its own brands.
With regards to China, the company has invested heavily in advertising and sponsorship. It was the first international company to sponsor both the Beijing Olympics and the Shanghai World Expo. In July, Coke introduced its "nickname bottles" promotion continuing from last year's 300ml mini-packs. These were introduced in response to research that indicated that Chinese consumers preferred this style of packaging.
Quantifying the Prospects Coco Cola Offers Upside of 23%
I have offered justification to explain how Coca Cola maintain its lead in the market through its marketing and smart location selection. To determine the numerical value of the rise in value of share I will run a DDM on Coca Cola. It is important to note that I have been conservative in my analysis. I have assumed a modified pay-out ratio below the actual figure between 2008 and 2012. Moreover, my growth estimate is below analysts' consensus estimates. Bearing this in mind my model provides an upside potential for Coca Cola of 22.35%.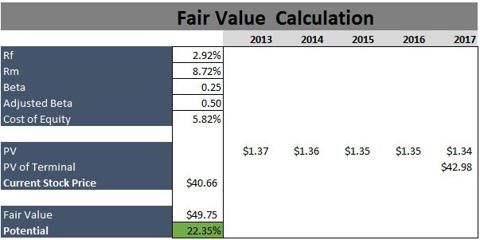 Bottom Line
We are at least sure that in medium terms Coca Cola will offer high returns. I believe that the price trend I discussed above will continue amidst an era where consumers are shifting towards healthier options. This is because I personally do not believe that if consumers become health conscious the amount of Coke consumed will decline to a material extent. This is because Coke's brand loyalty is significantly high and that's why the company has maintained its strong market share over the years.
To sum it all up, Coca Cola presents itself as a good investment opportunity. The ongoing expansion and advertising campaign convinces me that it will be able to sustain its returns and the share price confirms my belief. Therefore, I recommend buying the stock.
Disclosure: I have no positions in any stocks mentioned, and no plans to initiate any positions within the next 72 hours. I wrote this article myself, and it expresses my own opinions. I am not receiving compensation for it (other than from Seeking Alpha). I have no business relationship with any company whose stock is mentioned in this article.