Owners of Mechel (NYSE:MTL) ADRs are paying 20% more for their ownership stake in the company than what they could be paying in Moscow.
The ADRs are seemingly ignoring the "home" price in Moscow, and dancing to their own tune.
Aside from giving the ADRs a small (maybe 2% at most?) premium for the convenience of trading a NYSE-listed stock that trades in US Dollars and not Russian Rubles, there should not be such a large discrepancy between the price of the Moscow-listed shares and the ADRs listed on the NYSE.
Current valuation
Mechel's shares closed at 65.00 RUB on 6 January. Using the exchange rate of 33.24, the USD-equivalent close in Moscow was 1.96 USD.
However at 9.48 am in New York, when the Moscow-listed shares closed for the day, they were trading for 2.38 USD.
The ADRs would need to fall by 17.6% in order for them to be trading at the same level as they are in Moscow.
Catalyst for ADRs to decline
More than anything, this article serves as a warning to holders of Mechel ADRs, and indeed all ADRs generally, not to automatically assume that their stock is priced at the same level as the domestic listing of the company.
As with other market mispricings, they can suddenly disappear with little or no warning.
Holders of Molycorp's mandatory convertible preferred (MCP-PA) were hit with a 39.6% loss in 9 trading sessions in November 2013, as "investors" finally realised their stream of dividends will end in early 2014. The stock opened at $17.91 on 13 November, and reached an intraday low of $10.81 on 25 November.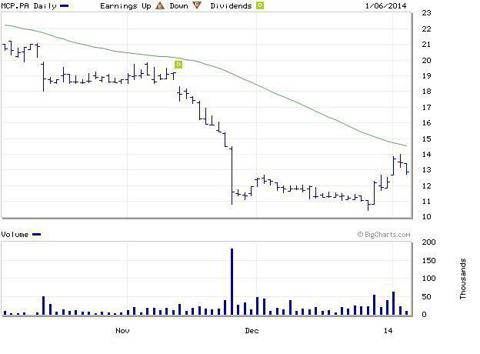 Holders of Bank of Ireland's ADRs were hit with a 45.6% loss in 10 trading sessions in October 2011, as "investors" suddenly woke up to the fact their stock was trading at a massive premium to the company's London-listed shares. The stock closed at $10.20 on 6 October 2011, but declined to $5.54 on 20 October 2011.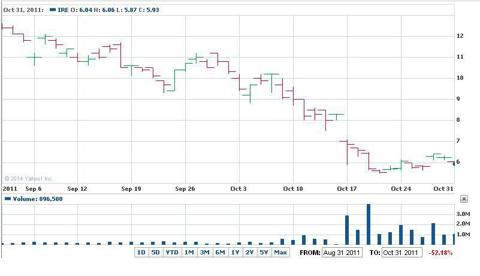 Mechel's situation is very similar to that of the Bank of Ireland, as outlined in our two articles from 2011. All that remains is to wait and see for how much longer the NYSE-listed shares trade at a large premium to the Moscow-listed shares.
Disclosure: I am short MTL. I wrote this article myself, and it expresses my own opinions. I am not receiving compensation for it (other than from Seeking Alpha). I have no business relationship with any company whose stock is mentioned in this article.