Priceline (NASDAQ:PCLN) revolutionized the hotel and airline booking industry with their "name your own price" model, and their series of television spots starring William Shatner as the Priceline Negotiator have given them a strong brand presence. While Priceline wasn't the first company to do online booking, they were the first company that got consumers to interact with the purchasing process, and make the "bid" system work. While their stock plummeted from $950 to $7 in the 2002-2003 time frame, canny acquisitions and advertising have helped the company quietly become the $60-billion dollar online booking platform.
Since 2003, Priceline's stock has risen from $7/share to over $1000/share. Many of its strategic acquisitions in the middle of the '00s have paid off. One of those changes is shifting from an American travel company to one with a worldwide focus, through the acquisition of the Dutch company Booking.com.
Priceline isn't resting on its laurels. It's opened partner services like Schedulicity.com, where customers can input a desired schedule and Priceline's database will pull up the best match for the desired itinerary and budget. The company has learned from its mobile application process and is adding features to its iPad app, including an "Explore" mode that presents multiple destinations from a set of parameters. Priceline's mobile strategy is worth watching for an investor; mobile devices will be the dominant way customers interact with websites and content in the near future. About the only way Priceline could lose its dominant position in online travel booking is through a competitor doing a better job with mobile customer interaction. To its credit, Priceline is aware of this, and is acting like a much smaller, more agile company in response to this threat.
Priceline's organizational agility reflects the personality of its former management team. Jeffery H. Boyd has managed the company since being brought in during the dark years of 2002, and has spearheaded Priceline's diversification from airline bookings to hotel booking, and overseen the company's acquisitions for the last decade. He has also stepped down; he's still the Chairman of the Board, and has a say, but it's no longer his strategic vision directing the company. While not as visible as Steve Jobs stepping down from Apple, this change of the guard may be no less important a change in strategic direction.
It can be reasoned from Priceline's behavior and stock price that Boyd is stepping down because he's run out of easy ways to grow the company's portfolio of services.
His successor, Darren Huston, comes to the top office in the company from his position as the head of the Bookings.com subsidiary. Bookings.com has, in many ways, taken over Priceline.com from the inside - in terms of revenue, hotel bookings dwarf Priceline's original airfare brokerage business, and most of that growth has come from international markets.
The questions that most investors have about Priceline are two-fold: The first is where will future revenue growth come from. The second is, how stable is the stock price.
Huston has two primary areas where he can grow the company's revenue streams: Additional partnerships like the one he made with China's Ctrip service - there are a lot of East Asian travelers now, and he's rumored to be looking into booking in Malaysia, Vietnam and India, all three of which are vast potential sources of new customers.
The second potential revenue stream is back in the United States and Canada, where different cultures and hotel regulations have made the Priceline booking model have a slower uptake.
The smart bet is that Priceline will focus heavily on expanding the hotel booking business in the United States and Canada as the "safe, sure, slow" bet, while trying to swing deals in East Asia for large volume and long-term growth. It is unlikely that there will be a fourth consecutive year of 40% sales growth.
Priceline's stock price is currently depressed because of Boyd's retirement. Expect a minor rebound, and then long-term stability. There remains some shot-in-the dark potential for high sales growth if another East Asian partnership comes about, but information is seriously lacking.
Two tells an investor should watch for are "pruning away projects" -- Priceline became a $60 billion a year company by trying to be in front of the somewhat fickle consumer and budget travel markets. While IT projects like apps are expensive, they're critical to Priceline's business model... and that business model wasn't invented by Huston. If Priceline stops updating applications, or starts taking writedowns for canceled IT projects, that's a sign to sell the stock.
The second tell is oil prices and spot hedges on jet fuel. Priceline's product is hotel rooms and cheap airfares. When airfares go up from fuel prices, hotel bookings drop. If you see oil prices rise, Priceline's stock may drop by as much as 20 or 30%... which may be a good time execute a buy-and-hold strategy with it; when fuel prices reach an equilibrium, more people travel, and Priceline will still be there to pick up the volume.
Priceline will transition from a growth stock to a mature company in the next two years. It's fairly easy to see the transition from Boyd to Huston as an internal acknowledgement that Priceline can't continue growing on its current path; this doesn't make it a bad investment. It just shifts from a growth stock to a maturity stock, and will eventually trigger dividend payments.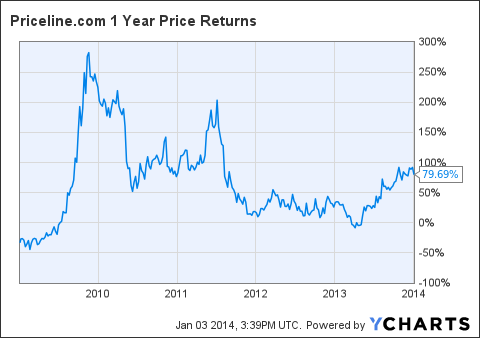 PCLN 1-Year Price Returns data by YCharts
Disclosure: I have no positions in any stocks mentioned, and no plans to initiate any positions within the next 72 hours. I wrote this article myself, and it expresses my own opinions. I am not receiving compensation for it (other than from Seeking Alpha). I have no business relationship with any company whose stock is mentioned in this article.