Intel (NASDAQ:INTC) is not satisfied in conquering the tablets market and Telematics industry. The world's largest semiconductor company also wants to lead in the 3D printing gold rush. Intel is teaming up with 3D Systems (NYSE:DDD) in bringing the 3D printing technology to the household. 3D Systems is the pioneer and emerging leader of 3D printing technology.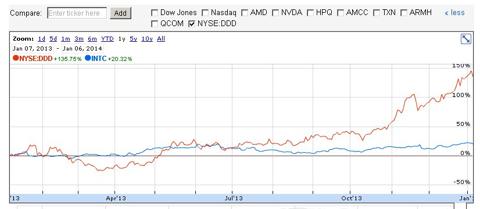 This latest development is a big positive for INTC. Judging from the one-year 135.75% price increase of DDD, the market is very much in love with the future of 3D printing. Intel is being shrewd again in riding the next big thing of the printing industry.
As a quick way of propagating mainstream 3D printing, 3D Systems is bundling its Sense Software with upcoming Intel-equipped mobile computing products. Sense is a 3D scanning, 3D editing, and 3D printing software. It will be used to digitize real world objects via Intel's new embedded RealSense 3D camera. The deal also calls for 3D systems to provide its 3D scanning technology as part and parcel of Intel's Software Development Kit (NYSEARCA:SDK) so developers can further extend the uses of Intel's RealSense 3D Camera.
Intel's RealSense 3D Camera
As part of its bid to dominate the tablet and mobile computing market, Intel revealed that its new RealSense 3D camera will come integrated in 2H 2014 releases of Ultrabooks, Intel-powered tablets, All-in-One computers, and 2-in-1 notebooks. NEC, Lenovo, HP, Fujitsu, Dell, Asus, Acer are all on board to deliver products this year with integrated RealSense 3D cameras. Most of which will probably run Microsoft's (NASDAQ:MSFT) Windows 8 OS>
The RealSense 3D camera offers human eye-like depth perception, allowing smart devices to see and interpret objects before it in three dimensions. This product exemplifies Intel's thrust towards Perceptual Computing. It's no longer the stuff of science fiction movies: Intel is delivering the future now. RealSense is the world's smallest embedded 3D/2D camera module with full 1080P HD sensor.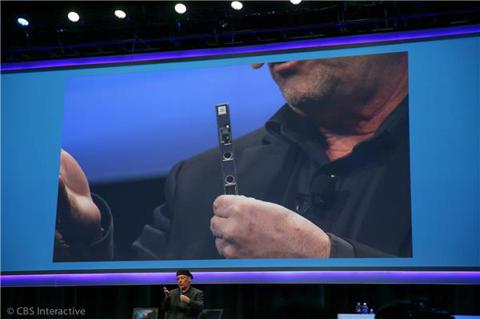 The RealSense Software allows hand gestures as a means of interacting with computers and mobile gadgets. Intel demoed the camera's abilities during the CES 2014 event, the gesture interaction with computers remind me of Tom Cruise in Minority Report. The RealSense camera also showed it can do real-time video editing with easy removal of background and isolation of objects. RealSense comes with support for facial recognition and voice interaction via Nuance Dragon Assistant.
I'm most impressed that Intel's new integrated 3D camera can do accurate scanning of 3D objects. This is the linchpin of this article - Intel is going to offer ordinary consumers a quick and easy way to create 3D models using their tablets or notebooks.
Why This Collaboration Matters
I applaud 3D Systems and Intel for their great initiative. It's a win-win for everybody. As more regular folks start creating their own 3D models, the 3D printing industry will have no choice but to come up with cheaper home 3D printers and consumables. The prohibitive cost of 3D printers and consumables is one of the reasons why 3D has not gain widespread acceptance.
The bashers are right, Intel is leeching on the emerging popularity of 3D printing to attract more buyers for its mobile processors. ARM dominates the smartphone and tablet chips. However, Intel's Bay Trail-T SoC is now as power-efficient as its ARM counterparts. Intel is again working with its old partners in the desktop PC industry to help it gain traction versus Apple (NASDAQ:AAPL) and Qualcomm (NASDAQ:QCOM). Microsoft, HP, Dell, Samsung, Lenovo, Huawei, ZTE, are all onboard for Intel's tablet assault this 2014.
Desperate times calls for desperate measures. Aside from providing marketing subsidies to its partners, Intel's bundling of RealSense 3D camera and the 3D Systems Sense software is just one great way to grab tablet market share. The company's Market Share Now, Profits Later war cry is all right with me.
Intel will also benefit from the growth of 3D printing because people will require more powerful x86 processors to model complex 3D objects. Wireless and cloud based 3D printing gives the company opportunity to sell more of its 4G LTE solutions and server offerings.
3D Systems, for its part, wants to ride on Intel's vast distribution network. Intel intends to sell at least 40 million tablets this year. Some of those buyers will use their tablets to scan and make 3D models of their tools, toys, accessories, etc. People who get hooked on 3D scanning will inevitably want for a 3D printer to output their work. 3D Systems has a wide array of personal 3D printers .
The 3D printing business is projected to have a 20% to 30% CAGR through 2017. In four years time, the 3D printing or additive manufacturing industry will be worth $6 billion. By 2020, 3D printing will be a $12 billion year business. Intel's support for consumer 3D printing will help make the chart's projected numbers come true.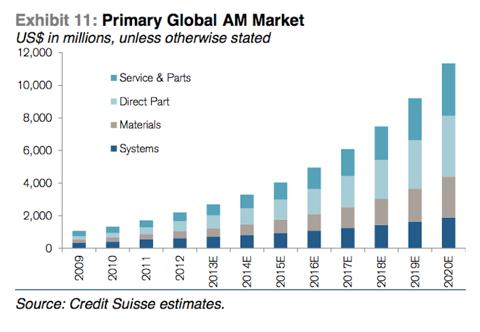 Conclusion
Intel's integrated RealSense 3D camera is a great example why I strongly believe INTC will deliver a 30% YTD price increase by the end of 2014. The Science Fiction-come- true feature of this product is very irresistible. I believe that the inclusion of this embedded 3D camera will be one major reason why consumers will buy Intel-powered tablets instead of the iPad.
3D printing will ultimately become a common practice like what people are doing now with inkjet/laser printing. It won't happen this year or the next, but I'm sure Intel will be profiting from this new growth industry.
Numbers-wise, Intel is still raking in billions of dollars in net income. Its previous missteps in mobile have caused a reduction in its profitability margins in FY 2013. Otellini's mistakes are now being corrected and hopefully the company will recover in late 2014. The chart below shows Intel enjoys a healthy TTM Free Cash Flow of $11.03 billion. Intel can comfortably afford subsidizing its tablet ambitions this year.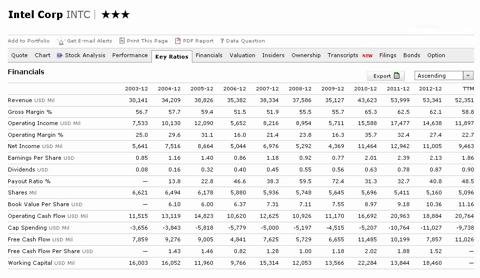 Intel is not being appreciated for its core strengths. Please look at the chart below, INTC is a bargain buy at its current price now.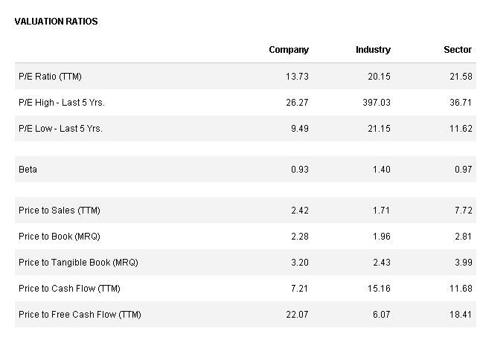 Disclosure: I am long INTC, . I wrote this article myself, and it expresses my own opinions. I am not receiving compensation for it (other than from Seeking Alpha). I have no business relationship with any company whose stock is mentioned in this article.