Many people think that copper prices are set to go down in 2014 on greater production growth (supply growth) than demand growth. One of the most respected analysis groups, the International Copper Study Group -- ICSG, sees worldwide copper refined production growing by 5.5% to 22,198,000 tonnes in 2014 after growing by 3.9% to 20,922,000 tonnes in 2013. It sees mine only production growing by a lesser 4.5% in 2014 to 19,223,000 tonnes and by a greater 6.5% to 17,822,000 tonnes in 2013 (estimates are as of October 2, 2013). ICSG expects the refined copper demand growth to rise by 4.4% to 21,429,000 tonnes in 2014 after falling slightly by -0.1% to 20,525,000 tonnes in 2013. A quick comparison tells one that the supply excess expected is +769,000 tonnes for 2014; and it was (according to the forecast) +397,000 tonnes in 2013. These two figures alone amount to an excess of +1,166,000 tonnes. While not hugely excessive, this supply excess could well cause the prices of copper to go down. Of course, not all analysts agree with this analysis; but it may be one of the most accepted ones.
An alternate view presented by AQM Copper Inc. (OTC:APQUF) is represented in the table below.

As readers can see, in this forecast the world demand for copper exceeds the supply each year. However, there are a few problems with this forecast. It is primarily based on China's use of copper; and a number of its assumptions about Chinese growth are questionable at best. Perhaps most importantly, it asserts that the Chinese GDP growth will average +9.7% over the next five years. This may be a highly questionable assumption. Chinese GDP growth for FY2012 was 7.8%; and the "official" predictions as of December 25, 2013 for Chinese GDP growth for FY2013 are 7.6%. Further some expect China to lower its official GDP growth figure for FY2014 to 7.0%, although many expect the actual figure to be higher. This is in line with China's stated official goal of an annual average expansion of 7% for 2011-2015. In other words the official view is nearly 3 percentage points lower than the figure AQM Copper used to forecast that demand for copper would exceed supply in the next several years. Goldman Sachs, JP Morgan Chase & Co. and Deutsche Bank AG see Q4 2013 Chinese GDP growth at +7.4%. The Conference Board, another respected economic forecaster, sees Chinese GDP growth as slowing from 7.5% in 2013 to 7.0% in 2014.
Again these forecasts are substantially below the average figure for Chinese GDP growth being touted by AQM Copper Inc. for the next few years of +9.7%. Further the Chinese official December 2013 Manufacturing PMI dropped from 51.4% for November 2013 to 51% for December 2013. This tends to reinforce the "slowing" view rather than the more rapid expansion view. When you consider that China accounts for approximately 40% of world refined copper demand, you have to be very concerned about China. Further the ICSG expects China to account for 84% of global copper demand growth between 2011 and 2014.
In another example, the BBC reported on December 30, 2013 that the local government debt in China has risen to $2.9T (up 70% in the last 3 years alone); and overall government debt has risen to 58% of GDP. The former is the really huge problem. Many local Chinese governments have no way to pay back their debts (or most of them). Plus the pace of rise is alarming to many economists. When you consider that the central Chinese government has tried to severely restrict local government borrowing over that same period, the statistic (70% growth to $2.9T in local government debt over 3 years) is even more alarming. Further Moody's Investors Service reported November 5, 2013 that only 53% of the 388 Chinese companies it surveyed in June 2013 have the enough cash to cover their estimated debt payments; and Chinese interest rates appear to be rising quickly (see chart below).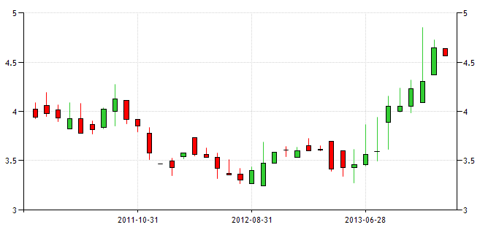 As readers can see, the Chinese government 10 year note yield has been rising rapidly virtually in parallel with the rises in the 10 year US Treasury Note yield. The Chinese 10 year yield has risen from below 3.5% to a recent high of 4.85%. It had fallen back a bit to 4.56% on January 3, 2014. However, the trajectory still appears to be strongly upward. These kind of increases are sure to slow the Chinese economy. This data suggests that +9.7% GDP growth over the next several years (used as a baseline by AQM in its predictions for copper demand growth) is unlikely. It further suggests that there may be a large number of defaults on loans, which were based on much more rapid expansion than is likely to occur.
To put some further perspective on China's situation, China has engaged in a $6.5T lending spree since 2008. In 1999 (a previous Chinese financial crisis year) its bad loan ratios reached as high as 40%. If China sees a repeat of that happenstance, that would translate into approximately $2.6T in bad debts due to the newly issued loans; and that is omitting any loans made from 2000 - 2007, which were substantial. Those could easily account for another $2T in bad debts. The composite $4.6T figure may turn out to be not far from what China may end up ultimately facing.
We have already seen approximately $4T in bad debts need to be written off in both the US and the EU. The US seems to be farther along the road to recovery. However, logic dictates that there is a better than even chance that China will end up facing the same circumstances (a financial crisis) that the other big economic powers have faced. The circumstances may be delayed versus the US and the EU; but they seem likely to be there before too long. The numbers China has produced in recent years just do not jibe with fiscal responsibility. At the very least the current situation seems likely to translate into slower GDP growth in China. Again this calls into question the validity of the AQM Copper estimates for Chinese Copper demand over the next several years. It argues that the ICSG forecast may be more realistic; and even that estimate could be overly optimistic.
In contrast with the above, much of the recent world economic news has been positive. Many were worried that the US Fed might put the kibosh on that by starting tapering. The Fed did that, but it started its tapering in a very mild way by buying $10B fewer bonds starting in January 2014. That means it will still be buying $75B in bonds per month. On top of that the Fed said that it would not necessarily start raising rates as soon as the US unemployment rate hits 6.5%. Many took this to mean that the fed will keep its main borrowing rate at 0 to 0.25% well into 2016. At the very least there does not seem to be any worry that it will disappear soon. Almost unnoticed the US Q3 GDP growth estimate was raised to +4.1%, which is nothing short of stupendous in the backdrop of recent US economic history. The official Chinese PMI for December 2013 came in a bit lower than November's, but it was still at an expansionary 51.0. The Euro Area December manufacturing PMI was a very healthy 52.7. All this (and many other data points) may sustain an upward trend in the market at least temporarily. The above may bode well for a near term move up in copper and copper producing companies' stocks.
Then the question becomes which copper stocks to buy, if any. The chart below shows ten of the world's largest copper miners.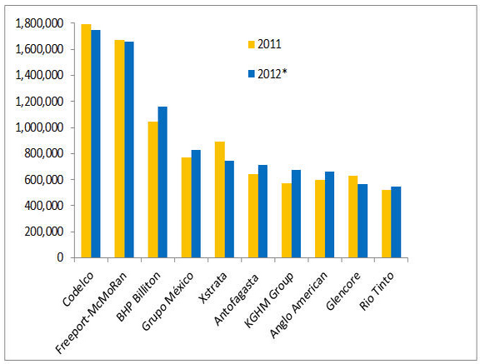 The largest copper miner, Codelco, is a Chilean state owned miner. The second largest Freeport-McMoRan Copper & Gold Inc. (NYSE:FCX) is likely a good choice. It has a PE of 13.39 and an FPE of 11.39. It pays a hefty annual dividend of $1.25 (3.41%). The really good thing about FCX is that it is diversified. Investors do not have to depend on just copper. In addition to copper, it has large reserves of gold, cobalt, molybdenum, and oil and gas. This last was mostly as the result of a three-way combination with Plains Exploration & Production Company (NYSE:PXP) and McMorRan Exploration Co. (NYSE:MMR) (essentially a $19B acquisition). The PXP deal closed on May 31, 2013. The MMR deal closed on June 3, 2013.
As a result of the large oil and gas acquisitions completed in the summer of 2013, FCX acquired an energy business which has strong margins and cash flows. It has exploration leverage and financially attractive long term opportunities. The portfolio includes established oil production facilities in California, growing production in the Eagle Ford field in Texas, production facilities and growth potential in the Deepwater Gulf of Mexico, and a large position in the Haynesville natural gas field in Louisiana. It also has mostly future gas production in the emerging shallow water, ultra deep gas field on the Shelf of the Gulf of Mexico and in onshore South Louisiana.
FCX's stock has been trending upward since the completion of these deals; and the increased net income and increased operating cash flows are a good explanation for that. In Q2 2013, which saw only a one month benefit from the new deal, net income attributable to common stock was $482 million (+$0.49/share). In Q3 net income attributable to common stock was $821 million (+$0.79/share). Operating cash flows in Q2 2013 totaled $1.0B; yet in Q3 2013 they totaled $1.9B. To further put these numbers in context, FCX sold only about 5 million Boe in Q2 2013 (roughly one month's production from the new deal); and it sold about 16.5 million Boe in Q3 2013. Every company dreams of statistics such as the above; and this growth is occurring with relatively low copper prices.
Based on the new acquisitions FCX's growth profile is far better than those of most mineral only miners. Analysts have forecast 25.30% EPS growth for 2014; and their average per annum EPS growth figure for the next five years is a healthy 12.20%. Double digit growth for a large cap, good dividend paying stock, especially one with very reasonable PE (13.39) and FPE (11.39) multiples, usually means that company is a solid investment. Many agree that FCX's move into oil, the price of which has held up much better than most minerals in the last year or more, is a smart move. Apparently insiders think this too with +14.6% more shares (1.116 million shares) in insider buying in the last six months. Most analysts seem to agree with an average recommendation on FCX of 2.2 (a buy). FCX also carries a CAPS recommendation of four stars (a buy). For a large cap mineral play, you may not do much better.
How does this compare to a more mineral only copper miner? FCX shows out performance compared to a mineral only top performer, Southern Copper Corp. (NYSE:SCCO). SCCO has a PE of 13.48 and an FPE of 14.35. The PE is going the wrong way compared to FCX's PE (SCCO has a higher FPE than its PE). Still SCCO is a healthy company. It is expected to see -1.50% EPS growth in 2014; and the analysts' next five years EPS growth per annum is a healthy +11.40%. This is almost as high as the estimate for FCX, but FCX does seem to have far better upside potential in the near term. SCCO has an analysts' average recommendation of 2.3 (a buy); and it has a CAPS rating of four stars (a buy). However, SCCO has seen no insider buying in the last six months; and it has some near term concerns.
Perhaps SCCO's biggest concern is its new Tia Maria mine in Peru, which has been delayed significantly by the approval process. Violent protests have surrounded its approval process, and approvals have not yet been attained for this now estimated $1B project. This is costing SCCO money in both stagnant investment and lost potential production. However, Mines and Energy Minister Jorge Merino was quoted on December 20, 2013 as saying, "We hope that in 90 days the environmental-impact study will be approved." If approvals are obtained, SCCO can finally get back to work on this project which has been suspended since 2011. If this does happen, it may provide a slight lift to SCCO's stock price; but it will not raise copper prices. If anything it will tend to push them downward due to the prospect of increased supply in the future.
SCCO has many other exploration activities for new mines ongoing in Peru and in other countries. Many of these, if they go forward, will require substantial investments on SCCO's part. All such investments would eat into SCCO's profits in the near term. They could involve billions of dollars; and the prices of the various minerals such as copper, gold, and silver are all substantially lower than they were a year ago. This makes the road for SCCO much tougher than the road for FCX with its new, substantial, relatively stable priced oil production.
The two year charts of these stocks provide some technical direction for these possible trades.
The two year chart of FCX is below: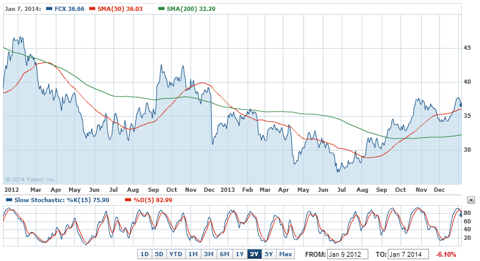 The slow stochastic sub chart shows that FCX is near overbought levels. The main chart shows that FCX has been in an uptrend since mid-summer 2013. The uptrend has been slowing; but it has not disappeared; and fundamental fiscal numbers should be good in 1H 2014. FCX is still a buy, although it would have been much better to have gotten into the stock in late June 2013.
The two year chart of SCCO is below: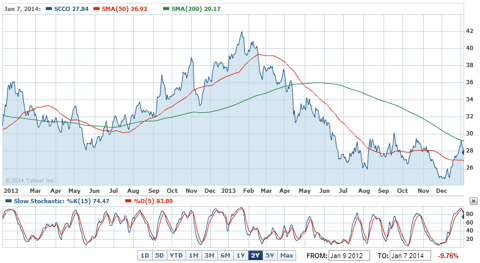 The slow stochastic sub chart shows that SCCO is near overbought levels. The main chart shows that SCCO is still technically in a downtrend. However, the stock price does seem to have stabilized in recent months; and it appears to be moving roughly sideways. SCCO can be bought; but given the fundamentals mentioned above, it is much less a buy than FCX.
If investors are interested in either of these stocks, they should do further research themselves. This article was mostly intended to review the state of the copper market. However, investors are usually interested in stocks too, so I have tried to review two interesting copper plays. This article is only meant to be a starting point for investors who may wish to buy either of these stocks. FCX does look especially interesting.
NOTE: Some of the above fundamental fiscal data is from Yahoo Finance.
Good Luck Trading.
Disclosure: I have no positions in any stocks mentioned, but may initiate a long position in FCX, over the next 72 hours. I wrote this article myself, and it expresses my own opinions. I am not receiving compensation for it (other than from Seeking Alpha). I have no business relationship with any company whose stock is mentioned in this article.