Well, I'm going to admit it in the interest of full disclosure. When Medbox (MDBX) was featured on CNBC yesterday, I bought some at $61, rode it to $69, and sold off. I know the Medbox drill. I was playing nothing more than the sole catalyst for Medbox; the CNBC effect. Now, don't let that deter you from anything else in this article - if my brokerage allowed shorting OTC stocks, I would have pushed short hard at the end of the trading day yesterday at $73.
CNBC coverage associated with the legalization of pot seems to be the only real catalyst for this stock over the last year - every time MDBX gets a mention, the stock runs hundreds of percent into insanely, disgustingly, absurdly overvalued territory.
From Medbox's "About" statement:
Medbox is a leader in the development, sales and service of automated, biometrically controlled dispensing and storage systems for medicine and merchandise. Medbox has offices throughout the world, including New York, Arizona, Connecticut, Massachusetts,Florida, Tokyo, London and Toronto, and has their corporate headquarters in Los Angeles.

Medbox provides their patented systems, software and consulting services to pharmacies, dispensaries, urgent care centers, drug rehab clinics, hospitals, prison systems, hospice facilities, and medical groups worldwide. In addition, through its wholly owned subsidiary,Vaporfection International, Inc. (www.vaporfection.com), the company offers an industry award winning medical vaporizer product.
And now, onto the elusive Medbox financials. These, you assuredly will not see on CNBC.
The company doesn't file financials regularly with the SEC, so getting standardized financials for comps is tougher than trying to get Regis Philbin to participate, and subsequently medal, in the coming Sochi 2014 Olympic men's snowboarding half-pipe competition.
First, let's talk about the PR history of the company. I'm not saying there's anything sketchy about it - it's just that the company seems to offer up a lot of press releases, and they don't seem to always harbor something concrete. Actually, this company is somewhat laden with press releases that have no fundamental news of substance - and by that I mean, financial developments and items that are going to drive the bottom line. Let's take a look at the latest PRs - and there are a few of them - 17 of them (not counting the bit in there from Fox News) since October 15th (counting one that isn't shown).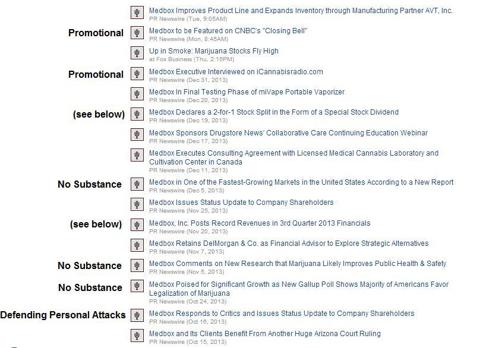 Aside from that, we've got a CEO/founder that's posting on stock message boards telling people that buying the stock at $35 is a bad idea because it's massively inflated. Yesterday, the stock closed at over $73 with twice as many shares coming due to the "split" that's coming. At least he has a conscience and seems like a decent guy.
Sounds about right.
There are some nods to finances in the press releases too, so let's take a look at one of them. Let's take a look at the company's third quarter financials press release as a litmus test:
Highlights of 3rd Quarter Financials include:

Revenues surged to over $5.046 million through three quarters, making 2013 the company's best revenue generating year in the company's history.
Revenues reported of $2.079 million for 3rd quarter of 2013, making it the highest grossing quarter in the company's history.
Assets more than doubled from year-end 2012, from $3.5 million to over $7.2 million.
Gross profit margin for the quarter was a healthy $833 thousand and EBITDA margin for the quarter was approximately 21%.
Income from operations through 3 quarters, before taxes, was a healthy $647 thousand.
I have so many issues with this, I don't know where to begin.
First, the PR doesn't offer any other metrics. It simply offers the "big numbers" - revenue and assets, which were the two strongest looking numbers. In the world of responsible financial reporting and press release drafting, any securities lawyer worth their pay will tell you that you can't just pick the good looking big numbers.
Furthermore, who writes out "$833 thousand"? I mean, maybe if it was "$833 million" you'd write it like that, but why not just $833,000? And why healthy? Is that opposed to sickly revenues? And just exactly how healthy is $833,000 in revenues with a company that's valued at over $1 billion? And, even further - $833,000 isn't their gross margin, it's their gross profit. I'm not an accountant, and I know that. Gross margin is generally a percentage value.
- from investopedia.com)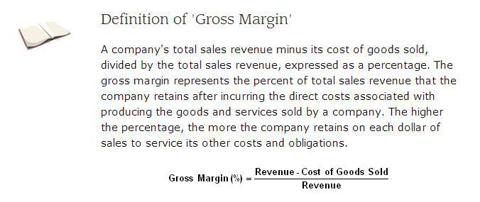 Who is writing these press releases? Someone spending a bit too much time around the ole' Medbox demo unit? At least they don't have it like this on their non-SEC filed financial statements.
Oh, wait. Yes they do.

And after expenses, the company's net income for the quarter was a mere $258,945, or a diluted $0.01/share. The company's cash position is a mere $100,301 - down from $1.02 million the year prior. The company has .002/share in cash.

According to their most recent financials as well, the company has $7.4 million in assets and $1.2 million in liabilities. The balance sheet isn't bad per se, it's just not typically the balance sheet you'd see from a company commanding a $1.1 billion valuation.
Interestingly enough, Medbox is so excited about its newfound "success" - that they decided to issue a 2 for 1 stock split in December. Even better? The stock is issued as a dividend and is restricted, forcing shareholders to hold half their newfound shares for a year - ridiculous. If you're going to PR that you're offering a split, offer a split. As my stoner friends would say, "SO not cool, bro; you're totally harshing my stock split mellow."
Granted, I will give Medbox a good nod for getting some purchase orders for over 200 machines, according to the company:
"We have well over 200 machine orders that have been placed by our clients. These orders are contingent on licensing approvals in the markets of Massachusetts, Washington, Colorado, Oregon, Nevada, and Illinois over the course of the next 12 months," Mehdizadeh stated. "Accordingly, we need to make sure a ready supply of machines is available for immediate delivery when the time comes."
And, yes, they do have potential for growth.
However, with 44.5 million shares outstanding and a company reported $7.4 million in shareholders equity, Medbox is worth $0.16 a share. At a respectable multiple of ten times book, it's worth $1.60. Again, it's currently at $73/share, an insane multiple.
The house of cards is a product of price movement primarily through buyers' panic and promotion, as opposed to underlying fundamentals.
My recommendation is to take your money off the table here until Medbox calms down off the hysteria and shows that it can grow revenues and EPS quarter over quarter - which may take a while. Medbox is a short or an avoid altogether.
Best of luck to all investors.
Disclosure: I have no positions in any stocks mentioned, and no plans to initiate any positions within the next 72 hours. I wrote this article myself, and it expresses my own opinions. I am not receiving compensation for it (other than from Seeking Alpha). I have no business relationship with any company whose stock is mentioned in this article.