Everyone loves a raise, and few investments will boost your quarterly income more than sound dividend stocks with a history of dividend increases. A steady performer in that regard is the tobacco industry. This group as a whole has made many an investor rich over the decades, and for all its regulatory challenges look set to continue making investors nice returns in the years to come. In the U.S., the industry has had to battle with decreasing cigarette volumes. This has, however, been more than offset by price increases and huge cash flows used for stock buybacks that boost the EPS.
Since going public in 2008, Lorillard, Inc. (NYSE:LO) has, like its competitors, increased its dividend every year. They have a habit of doing this every February when they have a pretty good idea of how the last fiscal year went financially. So let's take a closer look at the company and its fundamentals.
Fundamentals
The U.S. tobacco industry is dominated by three major companies: Altria (NYSE:MO), Reynolds American (NYSE:RAI), and Lorillard. Thus, it is fairly consolidated. The main issue facing the industry over the years has been declining overall sales volumes. In order to grow revenue, the companies have therefore had to try to gain market share from competitors and increase sales prices. Lorillard has been good at this game, increasing their market share from 11.0 % in 2008 to 14.4 % in 2012, as can be seen in the chart below.
Click to enlarge images.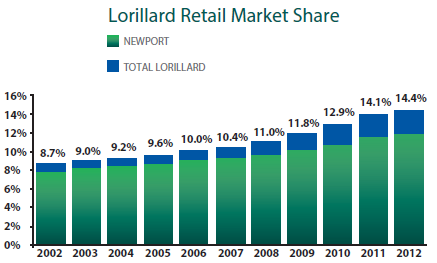 Source: Lorillard's 2012 Annual Report.
A key to their success has been their menthol cigarette brand Newport, which, according to their website, is the second-largest selling cigarette brand in the U.S. It accounted for 88% of their sales revenue in 2012. Increasing market share is nice, but as many companies have experienced in the past, stealing market share from competitors can cost in the way of reduced margins due to spending on marketing or promotional pricing. So a look at their key numbers over the last couple of years is in order.
| | | | | | |
| --- | --- | --- | --- | --- | --- |
| | 2008 | 2009 | 2010 | 2011 | 2012 |
| Revenue | 4,204 | 5,233 | 5,932 | 6,466 | 6,623 |
| Y-o-Y growth | | 24.5% | 13.4% | 9.0% | 2.4% |
| EBIT | 1,415 | 1,541 | 1,725 | 1,892 | 1,878 |
| Margin | 33.7% | 29.4% | 29.1% | 29.3% | 28.3% |
Source: Morningstar.
As can be seen from the table above, margins have come down somewhat. But thanks to strong top-line growth, the EBIT has increased by 32.7% between 2008 and 2012. The annual growth rate is declining steadily, but fortunately they seem to have reversed that trend in 2013 as they reported growth in operating income for the first nine months of 2013 of 15.0%. In all, the company seems to be able to handle top-line growth as well as making sure that growth translates into an improving bottom line.
Risk Factors
It is always important to remember the risk factors and there are several of them in the tobacco industry. For one, the industry is heavily regulated and taxed. And although the industry has learned to cope with such regulations, one never knows what kind of new regulation might come down the road. Excise taxes are regularly increased, which makes the product ever more expensive to its customers.
In addition, the industry has faced decreasing sales volumes for decades. This can be mitigated by price increases, but if sales volumes continue to drop, the industry will sooner or later be in trouble as there is a limit to how much a person can pay for a pack of cigarettes.
A specific risk to Lorillard is its reliance on menthol cigarettes. As mentioned above, it accounted for 88% sales in 2012 and any new regulation of the menthol segment could thus adversely impact the company's earnings. The FDA is looking closely into the menthol segment and is inviting public input on menthol in cigarettes as part of their process of shaping possible future regulation.
Valuation
No matter how good a company is, if the price you pay is too high your future returns will suffer. So, next I'll take a look at how Lorillard is priced on some key multiples compared to its competitors.
| | | | |
| --- | --- | --- | --- |
| | Lorillard | Altria | Reynolds |
| Price/Sales | 2.7x | 4.2x | 3.2x |
| Price/Earnings | 15.7x | 14.5x | 17.2x |
| Yield | 4.4% | 4.9% | 5.1% |
Source: Morningstar.
We see that each company wins each its valuation measure. Lorillard is cheapest on sales, Altria on earnings, and Reynolds on the dividend yield. However, it is important to remember that both Reynolds and Altria increased their dividends this summer and that Lorillard usually increases its dividend in February. So as Altria and Reynolds are paying their shareholders the new and higher dividend, Lorillard is still paying the old and lower one. Consequently, their yields will most likely converge over the coming months. Compared to the overall stock market, as represented by the S&P 500, all three stocks are trading at a discount as the P/E of the S&P 500 is currently at 18.6x, according to Morningstar.
The Dividend
As we approach February, the month when the board of Lorillard usually hikes the dividend, I decided I wanted to look closer into their numbers. So I recently sat down reading through Lorillard's 2012 annual report in order to see if it would be possible to project the magnitude of the dividend hike given their latest fiscal year numbers. It turns out that their hiked February-level payout ratio is surprisingly consistent over time at around 78%, as can be seen in the table below. Please note that the payout ratio is calculated based on last year's earnings -- i.e., for 2013 it is (2.2/2.82) = 78%.
| | | | |
| --- | --- | --- | --- |
| Year | DPS | EPS | Payout Ratio |
| 2008 | 1.23 | 1.71 | |
| 2009 | 1.33 | 1.91 | 77.8% |
| 2010 | 1.5 | 2.25 | 78.5% |
| 2011 | 1.73 | 2.63 | 76.9% |
| 2012 | 2.07 | 2.82 | 78.7% |
| 2013E | 2.2 | 3.16 | 78.0% |
| 2014E | 2.46 | | 78.0% |
With one quarter remaining of Lorillard's fiscal year the mean analyst projection for 2013 EPS is 3.16. Assuming they are right and that the Board of Lorillard continues to target a payout ratio of 78%, the dividend for next year will be 2.46 on an annual basis, or 0.615 per quarter, a hike of 11.8% from the 2013 dividend level. If the dividend is hiked as indicated, Lorillard's yield will again approach the 5% level from today's level of 4.4%, representing in my view a fairly attractive entry for investors seeking to add the stock to their portfolio.
Conclusion
Lorillard certainly carries regulatory and market risk, but has managed to grow its business over time and is enjoying high margins. Furthermore, it looks like the board of Lorillard is very consistent in calculating their annual dividend hike. It therefore seems likely that they not only will increase dividends again this February, but that it will increase by about 11%-12%. For people contemplating buying Lorillard, this might just be a nice opportunity before the rest of the investor base catches up.
Disclosure: I am long LO, PM. I wrote this article myself, and it expresses my own opinions. I am not receiving compensation for it (other than from Seeking Alpha). I have no business relationship with any company whose stock is mentioned in this article.