There has been a remarkable surge in stock price of Plug Power (NASDAQ:PLUG) over the past few weeks. Having followed this company since 1999, we are uniquely positioned to weigh in on the recent move and give a detailed assessment of the company. This report aims to separate the facts from the fiction so investors can make an informed decision.
Should I sell PLUG? A Decision Tree Guide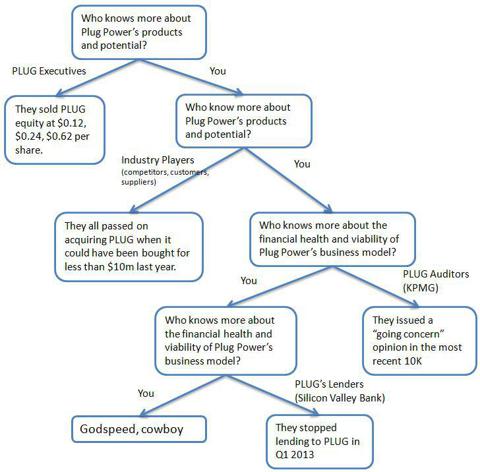 There has been a lot of shoddy analysis and hyping of Plug Power over the past several weeks. To be fair, it seems to have worked with the stock up almost +500% in the past three months. The market may be manic in the short term but ultimately fundamentals matter and stocks converge to their intrinsic values. Our report provides a detailed look at the true fundamentals of PLUG and separates the facts from the hyped-up fiction.

Fact #1: PLUG needs to raise equity in Q1 2014
Despite the wild surge in the stock price and the always-optimistic CEO, PLUG is in a very dire financial situation. The company is not profitable (see Fiction #2) and burns about $7m of cash each quarter. As of 9/30/13, PLUG had $11m of cash remaining. At the end of Q4 (12/31/13), we estimate PLUG will have ~$4m of cash left. This gives the company approximately 1.8 months of cash remaining which means the company will need to raise capital by mid-February.
We think it is extremely unlikely the company will be able to find an equity infusion at a price level anywhere near where the stock is currently trading given the previous price and discounts needed for PLUG's prior equity raises. The equity raise on 2/14/2013 had to be done at a -52% discount to the prevailing stock price.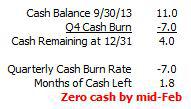 Fact #2: PLUG sold equity at price of $0.12, $0.24, and $0.62 per share in the past 12 months
We think most investors caught up in the current euphoria have very little knowledge of PLUG's history (see Fact #8). PLUG has only been able to keep the lights on for all of these years by issuing massive amounts of equity. PLUG took things to the next level in 2013 with 53m shares being issued at prices ranging from $0.12 - $0.62 per share. The fact that company insiders were willing to sell stock at $0.62 per share less than four months ago should be a major red flag for investors owning the stock at these levels.
It should be noted that none of the insiders personally participated in any of these equity raises. It is our experience that truly undervalued small cap companies needing capital will often see insiders personally invest in the equity raise.
If management wasn't willing to buy the stock at $0.12 per share, should you be willing to buy it at $4.75?

Fact #3: PLUG is currently trading at a 10-yr high
We think investors do not realize the true number of shares outstanding after accounting for all of the warrants that have been given away in conjunction with the various equity raises. The current market cap of PLUG is $690m versus the $487m being reported by Yahoo Finance (stock trading at $4.75 at the time of this report). There is a massive delta (+40%) between the true market value of PLUG and what people think they are buying. Casual investors may look at the stock chart and see that PLUG traded up to $8 in 2011, what they are missing is that the number of shares outstanding has increased by 670% since then.
Remember, a stock price means nothing without the context of the number of shares outstanding.

Fact #4: PLUG is a flawed business model, proven over the past 16 years
PLUG has been around for a long time (IPO in 1998) and we can remember all sorts of grandiose claims made during the heady days of 1999/2000. The simple fact is that PLUG has never been able sell its product for more than it costs to make them. The company has had negative gross margins for the past 16 years….16 years! Clearly, many growth companies take years to grow into profitable scale but we've never heard of a company needing 16 years. Consider what truly innovative companies such as Google, Facebook, and Tesla have accomplished in much shorter time periods.
Unfortunately even after 16 years, there is still no clear path to profitability (see Fiction #2).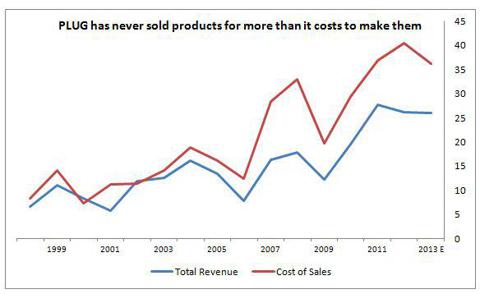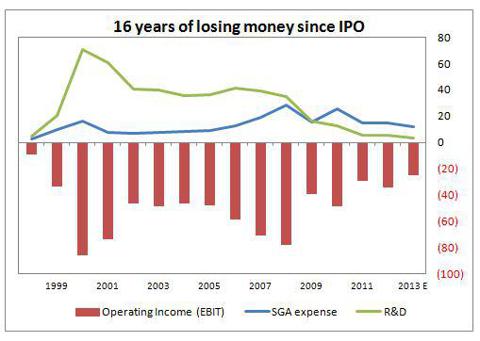 Fact #5: PLUG's lenders stopped lending to the company in Q1 2013
PLUG had a loan agreement with Silicon Valley Bank which provided credit of up to $15m; however, the company violated the loan covenants and Silicon Valley Bank stopped lending to PLUG once the loan agreement expired on March 29, 2013. We see Silicon Valley Bank's refusal to lend as a big vote of "no confidence" in the future viability of PLUG. Without access to debt, PLUG can only fund operations by raising equity which they have been doing at a prolific pace.
Fact #6: PLUG's auditor (KPMG) issued a "going concern" opinion in the most recent 10-K
KPMG issued the following "going concern" opinion in the most recent 10-K.
"As discussed in Note 1 to the consolidated financial statements, the Company has suffered recurring losses from operations and has experienced a substantial decline in working capital, that raise substantial doubt about its ability to continue as a going concern."
/S/ KPMG LLP
Albany, New York
April 1, 2013
Keep in mind the source here. This isn't some stock market blogger, this is the company's auditor. There are two indisputable facts about financial auditors: they have intimate knowledge of a company's financial position and "going concern" opinions are bad for business. "Going concern" opinions from auditors are not issued lightly. Our experience has been that "going concern" opinions are often harbingers to balance sheet restructuring and/or bankruptcy.
Fact #7: 1.3x of the entire float traded yesterday
The recent move in PLUG is clearly driven by technical factors, we think the stock is being pushed by a short squeeze exacerbated by momentum quant trading. Yesterday, the stock traded 122m shares which is more than the entire float (90m) and even shares outstanding (102m). In other words, the entire shareholder base theoretically changed hands yesterday. This is a clear indication that fundamental buying based on economic research has nothing to do with the recent price action.
We saw a similar scenario with USEC (USU) during the summer. PLUG and USU are actually quite similar, both are "story stocks" with flawed technologies. Both are also likely to declare bankruptcy at some point. These types of idea are called "terminal shorts" in the investment world. The thesis is that if you wait long enough, they will eventually go to $0. Terminal shorts often prove correct but the path getting to the end result can be volatile. Take USU for example, the stock ran from $5 to $30 during the summer in just a few days. Message boards were full of half-baked explanations, online bloggers started to hype it. Predictably, USU went on to declare bankruptcy several months later. This ride was certainly painful for someone with a terminal short thesis; however, rationality eventually returns and the market will converge to intrinsic value (USU is now back to $5).
Fact #8: Current Enterprise Value is $680m
We think investors do not realize the true number of shares outstanding after accounting for all of the warrants that have been given away in conjunction with the various equity raises. The current enterprise value of PLUG is $680m. For reference, the enterprise value was less than $6m last February. More recently, the enterprise value was only $76m when the most recent 10-Q was filed. We find it extremely bizarre that a competitor, customer, supplier, company insider, or anyone else paying attention did not try to acquire PLUG at $6m if it is actually worth $690m. Heck, even if someone offered a 1,000% premium last year, they still could have made a fortune.
We think investors should honesty ask themselves how everyone in the world passed on making a bid for PLUG when its enterprise value was 1/100 of its current value.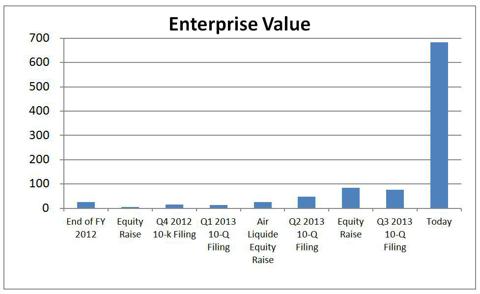 Fundamentals will eventually matter
Will PLUG go up for another few days? Sure, it might happen.
Will someone ring a bell and tell you it's the top? Not a chance.
Is the downside risk tremendous? Absolutely. We see fair value at $1.00 -$2.50 per share under the most optimistic scenario.
Consider this, PLUG is currently worth more than its closest peer companies, Ballard Power System (NASDAQ:BLDP) and Fuelcell Energy (NASDAQ:FCEL), combined.
Ballard Power Systems and Fuelcell Energy generate 10x the amount of revenue as PLUG.

The peer group trades at an average EV/Sales multiple of 3.82x versus PLUG current multiple of 26.5x. This size of this premium is completely unjustified even without considering the fact that PLUG has the worst margin profile by far.

So what's PLUG worth?
Our analysis suggests PLUG is worth $1.00 - $2.50. We think the base case ($1.00) is much more likely to prevail but cannot entirely rule out the bull case. The bull case is based on PLUG generating $60m in revenue in 2014, although we are skeptical they have the capacity, orders, or operational ability to pull this off. PLUG has never generated more than $27m in revenue in a given year so assuming they can double sales is an aggressive assumption. That said, if we apply the highest EV/Sales multiple of the group (6.09x) to this revenue, we get a fair value of $2.56 per share.
The more likely outcome, our base case, assumes PLUG generates $35m in revenue and we apply the peer group average multiple of 3.82x. The stock's fair value under this scenario is ~$1.00.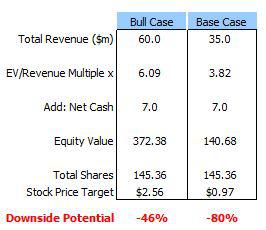 As evidenced by the lenders refusal to extend credit to PLUG and the auditor's "going concern" opinion, there is also the potential that PLUG equity holders get blown up completely. Book value of the company is $0.02 per share and the 52-week low is $0.12 so there is significant additional downside if the "bull case/base case" scenarios don't materialize.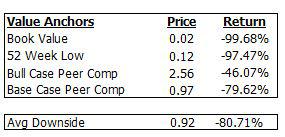 Conclusion: We think investors fortunate to have caught this wave of momentum should take profits. Under the most optimistic scenario we can imagine, fair value for PLUG is no more than $2.50 per share. The realistic fair value is closer to $1.00 per share given the massive amount of equity dilution over the past two years.
Please keep an eye out for the second half of our report, titled "8 Fictions of Plug Power", to be released shortly. The second report will discuss the items listed under the "Fiction" side of the diagram at the top.
Disclosure: I have no positions in any stocks mentioned, and no plans to initiate any positions within the next 72 hours. I wrote this article myself, and it expresses my own opinions. I am not receiving compensation for it. I have no business relationship with any company whose stock is mentioned in this article.
Additional disclosure: The author and/or employer may buy or sell shares in any company mentioned, at any time, without notice. The information contained herein is believed to be accurate as of the posting date. Readers should conduct their own verification of any information or analyses contained in this report. The author undertakes no obligation to update this report based on any future events or information. This article represents best efforts to convey a fact-based opinion. Our conclusions may be incorrect. This is not a recommendation to buy or sell any securities. This document does not in any way constitute an offer or solicitation of an offer to buy or sell any investment, security, or commodity discussed herein or of any of the affiliates of the Author.