A year and a half ago, we argued a bottom in solar stocks would be near. After an epic investment boom in new capacity, the market got way out of whack with capacity almost twice the demand for solar panels worldwide.
But, as we argued, this enormous gap would be closed by bankruptcies, consolidation, write-downs, a dramatic decline in building new capacity, and, the inexorable rise of demand brought about the price declines that were mostly the result of the overcapacity in the first place.
As we argued (albeit a little early), the main market we thought would experience a dramatic acceleration would be China. The reasons for that were simple:
China could build its solar industry on the back of others (mainly Germany and other European countries) providing subsidies for installation, but it achieved dominance already
Many Chinese solar companies were in such dire financial conditions that some kind of government intervention seemed necessary
Many Chinese cities are chocking on pollution from traffic and coal powered electricity producing unprecedented levels of fine particles in the air several orders of magnitude over WHO limits.
Solar energy has become near cost competitive with other forms of electricity generation, especially in parts with high electricity cost and lots of sunshine (like India)
In short, we argued that embarking on growth of the domestic solar market would provide a some solution for several Chinese problems at once. It would save their solar industry which was in dire need to be saved anyway and help fight pollution in the process. And restructuring there is:
the Chinese government is pushing for a drastic shakeout of the country's overcrowded solar cell industry, supporting only a quarter of players and practically telling the rest to get out of the business. This is essentially a death sentence to 75% of solar cell makers. [Canadafreepress]
The author of that article argues that this is the demise of the Chinese solar industry, but exactly the opposite is happening. This sort of spring cleaning eliminating excess capacity is exactly what the industry needed. And lets not forget growth is buoyant:
Chinese state news has announced that the country's on-grid solar power capacity will reach 10 GW by the end of 2013, a 200% increase from a year ago, based on figures forecast by the National Energy Administration. [Energycollective]
And indeed, in the first half of 2013 China installed a whopping 39% of world solar panels: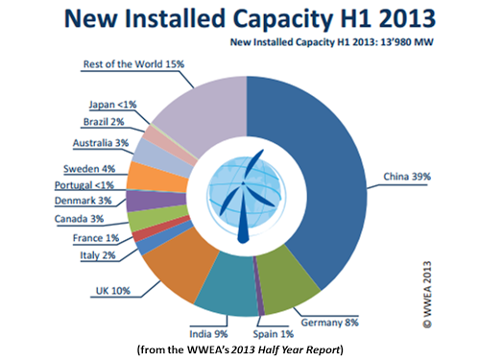 And it isn't done yet:
China raised its target for solar generating capacity to more than 35 gigawatts (GW) by 2015, a stunning increase of 67% above the previous target. China's State Council announced on July 4 that installed capacity for solar electricity would grow about 10 GW per year until it reaches the newly set target. The country's previous target was 21 GW; installed capacity in 2012 was about 7 GW, so this would translate into a 400% increase. [Silverseek]
Of course, China wasn't the only market where solar took off in a big way. Japan also experienced strong growth, spurred on by the nuclear disaster and the subsequent closure of all nuclear power plants. The acceleration was especially noteworthy in the second half of the year:
The newly projected 350 percent growth of Japan's solar market from 2012 to 2013 dwarfs estimates made earlier this year. [Energycollective]
Indeed, there are some that argue that Japan is now the biggest solar market in the world. Of course, growth isn't limited to China and Japan, although these are big markets. Markets all over the world are booming, like the US and India.
The US market
The US is even overtaking Germany in terms of new capacity installations:
2013 is likely to be the first time in more than a decade that the U.S. installs more solar capacity than world leader Germany. [Renewableenergyworld]
Even the US military is getting in on the act:
The US Navy will derive half its energy supply from renewables by the end of this decade, according to a report entitled Enlisting the Sun: Powering the U.S. Military with Solar Energy, by the US solar industry (SEIA). [The Telegraph]
While many markets still rely on subsidies (but subsidies is not a phenomenon limited to just alternative energy, conventional energy gets much bigger subsidies in many places), but the cost of solar is falling inexorably towards (and beyond) grid parity, meaning that in ever more areas it can be competitive without subsidies altogether.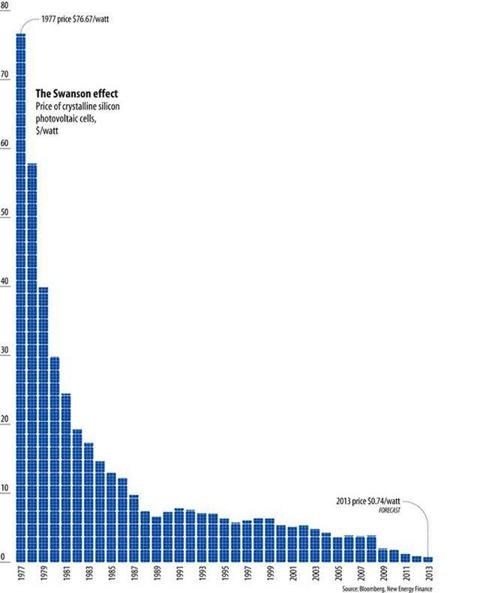 That threshold is already reached in some places. For instance, notice what First Solar (NASDAQ:FSLR) is able to do in New Mexico:
The price of a solar power purchase agreement is usually confidential information. But in the case of the Macho Springs solar project, acquired by First Solar from Element Power, the PPA price was disclosed (by mandate) at $57.90 per megawatt-hour. That 5.79 cents per kilowatt-hour is a low number, close to the price of an existing coal plant, and seemingly half of what has typically been paid for projects of this nature. [Greentechmedia]
According to a Deutsche Bank report, the fall in solar panel price to around $0.60-$0.70 per watt has:
has already rendered solar power competitive "without subsidies" in Japan, South Korea, Australia, Italy, Greece, Spain, Israel, South Africa, Chile, Southern California, Hawai and Chile - in some cases because electricity prices are ruinous. (Italy's solar is not efficient but electricity retails at $0.38 per kilowatt hour, compared with $0.15 in Germany and the UK). These regions could be joined within three years by Thailand, Mexico, Argentina, Turkey and India, among others. [The Telegraph]
We are already close to the territory of conventional electricity generation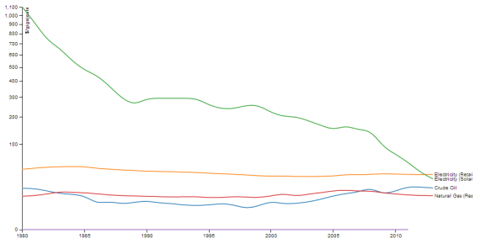 This development hasn't gone unnoticed. Look what is happening in Minnesota, for instance:
Administrative Law Judge Eric Lipman this week concluded that Xcel Energy should invest in some large solar power arrays rather than natural gas generators in order to meet projected power needs in Minnesota. The reason solar was preferred is that the solar power arrays would offer ratepayers a better deal. If Minnesota's Public Utilities Commission (PUC) upholds the decision, Minnesota could see its solar power capacity increase at least 7 times over. [Cleantechnica]
This is an extraordinary development, and it's taking place today. Indeed, Geronimo (the company building the solar farm for Xcel) Vice President Betsy Engelking claims that this project would be the first solar project in the US to officially outcompete natural
gas in a state without utility or state solar incentives.
And Minnesota isn't really the state with the most sunshine either, it's just 31st in the state ranking: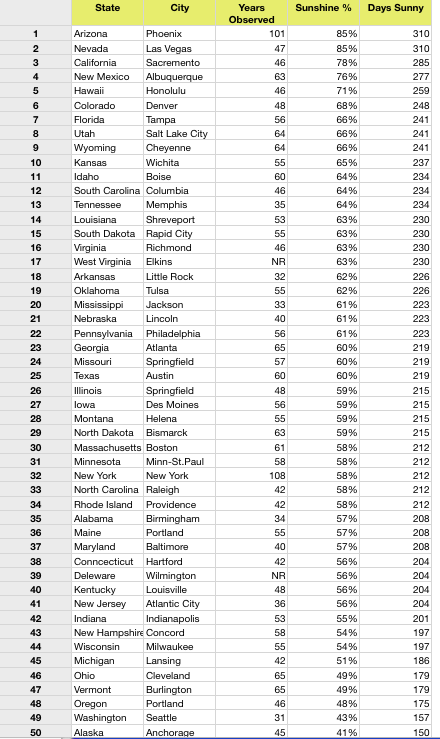 The decision is still pending, but even if solar loses this fight, it's inevitable that it's going to win many more sooner rather than later, as the price declines of panels are simply and inexorably set to continue: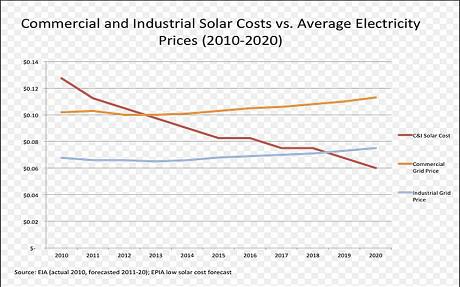 In case you think this isn't going to affect other energy sources, here is Credit Suisse:
Other key points are that falling wind and solar costs make them competitive with natural gas, even ignoring externalities. As a result, Credit Suisse has cut its natural gas projections considerably. "We estimate renewables slowing the rate of natural gas demand growth from power generation to <0.5 bcf/d through 2020 versus our prior estimate of 1.0-1.2 bcf/d even when taking into account planned coal plant shutdowns and assumed nuclear plant retirements." [Cleantechnica]
This could very well directly compete with natural gas as a source for electricity generation, and by doing that, putting a cap on the shale gas revolution. And the threat to gas isn't limited to the US, where natural gas prices are very low compared to much (if not all) of the world.
Even with the FIT premium, Japan may find solar a better choice than very expensive imported liquid natural gas (LNG), James said. "Costs are certainly a part of it, as natural gas has a notoriously volatile price. But there is also a desire to avoid shipping a product through the risky Strait of Hormuz, and a fear of running into sell-through restrictions or seeing prices pegged to oil." [Greentechmedia]
The bigger the solar market, the more companies can reap economies of scale and learning, and the bigger the incentives for more break-through innovations for new materials and concepts, at present there are hundreds of labs and stealth companies exploring ways to improve the conversion efficiency of solar cells and/or cheapen materials and production cost.
Of course, there is a big disadvantage of solar energy, it's intermittent. But when an energy source gets this cheap, and the market opportunity this big, this produces really very big incentives to solve this problem by advances in energy storage.
And if anyone doubts there isn't real serious money involved in solar:
There is $100 trillion looking for a good solar investment, according to NREL Senior Finance Analyst Michael Mendelsohn. The only obstacle is perceived risk. [Greentechmedia]
Solar stocks
So the future for solar energy is very bright indeed. What about solar stocks? Growth expectations for 2014 vary from 41GW to 49GW, or 18-21%. It's funny to see how the stocks we were following in this space have done.
Let's start with the one disaster. While not blind to the risk, we thought that SunTech (NYSE:STP) would provide a turn-around candidate
on July 19 2012. Needless to say, it didn't turn out like that. There were accountancy problems and the CEO and founder was forced out. The shares collapsed from $1.72 at the time of our article to just over 50 cents now.
The shares covered in the original article fared much better. Whilst we were a little early in calling for a bottom, we did urge you to buy on dips
On July 19 2012, we advised to buy Trina Solar on dips. The shares of Trina Solar (NYSE:TSL) were trading at roughly $6 back then, but dips indeed arrived, one of these took the shares all the way down to $2. The shares are now trading over $16, that's quite a return, even if you didn't wait for those dips to arrive.
Of course by far the best one was SunPower (NASDAQ:SPWR). We advised to buy on September 29 2012 when the share price was $4.4, and these have skyrocketed to well over $30 in just over a year, a nearly sevenfold return. Testifying how unpopular solar was back then, the article received just ten comments (including two from ourselves).
Some of the other names mentioned in our article on July the fifth 2012 where Yingli Green (NYSE:YGE), Jinko Solar (NYSE:JKS), as well as American First Solar). These stocks have done very well as well since.
YGE has rallied from $2.78 to $6.5 now
JKS has rallied from $3.15 to $32.50 now!
FSLR has rallied from $14.01 to $56.5 now
As you can see, apart from STP these shares have at least doubled and some have seven or even ten-folded. Needless to say that we think from here on, the gains will be considerably less pronounced. Much of the recovery in the solar market has already been priced in.
We see something of a trade-off. When the market experienced enormous overcapacity, this resulted in price falls, which:
Increased demand further, hence a couple of years of very fast growth
Reduced supply as many solar companies couldn't live with the lower prices and went out of business or were taken over
Reduced supply further as capacity additions were put on hold
As we expected, this environment proved to be very fertile for those solar companies which either had the lowest cost , or some competitive advantage in what's basically a commodity industry, but in any case the advantage went to the healthiest balance sheets and those who had already written off most of their inventories or were able to get adjustment in long-term poly-silicon contracts.
But almost all solar companies experienced negative margins at one time or another over this dark period. However, now that the consolidation of the industry is advanced, most inventories have been cleared and much overcapacity eliminated. The reduction in overcapacity in and by itself will improve margins due to the spreading of fixed cost, and the price stabilization improves them further.
In the graph below, you see how capacity was basically twice the panel demand in 2012, but consolidations and bankruptcies have actually cut capacity considerably in 2013, and this trend will continue this year.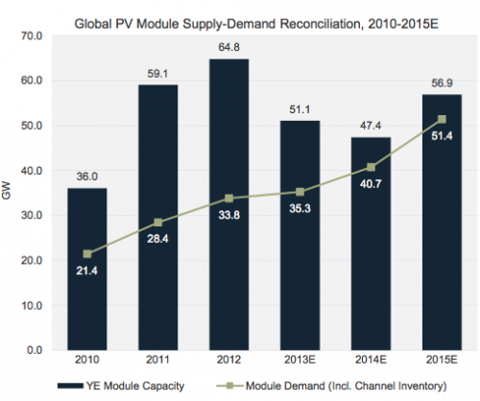 So we're moving into the next phase in which the price will stabilize or at least fall much less rapidly. But that means growth will slow a bit, and sooner rather than later, companies will have to start investing in new capacity again. Collectively, the best would be to hold out to let the price panels recover at least a bit in order for margins to return to historical levels, but companies take individual decisions.
For instance, a company like SunPower is already running on full capacity, and will have to invest pretty soon in order to be able to expand production (it is building a plant in the Philippines, but that will only come online in 2015). Of course, if all companies start to do this together, we could have the beginnings of another boom-bust cycle that is so typical of commodity-like industries.
For companies and shareholders (unless you want to play these cycle swings), it would actually be best if the industry growth could converge on two basic metrics:
The long-term decline in cost per watt
The long-term growth in demand
The first is a function of materials cost, technological advances, and efficiency gains in production. Individually, these are only a couple of percent per year, but all three working together and this amounts to quite a substantial decline over time. While margins and profits will be cyclical so timing entry and exit is very important, but the inexorable rise in the market size provides a favorable background to the leading solar stocks. We'll be looking at a few individual solar companies in a follow up article.
Disclosure: I have no positions in any stocks mentioned, and no plans to initiate any positions within the next 72 hours. I wrote this article myself, and it expresses my own opinions. I am not receiving compensation for it (other than from Seeking Alpha). I have no business relationship with any company whose stock is mentioned in this article.