"Cruel leaders are replaced only to have new leaders turn cruel." - Che Guevara
Markets have certainly been off to a rocky start worldwide in 2014 following very strong gains for developed equities in 2013. Negative momentum continues along the emerging market (NYSEARCA:EEM) complex as bearish sentiment seems unable to abate very near-term, as illogical crisis pricing gets more illogical. Meanwhile, emerging market debt has been acting resilient, yields are fluctuating around 3% on the 10 year Treasury (NYSEARCA:IEF), and overall whipsaw behavior is making it hard to get a feel for where money is trying to position at the start of the year from an asset allocation standpoint.
Given there appears to be some residual outperformance in developed markets, perhaps the potentially clearer trend is in developed equities outside the US. Take a look below at the price ratio of the iShares MSCI EAFE Index Fund ETF (NYSEARCA:EFA) relative to the S&P 500 (NYSEARCA:SPY). As a reminder, a rising price ratio means the numerator/EFA is outperforming (up more/down less) the denominator/SPY. I've drawn in a rough ratio support line to show that overseas developed stocks may be set to outperform US averages.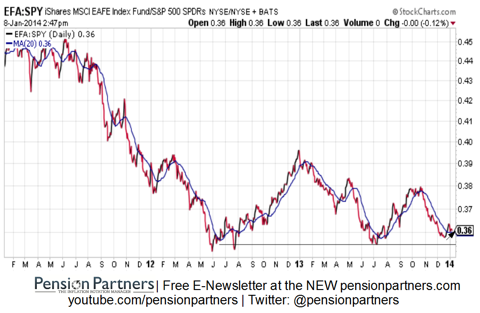 Money is still clearly favoring larger country stocks, and it appears that within that sentiment the US may actually become a near-term laggard. What might explain this? One reason may simply be that US gains may be muted given how strong last year was, and that money is rotating overseas purely as a relative trade. The other reason may be on anticipation of other countries pumping more stimulus fuel into their respective economies. There's a decent amount of exposure to Europe in the ETF, and with the growing chorus that the European Central Bank should do more to counter obvious deflation pressure, money may simply be better on another proactive move by Draghi and company.
Either way - at least from a relative perspective it appears that if you want to bet on the US, you may want to in the near-term consider other major economies outside the US…at least until emerging markets finish their flush.
Disclosure: I have no positions in any stocks mentioned, and no plans to initiate any positions within the next 72 hours. I wrote this article myself, and it expresses my own opinions. I am not receiving compensation for it (other than from Seeking Alpha). I have no business relationship with any company whose stock is mentioned in this article.
Additional disclosure: This writing is for informational purposes only and does not constitute an offer to sell, a solicitation to buy, or a recommendation regarding any securities transaction, or as an offer to provide advisory or other services by Pension Partners, LLC in any jurisdiction in which such offer, solicitation, purchase or sale would be unlawful under the securities laws of such jurisdiction. The information contained in this writing should not be construed as financial or investment advice on any subject matter. Pension Partners, LLC expressly disclaims all liability in respect to actions taken based on any or all of the information on this writing.