The Canadian dollar continued to lose ground in Wednesday trading. In the North American session, USD/CAD was trading just shy of the 1.08 line, as the loonie has surrendered over 150 points since the start of the week and was trading at multi-year lows against the US dollar. In economic news, ADP Non-Farm Employment Change improved in December and posted a twelve-month high. Later in the day, the Federal Reserve will release the minutes of its most recent policy meeting. There are no Canadian releases on Wednesday.
With the markets keeping a close eye on US employment releases, ADP Non-Farm Payrolls looked excellent. The key indicator climbed to 238,000, up from 215,000 a month ago. This easily surpassed the estimate of 199,000. We'll get a look at Unemployment Claims on Thursday, followed by the all-important Non-Farm Payrolls on Friday. With another QE taper in January a strong possibility, every employment release will be under the market microscope and could impact the currency markets.
The Canadian dollar continues to reel after dismal Canadian releases on Tuesday. Canada posted a trade deficit of -$0.9 billion, compared to a surplus of $0.1 billion the month before. This weak release was way off the estimate of -0.2 billion. There was more bad news as the Ivey PMI dropped below the 50-line to 46.3 points. This was well below the estimate of 55.0 points.
Canadian inflation levels have been anemic, and there was no change for the better as we start 2014. The Raw Materials Price Index, an important gauge of inflation in the manufacturing sector, slumped badly, falling 4.2%. This was its sharpest drop since June 2011. The estimate stood at -1.1%. The Industrial Product Price Index posted its first gain in three months as it edged above the 0.0% forecast with a small gain of 0.1%. The weak inflation numbers point to a slow economy, which is weighing on the struggling Canadian dollar.
As expected, the US Senate confirmed Susan Yellen as chair of the Federal Reserve by a wide margin earlier this week. Yellen becomes the first woman to head the powerful central bank. She has been a strong supporter of outgoing chair Bernard Bernanke who lowered interest rates and implemented a QE program in order to boost a struggling US economy. The Fed has started to trim the $85 billion QE scheme, with a $10 billion cut as of January. We could see another taper at the next Fed policy meeting in late January. Yellen takes over the helm on February 1, and will chair her first policy meeting in March.
USD/CAD for Wednesday, January 8, 2014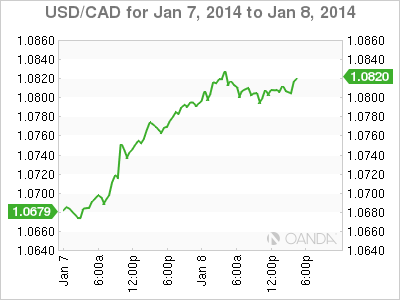 USD/CAD January 8 at 17:25 GMT
USD/CAD 1.0792 H: 1.0829 L: 1.0774
USD/CAD Technical
| | | | | | |
| --- | --- | --- | --- | --- | --- |
| S3 | S2 | S1 | R1 | R2 | R3 |
| 1.0573 | 1.0652 | 1.0783 | 1.0852 | 1.1000 | 1.1094 |
USD/CAD continues to rally in Wednesday trading. The pair punched across the 1.08 line earlier in the North American session but crossed back below it.
On the downside, 1.0783 has switched to support as the pair moves higher. This weak line could see further action during the day. This is followed by stronger support at 1.0652.
1.0852 is providing resistance. This is followed by resistance at the key 1.10 line, which has remained intact since September 2009.
Current range: 1.0783 to 1.0852
Further levels in both directions:
Below: 1.0783, 1.0652, 1.0573, 1.0502 and 1.0442
Above 1.0852, 1.10, 1.1094 and 1.1319.
OANDA's Open Positions Ratio
USD/CAD ratio was pointing to sharp gains in short positions in Wednesday trading. This movement is largely due to the fact that with the US dollar continuing to climb, more long positions are being covered, leading to a greater percentage of open short positions. The ratio continues to have a majority of short positions, indicating a trader bias toward the Canadian dollar reversing direction and moving up against the US currency.
The Canadian dollar is having a dismal week and continues to lose ground. The US dollar is enjoying strong momentum and we could see the currency push into 1.08 territory during the North American session.
USD/CAD Fundamentals
13:15 US ADP Non-Farm Employment Rate. Estimate 199K. Actual 238K.
15:30 US Crude Oil Inventories. Estimate -1.6M. Actual -2.7B.
18:01 US 10-year Bond Auction.
19:00 US FOMC Meeting Minutes.
20:00 US Consumer Credit. Estimate 14.8B.
*Key releases are highlighted in bold