| | | | | | | | |
| --- | --- | --- | --- | --- | --- | --- | --- |
| Symbol | Name | Trade | P/E | EPS | Yield | P/B | Pct from Yr Low |
| QCOM | QUALCOMM | 38.95 | 31.3 | 1.25 | 1.70% | 3.1 | 9.84% |
| ERTS | Electronic Arts Inc. | 17.77 | N/A | -2.3 | N/A | 2.3 | 13.18% |
| GILD | Gilead Sciences, Inc. | 47.42 | 16.8 | 2.82 | N/A | 6.7 | 14.79% |
| FSLR | First Solar, Inc. | 115.5 | 15.4 | 7.53 | N/A | 3.6 | 17.04% |
| SRCL | Stericycle, Inc. | 54.49 | 26.9 | 2.03 | N/A | 5.5 | 18.56% |
| APOL | Apollo Group, Inc. | 63.02 | 15.2 | 4.16 | N/A | 6.8 | 19.38% |
| GENZ | Genzyme | 56.91 | 36.9 | 1.54 | N/A | 2 | 20.85% |
Watch List Summary
This week on the Nasdaq 100 Watch List there were several notable changes. We had Stericycle (NASDAQ:SRCL) decline -1.55% for the week. Stericycle (SRCL) had the largest decline of stocks that were on our watch list from the prior week. It appears that SRCL is on its way to declining to the previous low of $50.62.
Since May 2009, SRCL has managed to trace out higher lows. SRCL is currently selling 29% below the 10-year average P/E ratio and 24% below the 10-year average price to cash flow ratio.
Counteracting those positive features is that the company is selling almost 7% above the 10-year average price to book ratio. According to Morningstar, SRCL is a wide moat company or a company that a significant advantage that is challenging for new competitors to enter the industry (SRCL chart below).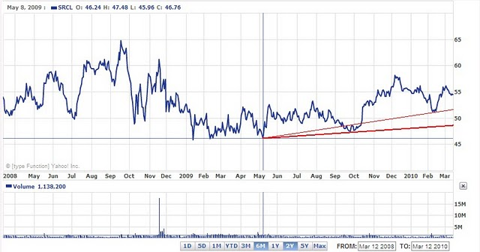 The leading stock on the Nasdaq 100 in the past week has been First Solar (NASDAQ:FSLR), which gained 6.37%. FSLR is selling at least 60% below the 3-year average price to book, price to cash, price to earnings, and price to sales. Lacking any 10-year data on First Solar (FSLR) my intuition tells me to consider this stock only in a small portion of the portfolio and that I'm willing to lose 100% of invested funds. FSLR seems like the Whole Foods (WFMI) of the energy sector, great concept but little in the way of sustainability.
Finally, the sector that appears to be on the move is the video game group. Both Electronic Arts (ERTS) and Activision Blizzard (NASDAQ:ATVI) gained 3.80% and 3.99% respectively. The move higher was also confirmed by Gamestop Corp (NYSE:GME), which rose just over 6% for the week.
In a footnote to our Dividend Achiever Watch List, we wish to bring to your attention the recent rumors that SuperValu (NYSE:SVU) is being considered as a takeover candidate. Since our Investment Observation on January 6, 2010, the stock has run up 33.72%. SuperValu (SVU) sports a price to earnings ratio of 38 and a price to sales ratio that is half of its 5-year average. The price to book ratio is currently at the 5-year average. SVU seems a bit rich for me at this time however the performance of the stock since our January 6th article does not surprise our team.
The Nasdaq 100 Watch List is strictly for the purpose of researching whether or not the companies have viable business models or are about to go out of business. These companies are deemed highly speculative unless otherwise noted.
Disclosure: No positions