By Platinum Tiger

Powered by a 10 percent rise last week in the pharmaceuticals sector, the 35 stock China OTC Player small cap index surged to its fifth weekly gain in the past six weeks, closing just below its record high of January 15th.

The index overcame a weak start on Friday with a spate of afternoon buying and finished the day in positive territory. This bodes well for the continuation of the current bull leg that began on February 1st.

Chinese small caps continue to outperform the other major indices that we track. Our small cap index gained 2.8 percent for the week, compared to a 1.6 percent gain for the Russell 2000, 1 percent for the S&P 500, and a half-percent loss for the Shanghai Composite, which is now down by 8 percent year-to-date.
Click to enlarge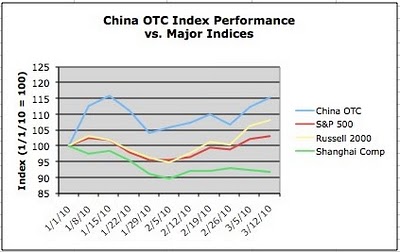 Gainers outpaced losers by a 2 to 1 margin, led by China Carbon Graphite Group (OTCPK:CHGI), which more than doubled in just four sessions before settling back to a 96 percent gain at $2.98. I had picked CHGI in my February 7th column--when it was trading at $1.41--as a "crouching tiger" with strong upside potential. Because there was no news or any clear impetus behind CHGI's enormous gain, China OTC Player wrote in his March 11th article that he believes the stock is now greatly overvalued.

Big weekly gains were also enjoyed by China New Media Corp (OTCPK:CMDI), up 32 percent and China Shuangji Cement (OTC:CSGJ), up 22 percent. The biggest loser was GC China Turbine Corp (OTC:GCHT), which fell 15 percent to its lowest weekly close since October, 2009.

With their double-digit run-up over the past few weeks, some might say that Chinese small caps are overbought, but I see no evidence to support that conclusion. Breadth and volume have actually improved over the past 10 or so sessions, and except for energy stocks, which were flat for the week, every sector is exhibiting strength. I'm betting on more positive market action ahead.

My Position: None.