Editors' Note: This article covers a stock trading with less than a $100 million market cap. Please be aware of the risks associated with these stocks.
Introduction
There is a big move for clean technology out there world-wide. China has been grabbing recent headlines for mandating new rules/laws to be implemented so that pollution levels don't get completely out of control. On December 5, 2013, the United States pledged to give China technical assistance to implement a new round of vehicle emissions standards, known as China VI, which would require cars to have filters that capture particulate matter that contributes to heavy smog. Europeans are very active in making sure that they are dealing with emission pollution actively. One can find a lot of information on the Low Emission Zones over here. Make sure to click on each individual country, and you will notice that even some of the former Eastern-bloc countries (like Hungary, Czech Republic) are actively dealing with this alarming issue.
Here in the United States, we've had numerous tougher regulations implemented during the last couple of years. California and New Jersey Departments of Environmental Protection have issued mandatory diesel retrofit programs. Older heavy duty diesel trucks are going to need to be retrofitted and distributors of new heavy duty diesel trucks will need new verified emission reduction systems. Furthermore, United States EPA has already proposed the 2014 renewable fuel standards.
Introducing Clean Diesel Technologies (Nasdaq: CDTI)
As with my previous articles on Seeking Alpha, I am always looking for a new angle on an ongoing theme. Following my research, I believe I have identified a unique & much overlooked company that is right at the center of the clean technologies movement. It is Clean Diesel Technologies Inc.
CDTI simply put is a cleantech emissions control company that designs, develops and manufactures sustainable solutions to reduce emissions of both on- and off-road engine applications. They are a leading global manufacturer and distributor of heavy duty diesel and light duty vehicle emissions control systems and products to major automakers and retrofitters.
As a vertically-integrated company, CDTi was established in 1994. In 2010, it completed a business combination with Catalytic Solutions, Inc. with the principal objective being the worldwide deployment of technologies to reduce overall emissions from diesel, gasoline, natural gas and bio-fuel applications and to continue a leadership position in emissions control technology. CDTi now provides over 30 years of vehicle emissions control experience. They offer one of the industry's most field-tested portfolios of EPA-approved and CARB-verified systems for use in engine retrofit programs, as well as by regulators in several European countries.
Headquartered in California and operations in the United States, Canada, France, Japan and Sweden, CDTi has a unique perspective on global solutions for emissions reduction. Backed with regulatory verifications and approvals, they have created a suite of products that are cost-effective, sustainable and used with proven success in both new equipment and retrofit applications, including the following markets:
On-road vehicle equipment emissions control
• Heavy Duty Vehicles
• Medium Duty Vehicles
• Light Duty Vehicles
• Passenger Cars
Construction equipment emissions control
• Earthmoving systems
• Road building machinery
• Building construction
Mining equipment emissions control
• Underground mining machines
Ports and marine equipment emissions control
• Yard tractors
• Roll-on/roll-off vessels
• Container handlers
• Drayage trucks
• Gantry cranes with diesel oxidation catalysts and mufflers
Stationary power equipment emissions control
• Power Generators
Material handling equipment emissions control
• Platinum group metals (PGMs)
CDTI's solutions significantly reduce four of the principal, harmful emissions formed by the combustion of fossil fuels and biofuels. These include:
• Particulate matter (PM) or "soot" that contains over 40 known cancer-causing compounds according to the California Air Resources Board, or CARB
• Oxides of nitrogen (NOx) produces smog
• Hydrocarbons (HC) a precursor to ground-level ozone, a serious air pollutant known to cause adverse health effects according to the Environmental Protection Agency, or EPA
• Carbon monoxide (CO) reduces oxygen delivery within the body
Two Divisions
CDTI operates two primary divisions to reduce emissions:
Heavy Duty Diesel Systems Division, which specializes in the design and manufacture of verified exhaust emission control solutions. Products include those for the retrofit and OEM markets. The products are sold directly and through their distributor/dealer network.
Catalyst Division, which produces catalyst formulations for gasoline, diesel and natural gas-induced emissions. Technologies developed by the Catalyst Division are highly differentiated from competitors because they offer similar or better performance while using comparatively little or no precious metals. The Catalyst Division has supplied over 10 million catalyst parts to light duty vehicle customers since 1996.
ISO Certifications
These stringent international quality management standards are achieved by leaders in manufacturing or service industries by meeting or exceeding specific requirements for quality, service and management processes. Due to their depth and scope, these standards are widely-accepted with global recognition in over 150 countries.
ISO 14001:2004 Certificate (for the Catalyst Division)
ISO 9001:2008 Certificate (for the Heavy Duty Diesel Systems Division)
ISO 9001:2008 Certificate (for the Catalyst Division)
ISO/TS 16949:2009 Certificate (for the Catalyst Division)
Contracts with Honda
In July 2012, CDTI announced that Honda (NYSE:HMC) has selected CDTi's high performance catalyst technology to use on four & six cylinder Honda Accords. Then in July 2013, it was discovered that Honda will use CDTI in other models, besides the Accord. Honda uses a four to five year lifetime for model platforms. Although automobile manufacturers can change suppliers as they please, any change in pollution control systems would require recertification of the platform. Meaning: This will be a four to five year commitment from Honda to CDTI (until 2017).
Patents
On July 23, 2013 it was announced that CDTi's Zero-Platinum Group Metal Catalyst Technology has been approved for a patent grant. Within that press release, one can see that at least 27 additional ZPGM Patent Applications were filed up until that point during 2013. This is a significant as with an estimated $6 billion spent annually by original equipment manufacturers ("OEMs") on PGM purchases for catalysts, CDTi's program to develop ZPGM catalyst systems for internal combustion emission control targets opportunities for OEMs to address their rising PGM costs.
A general search here shows that Clean Diesel Technologies Inc. has filed for over 229 various patents since 1987.
Recent Significant Development
On December 19, 2013, CDTI announced that they received two significant emission reduction product verifications from the U.S. Environmental Protection Agency (the "EPA") for use in heavy duty highway truck engines and off-road engines. The EPA first verified Purifilter®EGR for 2002-2010 heavy duty highway truck engines in November 2012. In October 2013, the EPA extended the verification to cover all exhaust gas recirculation ("EGR") and non-EGR heavy duty highway engines certified with particulate matter emissions at or below 0.1 g/hp-hr manufactured between 1993 and 2010. This extension of the Purifilter®EGR verification means that it can now be applied to the vast majority of heavy duty highway engines sold over the past twenty years. Secondly, the EPA verified Purifilter®OR for Tier 1 thru Tier 3 (1996 to 2012) off-road engines with power ratings from 100 to 603hp and certified with particulate matter emissions values of 0.2 g/hp-hr or less. The Purifilter®OR is the off-road version of Purifilter®EGR. The EPA has recently announced a $2 million funding for a 2013 construction equipment rebate program. In addition, the EPA has announced the availability of $4 million in DERA funding for clean diesel projects at ports. CDTi's Purifilter®EGR and Purifilter®OR may now be employed by fleets under these EPA funded programs in addition to CDTi's other EPA and Air Resources Board verified diesel emission reduction products.
As stated by Ian MacDonald, Vice President, Sales & Marketing for CDTi "With EPA verification granted, CDTi can assist highway and off-road fleet managers to broadly retrofit their vehicles with passively regenerating diesel particulate filters in order to reduce particulate matter emissions in excess of 90%. With our extensive retrofit experience and large distributor network, we are absolutely committed to addressing this larger market opportunity."
CDTI Stock Information
As of January 8, 2014 the trading float is being listed as just 8 million shares. The short interest is still over 624,000 as of last Nasdaq report (see below).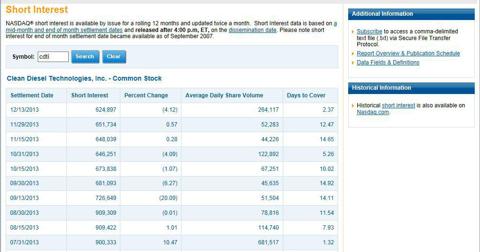 Although this is below 900,000+ shares as late as August 2013, this still represents about 8% of the stock float.
Most recent institutional holdings are showing that a number of reputable funds are holding over 535,000 shares of CDTI: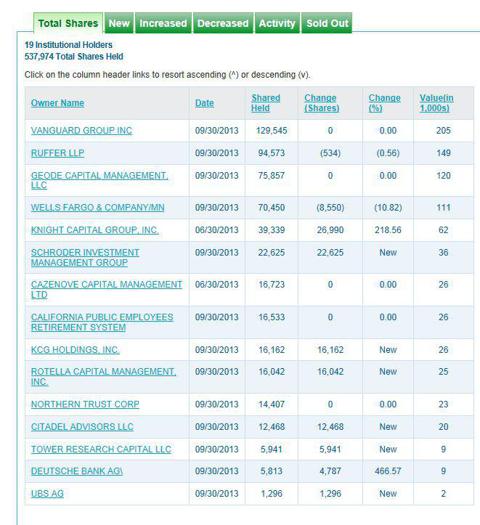 CDTI
Chart / Technical Information
The chart below is a 3-year weekly chart: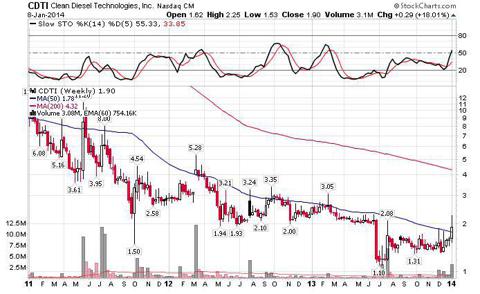 Notice how CDTI has finally closed above its 50-day weekly moving average (1.78) for the first time since 2012? Also notice the very bullish stochastic and volume trends that have recently started. The 200-day moving weekly average does not come into play until above $4.30.
Next, we have a 2-year daily chart: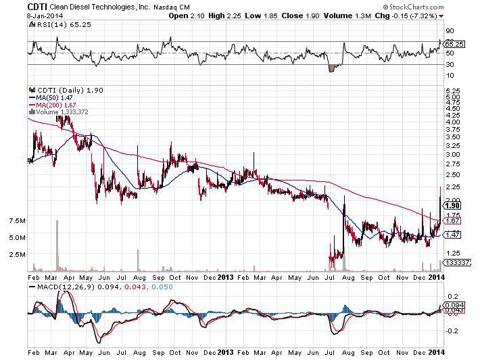 CDTI has also closed above both, the 50-day daily moving average (1.47) and the 200-day daily moving average (1.67) since early 2013.
When looking at both charts, one can see that the next resistance levels are $3, then $3.35 and above that, it's pretty much clear sailing until $4.50 - $5.25.
Conclusion
I've learned a few things during the couple of decades that I have been investing / trading. One of them is when an "opportunity" comes along you must always explore it before jumping feet first (with nose & eyes closed). For me, I found that CDTI is a remarkable prospect that I could not pass up at these low price levels. This is a purely undiscovered company (probably mostly due to its small market cap and infrequent press releases, which offers an opportunity to get in almost on the ground floor and ride the elevator multiple stories higher. Here are some of reasons as to why I believe this:
• The clean technology theme is gaining momentum. Recent emissions-related big movers include: PLUG, BLDP, KNDI, and SEV. There is even a Power Shares (ETF) that specifically trades an international Cleantech Index, and it was up 40%+ in 2013. Just earlier today, there was an article talking about 3 big "clean tech" IPO's forthcoming in 2014. I am not even mentioning all the alternate energy /power stocks that are up 100% -500% within a year. Most of them were left for dead just about 1 year ago.
• Zacks did a review following CDTI's last earnings release (November 12, 2013), and upgraded CDTI to an "Outpeform" with a six-month $3.50 target. This is still almost a double from January 8, 2014 closing price.
• Getting their foot into China is the wild-card that could make CDTI a 10-bagger stock down the road. Although CDTI currently has not officially acknowledged any direct business with companies in China, there is no doubt that they are actively pursuing this as one can see by this press release and that they now have a Far East representative. Imagine how many conversions (retrofits) need to be done on just trucks alone that are in use in China!
• CDTI has a good history on making a good & proven product (no recalls), already has a first-tier client in Honda, and a niche technology which could easily bring in another first-tier car maker that is interested in their technology (Toyota, Ford, Audi, BMW, Mercedes and so on).
• One of the key points for OEM's is to save money so their margins expand. As stated previously, CDTI's technology offers them technology that "uses comparatively little or no precious metals". The more precious metals are used, the more of a price-swing you can have and companies prefer have as little as possible exposure to price / market gyrations. A big plus for CDTI!
• The fact that other states in the USA will continue to introduce tougher laws on pollution is no longer an "if" but a "when". This will drive further business for CDTI, as they are already an established leader in that field.
• Remember that CDTI's technology is already being implemented in not just vehicles, but in mining equipment, generator sets, construction equipment and other sectors that are known to cause harmful exhaust emissions. They are not a one-trick pony.
There is no doubt that the "cheap-looking price" (CDTI is currently trading just under $2 as of January 8, 2014 closing) is most likely is scarring off some investors. The fact that CDTI doesn't put out five press releases per month also probably contributes to a list of reasons of why many investors have not even heard of it. I was one of them but feel fortunate that I came across it. After doing my research and learning about Clean Diesel Technology Inc., I believe that CDTI should be trading now closer to the $5 level based on their growth, quality products, demand and potential future opportunities. Please note: CDTI has a very small float (8 million shares) with a significant short interest (8% currently), which can accelerate stock movements. If CDTI's story continues as expected, I can see CDTI trading near $10 sometime in 2014. It is my pick as one of the speculative stocks of the year.
I urge you to please do your own due diligence before putting any money into this or any other stock that you want to invest in. I have done my best to provide you with information and links that should make your job much easier.
Disclosure: I am long CDTI, . I wrote this article myself, and it expresses my own opinions. I am not receiving compensation for it. I have no business relationship with any company whose stock is mentioned in this article.