Editors' Note: This article covers a stock trading at less than $1 per share and/or with less than a $100 million market cap. Please be aware of the risks associated with these stocks.
"Those who cannot remember the past are condemned to repeat it"
George Santayana, 1905
This is the quote that began my first article on the cannabis sector, "Reefer Madness: Pot Stocks In A Bubble," last February, which proved to be a very timely call. My main observation then was that similar to the dotcom era, thematic investors, many of them new to investing, were blindly investing. I stated:
It wasn't that long ago that domain names were considered companies, and we know how that ended. Concepts are not businesses, and investing in a concept is very dangerous. Even real businesses in new industries fail - think back to the early days of the automobile industry or the television industry.
Since that initial article, I have contributed dozens of articles on the sector. By the summer, with the correction pretty much fully played out, I began warming up to the sector, especially after the famous "reversal" by Sanjay Gupta, and the clarification by the DOJ that cleared the way for Colorado and Washington to proceed with legalization. In fact, I became so bullish that I started 420 Investor, a service dedicated to helping investors interested in the Green Rush.
As bullish as I was on the themes of legal and medical cannabis, I have to admit that the recent action has been simply stunning, with prices soaring, as I describe below, with some valuations reaching levels that seem to make no sense at all. Unlike last year, while I am very cautious in the near-term, I view the current action as a signal of the potential for the sector to provide years of opportunities for investors to participate in one of the most dynamic secular trends that will prove to be global in nature. My LT bullishness, though, isn't my focus at present. Instead, I want to explain my concerns about the recent price action and share my expectations of how this will play out, concluding with several strategies those involved in cannabis stocks can pursue.
Signs of a Cannabis Bubble 2.0
I don't use the word "bubble" lightly. The action over the past 7 trading sessions has been extraordinary. You can review it day-by-day by visiting The Daily Dab, where I have been updating the daily action since early December (this is free with no registration required). Before I share some YTD performance for the sector, here is the action from 1/08: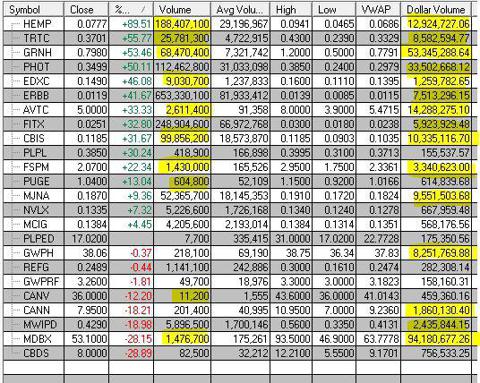 You will notice that a dozen stocks traded in excess of $1mm, with ten stocks trading in excess of 5X average daily volume over the past 30 days. While no stocks doubled on 1/8, four doubled (two almost tripled) on the 7th.
In case you aren't convinced that this frothy action is evidence of a bubble, here is the action since year-end: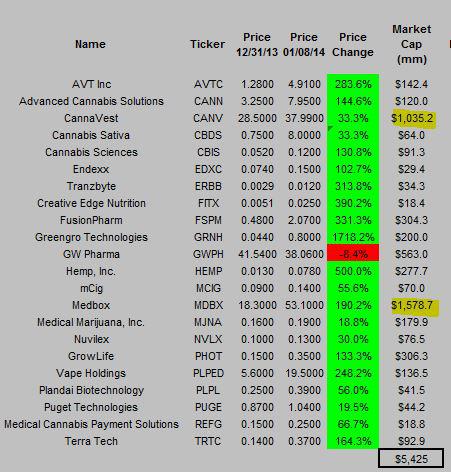 When I calculate market cap, I assume that all convertible securities are converted. As you can see, we have two cannabis stocks with market caps in excess of $1 billion. All but one of the stocks is up, with several up 300% or more. GrowLife (OTCPK:PHOT), which was the best performing stock in the sector in 2013, has already more than doubled.
In case it's not entirely clear that there has been a wild stampede into these stocks, consider this Google Trends analysis of "marijuana stocks":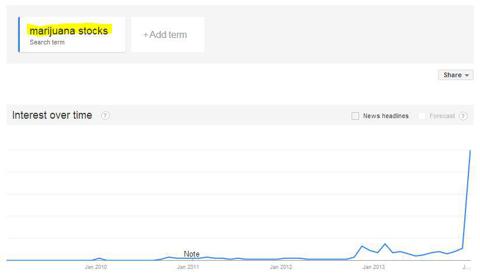 How It Could Play Out
While many of the prices are absolutely insane in my view, I will say this: I don't expect the overall market to go into a six-month slump like it did last year. Instead, I expect to see most stocks endure a steep but short-duration correction due simply to profit-taking. I see very little risk to the theme in terms of regulation. Implementation challenges in CO or WA seem unlikely but would create some doubt about what otherwise looks like a wildfire that has been lit regarding the potential of other states to pursue legal cannabis in the next few years. The "black swan" of some sort of backlash from the federal government seems far-fetched.
The real risks that I see are two-fold. First, we have seen many novice investors enter the market as well as many thematic buyers who haven't taken the time to understand the details of many of these companies. Quite simply, as they learn more or as they see the very weak near-term fundamentals of some of these companies, they may exit. In other words, there could be somewhat of a hangover effect.
A bigger risk over the intermediate term is that there will be supply. Quite simply, the difference between private-market and public valuations is extreme. It isn't particularly difficult to do a reverse-merger, and I count 5 or so in just the last few months. We have also seen several companies that were already trading publicly create new divisions. Those new to the MJ sector seem to forget that the industry is highly fragmented. The combined revenues of the publicly-traded companies is less than 1% of the overall industry, and a small fraction of even the legal/medical market. Barriers to entry aren't high -there is limited first-mover advantage or even brand strength. I believe that we will have much stocks in which to invest in the coming years.
5 Ways to Play
First, please realize that my view could be entirely wrong. I have waited several days to come to this conclusion, but one way to play may be to just hang on and let things keep playing out.
On the other hand, if my observations resonate with your own thinking, the first thing you can do is take some profits. I tend to advise incrementalism. If you are highly confident that the tide will turn, sell everything, but sometimes its better to scale in.
The third option is to maintain your capital committed to the sector, but reallocate it. In my opinion, investors have moved some stocks way too high, while others are actually still good values here. Some names that stand out at this time as incredibly expensive would include AVT, Inc. (OTCPK:AVTC), Hemp, Inc. (OTCPK:HEMP), and Medbox (MDBX). I have shared some thoughts about these in the past, and it is my opinion that the market is overlooking some important factors.
My last two options won't apply to all readers, as one has to be accredited ($1mm net worth, $300K family income or $200K individual income). The stocks in the cannabis sector are hard-up for cash. Several issue convertible bonds at very favorable terms. Additionally, some companies sell restricted stock at very steep discounts to the market price. MDBX was selling stock all through 2013 at just $5 per share. A current situation is CannaVest (CANV), which announced in November that it is offering up to $10mm in stock at just $1 per share. So far, the company has sold 2.75mm shares, mainly to insiders. It seems like a very easy trade to sell related company Medical-Marijuana Inc. (OTCPK:MJNA), which is valued at close to $200mm, to buy these restricted shares (note: I expect the fully diluted sharecount, assuming the rest of the shares are sold, to be approximately 34mm).
The final option is to invest in private companies. There is a large discrepancy at present. Now, obviously this is very risky. A better option would be to invest in a pool of private companies. The "High Times Fund" was recently announced, and it intends to invest about $2mm per company for a total of $100mm. Please note that I am not recommending this but rather pointing out the direction the market is taking. I am aware of some other options and plan to highlight those in the near future.
Conclusion
Pot is hot, no doubt. The market is being flooded with demand for a limited supply of shares. Worse, the stocks that investors can buy have weak fundamentals historically,with some having questionable business models and terrible transparency. I have shared several strategies for those invested in the sector to consider, and new investors should take time to get to know the companies before just jumping in.
Disclosure: I have no positions in any stocks mentioned, and no plans to initiate any positions within the next 72 hours. I wrote this article myself, and it expresses my own opinions. I am not receiving compensation for it (other than from Seeking Alpha). I have no business relationship with any company whose stock is mentioned in this article.
Additional disclosure: 420 Investor, a service offered by the author, offers trade-alerts in cannabis names. None of the names discussed in this article are included in the current holdings of this paper portfolio.