"The only good is knowledge and the only evil is ignorance." - Socrates
Leading the headlines on Marketwatch.com earlier this week was an analyst downgrade on the following three stocks: Apple Inc. (NASDAQ:AAPL), Amazon.com Inc. (NASDAQ:AMZN) and Philip Morris International Inc. (NYSE:PM), for "purely moral and ethical reasons."
While ethics play a major role in life, as they should, investors should disregard the call from Standpoint Research founder and research director Ronnie Moas to sell these three stocks as his arguments are unfounded.
Contrary to the Moas sell recommendations, investors should buy both Philip Morris International and Apple to take advantage of industry-leading multinationals that are trading at acceptable, if not arguably discounted company valuations. For reasons other than what Moas argues, investors should sell Amazon.com, as it is a high-risk stock completely dependent on 20% long-term EPS growth.
Apple Inc.
Moas states "For Apple Computers to pay their [overseas] workers $2 an hour while they have $150 billion in the bank is nothing short of obscene. I've heard all the arguments in their defense, and they make no sense to me."
While Apple has acted as a growth stock over the past 10 years, the company now elects to distribute dividends to shareholders. With a fortress of cash, this dividend may in fact grow over time, thus attracting income investors.
Regarding the argument Moas states, let's break it down into three segments:
1) Paying workers $2 an hour is ... nothing short of obscene.
Response: Hourly wages are relevant to the society, not the company. Hiring overseas workers has a multitude of benefits. If the going rate is $2, then the company can either A) offer $1 and get less qualified workers or B) pay $2 and hire qualified staff.
Wal-Mart Stores, Inc. (NYSE:WMT) has been getting a lot of attention about paying full-time workers minimum wage. The fact is that is the going rate. These jobs are entry-level, which should entertain newer workers or those looking to work that are not classified as "skilled workers." We live in capitalist America, not communist Cuba, and this is how capitalism works.
Second, wages are reduced versus American wages, which lowers the cost of doing business. As such, prices are lower, which increases demand and therefore revenue and profitability.
Would you like to pay $999 for an iPad, instead of $299? Should cell phones cost $899 without a plan? How about my favorite analogy, women's undergarments. Do you think women would pay 3x the price of undergarments today? Would Victoria's Secret fail? Probably not, however if panties were 1 for $25 instead of 3 for $25, I'm sure retail revenues would drop heavily.
Third, offering jobs gives people the ability to earn income. When a worker earns income, they are able to support themselves, their family and their country.
2) Paying overseas workers $2 an hour is ... nothing short of obscene.
Response: Hiring workers, regardless of the continent of employment, lowers unemployment, increases GDP and thereby increases the quality of life. Is Moas a nationalist? All humans deserve a way to earn their income, regardless of where they were born.
According to Reuters, as of 2012 Apple has been improving labor conditions abroad, specifically in China, a country which is often targeted for promoting an unlevel playing field versus peers.
This is not "new" news, either. As of May of 2012, Apple and its key supplier Foxconn Technology Group (OTC:FXCOF) were noted for improving labor conditions in China. According to Reuters,
"We've discovered that this (improving factory conditions) is not a cost. It is a competitive strength," Gou (Foxconn founder) told reporters on Thursday (May 10, 2012) after the ground-breaking ceremony for a new China headquarters in Shanghai.

Foxconn announced in mid-February (2012) it had raised wages for workers by 16 to 25 percent, and in late March (2012) it reached an agreement with Apple to hire tens of thousands of new workers to reduce overtime work.
Not only is Apple aware of the unfortunate labor conditions in China, the company has been working to solve these problems with their key supplier while maintaining the low-cost of labor advantage observed by employing talent abroad.
I would ask Moas, "Should the economic system engage in labor mercantilism? While improving domestic employment numbers is a common goal of all domestic business and leadership, should it come at the cost of higher prices, reduced profitability and the elimination of overseas jobs?"
Ending the economic benefits of the global labor system would create unfounded hardships not only in America but abroad. By working with, not against, competitive advantages of each nation, corporations are paving a path to prosperity domestically and abroad.
Moas is effectively arguing that we should break windows to increase American employment. While the glass manufacturers and installers would profit, it would come at a huge cost to economic growth. Money spent to recover from destruction does not have a net benefit to society.
3) Paying workers $2 while they have $150 billion in the bank ... is nothing short of obscene.
Response: This part of the argument suggests that if a company has money in the bank, then they should give it back to workers in the form of higher wages. It also implies that it is okay to pay workers less if the company does not have money in the bank.
As noted earlier, Apple did raise wages in China. By raising wages to "give back" the $150 billion, where would Apple be? Should they increase and decrease workers wages depending on profitability?
Most business leaders and economists agree that wages should be a function of demand for labor, not the amount of money one holds in the bank. Higher wages are earned though advanced skills and continuous employment.
Apple Valuation
For the 2013 fiscal year, Apple earned $39.75 per share. Divide that by the current share price of ~$540 and you get a P/E of ~13.6. In the chart below, investors may note that since 2011 Apple has been trading at less than 20x earnings.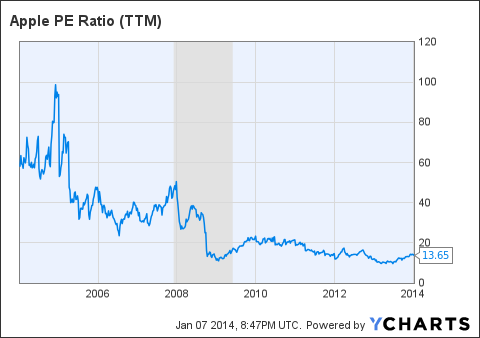 According to Bret Jensen, who has a $650 2014 price target on Apple, the company is gaining momentum and shares have reason to approach previous highs. Regarding valuation, Jensen states in an article published December 31, 2013:
"Despite the recent ~40% rise in the stock over the past couple of months, Apple is still one of the cheaper large caps in the market. The shares go for around 11.5x forward earnings, a significant discount to the overall market multiple of 15 - 16 times forward earnings.

"This does not factor in the company's ~$147B worth of net cash & marketable securities on its balance sheet. Factor that in and Apple sells for less than 9x forward earnings. The company is returning $8B to $10B a quarter to shareholders via dividend payouts and stock repurchases. The shares yield 2.2% and investors should expect another dividend hike in 2014."
With a dominant technology player trading at such a low valuation, Jensen may be correct in stating $650 as a reasonable 2014 target price for the company's shares. If Apple earns $43.37, the S&P Capital IQ FY 2014 estimate, then the company would be trading at just under 15x 2014 earnings.
Amazon.com
The Amazon.com sell recommendation may be refuted quickly as Moas does not have much room to make his point. According to MarketWatch, "Moas criticized Amazon for pressuring their employees while founder Jeff Bezos spends time 'on his yacht in the Galapagos Islands' and enjoys a net worth of $27 billion."
Response: First off, employees should always be under pressure to deliver results. Secondly, the wealth of the founder should have no effect on the pay scale of employees, as discussed earlier with Apple.
Jeff Bezos is an absolute genius who has earned every penny of his wealth. I suppose he should just give that up, as Moas implies, so that warehouse workers can buy boats as well?
I'd ask Moas "If you earned $10 billion from your investment research firm, would you give it to the mail clerk, the janitor and the secretaries?" Perhaps he would give above market-wages, as a sign of thanks, as a private employer. If he ran a public company however, any insight that janitors were making $250,000 per year at his bequest would likely lead to his immediate dismissal.
Regarding Bezos on his yacht in the Galapagos, who is Moas trying to fool? He is diverting the reader from the true argument, which is factory wages. Where Bezos is or what he is doing with his vacation time is irrelevant to the fact. This is known as a red herring.
Amazon.com Valuation
Over the past five years, Amazon.com shares are up big, moving from ~$50 to ~$400. Winning stocks generally have a winning concept and are winning on the execution side of their business strategy as well. Let's explore valid arguments for valuation, without throwing in red herrings such as the height, weight, eye-sight or wealth of Jeff Bezos.
According to S&P Capital IQ, AMZN net sales are expected to rise 21% in 2014 with earnings per share of $2.93 which would put a P/E of 135.84 on 2014 earnings and the current price of $398.03.
S&P Capital IQ sees the stock as "fairly valued," with a 12-month price target of $360. While a 135 P/E is a sky-high valuation, investors should note that the current price of $398.03 per share may be the best price that they will see in this company. It also could be heavily overvalued and warrant caution.
(Chart reflects time-delayed price)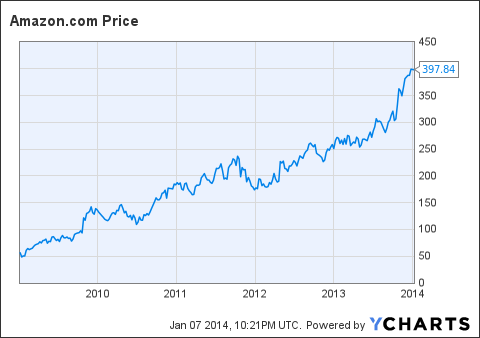 As noted, the stock has been off to the races over the past five years. Internet sales have grown remarkably over the past three years, with AMZN capturing a three-year compound annual growth rate in sales of 36%.
The company received 57% of revenue in North America and 43% abroad. The 2011 Internet World Stats put the U.S. at a 78% internet penetration rate, while the global penetration rate is 33%. As the world comes online, Amazon.com will profit with a strong brand, deep product lines and strong customer loyalty.
The balance sheet is solid with over $11 billion in cash and marketable securities with no long-term debt. Once the company reaches a higher cash level and improves earnings above $20 per share, it is likely that they will establish a dividend, unless of course an expensive drone-delivery system is really explored.
In considering the current valuation, risk-adverse investors should avoid the stock at all costs. If the company continues with 20% annual earnings growth over the next 10 years, the earnings will be $11.85 per share, which is a P/E of 33.59 on today's price.
If the stock advances 10% per year with a 10-year annual EPS growth rate of 20%, in 10 years that stock would be over $1000 per share with a P/E of over 87. While AMZN is an industry leader, such a sky high valuation that depends on long-term growth rates of 20%+ is a very high risk.
Moas may be right in this regard, as AMZN is an expensive stock. If earnings improve 20% annually over the next five-year time period, earnings per share would be $7.29. Put a 40-multiple on that and you get a price of $255.17 in 2019, which is 35.9% drop from today's price.
Philip Morris International Inc.
Philip Morris International was spun-off by Altria, Inc. (NYSE:MO) in 2008 as the independent ex-U.S. division of the company. According to Moas, investors should sell the company shares as Philip Morris "has the black lungs and blood of 500 million people on their hands."
Response: If PM was walking around with a shotgun and assassinating people for their wallets, I'd tend to agree and recommend to avoid anything to do with the company. This is not true, however, as PM delivers a product that is a legal, optional consumer good.
If PM dissolved as a company, other businesses would take up the slack and produce cigarettes. There is a huge global demand for tobacco and PM so happens to be the major player involved.
Cigarette consumption also helps people. They are hot items at liquor and grocery stores, they provide income to tobacco farmers while allowing all types of employment around the world. They also help government through special taxes.
For society, there is a huge net cost to the consumption as losers include healthcare insurance companies (although look for higher premium trends for smokers), families that lose loved ones and of course people suffer with diseases and tobacco-related death.
Does this mean that investors should sell PM? I think not. As long as humans legally have the option to smoke, gamble or own a firearm, somebody has to produce and distribute the goods. Without the economies of scale achieved through large corporations, these goods would cost more, thus reducing purchasing power and causing more harm to society.
Philip Morris International Valuation
Wish estimated 2013 earnings per share of $5.37, PM currently trades at 15.77x the current price of $84.68. S&P Capital IQ expects $5.96 in earnings per share, which would equate to a P/E of 14.2. Also, the current dividend yield is 4.44%.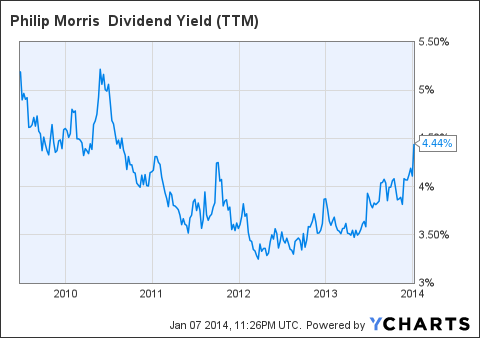 The company has raised the dividend each year since inception. What began as a $0.46 quarterly dividend in mid-2008 has evolved to a $0.94 quarterly dividend, with the last dividend date of December 23, 2013. Over 5.5 years, this is a compound annual dividend growth rate of 13.88%, which is very good for income investors.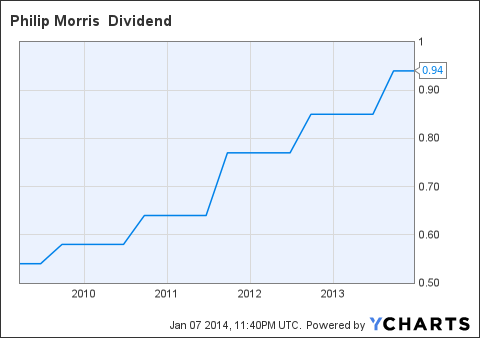 S&P has a 12-month target of $97 on the shares, as well as the coveted 5-star "strong buy" rating. While consumption is declining in advanced economies, emerging markets support short-term growth.
Just recently, PM bought a 20% stake in Russian cigarette distributor Megapolis Distribution BV, which paves the way for further international growth. Also, the company is joining forces with Altria in the new, high-growth e-cigarette industry.
Investors at today's valuation are offered a discounted entry price into the world's largest publicly-traded cigarette manufacturing and distribution company.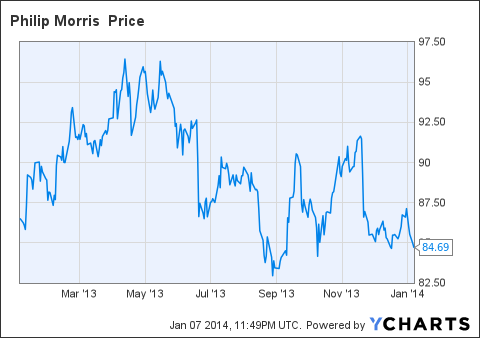 PM brands deserve a premium valuation due to brand loyalty and the stability of tobacco sales. At 16x TTM earnings, 15.77x 2013 estimates and 14.2x 2014 estimates, PM is trading at a huge discount. Add in a 4.44% current yield with strong historical dividend growth, a global leadership position and a 12% 3-year projected growth rate and PM appears to be a screaming buy.
Conclusion
Don't let an ignorance force your hand when it comes to investment decisions. When it comes to strategy, financial health and valuations, both AAPL and PM are strong buys. PM is especially good for income-oriented investors. On the other hand, AMZN may be a heavily overvalued, risky proposition as it relies on 20% long-term annual growth, which may be hard to achieve as the company is already worth over $180 billion.
Disclosure: I have no positions in any stocks mentioned, and no plans to initiate any positions within the next 72 hours. I wrote this article myself, and it expresses my own opinions. I am not receiving compensation for it (other than from Seeking Alpha). I have no business relationship with any company whose stock is mentioned in this article.