The S&P 500 (NYSEARCA:SPY) is near all time highs. Now let's ask ourselves why. Has it been due to strong economic data? Strong earnings growth? Strong revenue growth? Let's take a look.
If you break down the S&P 500's rally in terms of earnings growth versus multiple expansion:
P/E = price / earnings. So, Price = Earnings * multiple of earnings.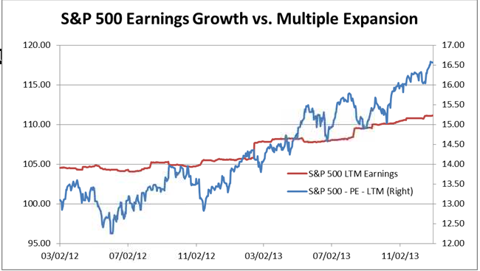 As shown above, this market has largely been fueled by multiple expansion. Since March 2, 2012, ttm earnings growth has been 8%, while the P/E multiple increased by nearly 27%. Hence, investors are paying more for the same earnings due to the Federal Reserve's Quantitative Easing Programs. By keeping short rates at 0% and by buying $75B per month in long term bonds, bond yields are at historical lows. This is forcing investors to place their money into riskier assets such as equities.
Bearish Point #1: As the Federal Reserves begins to taper back their asset purchases, yields will rise and investors will begin to reduce their equity positions in favor of bonds. Also, by reducing asset purchases, they are reducing the total amount of money supply in the system (The taper amount ($10B) of demand each month has to come from somewhere else and into treasuries).
Now, let's focus on the amount of earnings growth there has been. As explained below, earnings growth has been due to all time high profit margins and share repurchase programs and not a function of revenue growth.
Revenue Growth- The Dow Jones Industrial Average had negative revenue growth in 2013 (-.73%). This means that consumers were not purchasing more products than they had the prior year, and profits were only due to cost cutting and repurchase programs.
Corporate Profit Margins- According to this article, corporate profits as a proportion of U.S. GDP approached 10% in 2013, well above the 6.5% long-term average.
 Companies are "over-earning" relative to the past.
Profit margins have been elevated due to wage compression and refinancing. Wage compression should at some point have a negative effect on consumption, while interest expense will begin to increase as companies are forced to roll over their debt at higher rates.
Share Buybacks- Share repurchase programs are now at all time highs. When companies buy back more shares, it boosts EPS and also increases leverage. Increasing leverage increases risk.
Going forward, if the U.S. economy continues to improve at a moderate pace and revenues begin to increase, equities may very well grow into their steep valuations (Case Shiller P/E is at 26.25, which is 59% greater than its mean/median value). Hence, I would recommend staying away from equities at these levels.
Disclosure: I have no positions in any stocks mentioned, and no plans to initiate any positions within the next 72 hours. I wrote this article myself, and it expresses my own opinions. I am not receiving compensation for it (other than from Seeking Alpha). I have no business relationship with any company whose stock is mentioned in this article.