After many years of choppiness, we had a great year in 2013, when buy-and-hold actually worked. It was hard to lose money last year (see below) as every manner of stock from Large Cap (NYSEARCA:IVV), Mid-Cap (NYSEARCA:MDY), Small-Cap (NYSEARCA:IWM) and the Dow Jones (NYSEARCA:DIA), all gained 20-30%. The three investor classes who were dour about 2013 were those who were in cash, those in bonds (NYSEARCA:AGG) or worse yet, those in Muni Bonds (NYSEARCA:TFI).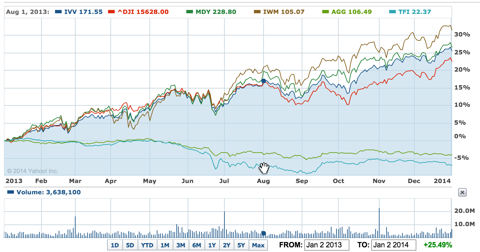 Signs of Concern. 2014 is starting off differently. Market mavens such as Carl Icahn, warn of a big drop in the market. Then there is George Soros, who points to the China wildcard as being a market threat. A number of traditional indicators range from dour to highly concerning.
The number of companies pre-announcing upcoming bad earnings is at a record high. If you're bullish, you can dismiss this as companies setting a low bar and vaulting over it to get a pop in their stock. But even the bulls know that depending on a predictable emotional response from the market for negative news is fraught with peril.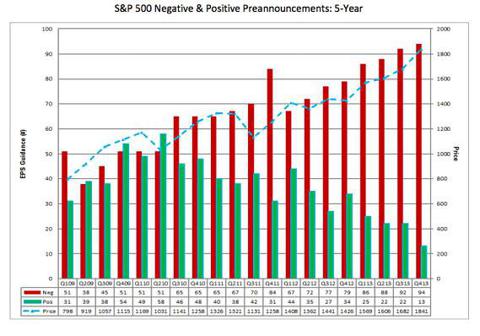 And then there are more exotic metrics that foreshadow the 'tail risk' likelihood of an unpleasant outlier event (such as Soros' warning about China). The CBOE SKEW Index ("SKEW") which measures the likelihood of such as tail risk (see below) is approaching all time highs.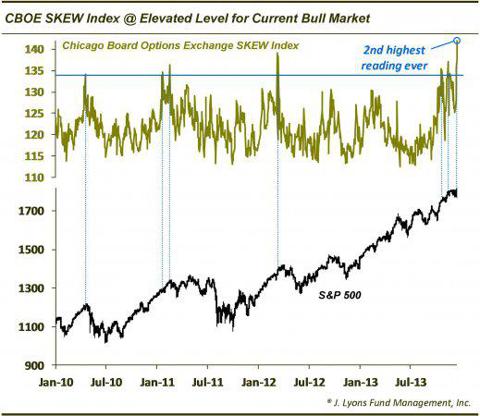 The 'Classic' Defensive Approach. Tradition would suggest that a defensive mindset should lead us to the classic defensive sectors. These include the low volatility and dependable dividends of Utilities and Telecom Services, the dependable demand and earnings of Consumer Staples, and the somewhat price inelastic demand (and favorable demographics) of Healthcare.
Problems with Classic Defense. The historical sector weightings suggest that both Utilities and Telecom Services are under-represented in the S&P (as a benchmark index) and that reversion to mean would suggest that these sectors are indeed good places to invest. However, the figure right after that shows that we might be in a low beta bubble, where low beta stocks might give you neither downside protection nor an upside pop.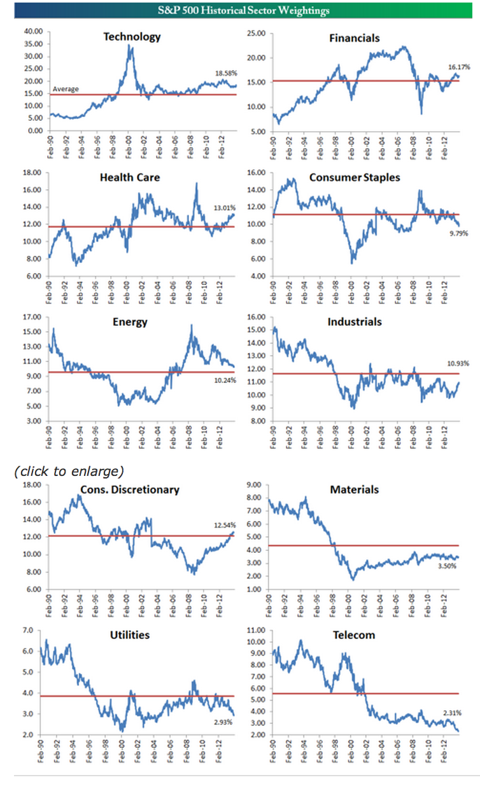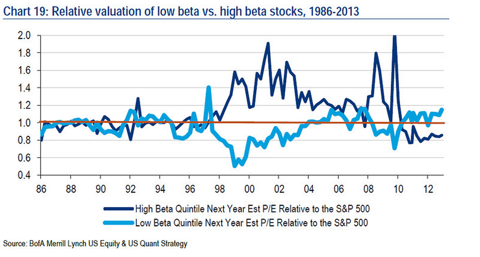 A Valuation Perspective. Let's go beyond 'defensive wisdom' and just consider sectors based on historical valuation. When you do that (see below), it indicates that the traditionally defensive sector of Healthcare looks good, but so do Financials and Energy, both of which are not typically defensive. Consumer Staples doesn't look undervalued, but neither is it overvalued. Given the Energy Renaissance in the US and the ability of banks to leverage interest rate spread to their benefit, Energy and Finance have fundamental tailwinds as well (as long as the economy doesn't get spastic and unpredictable).

So the combination of classic defense with opportunistic value picking suggest that you increase your weighting in Energy, Health Care, Financials and Consumer Staples, probably in that order. Given that last year's 'zero' is often this year's hero, do not forget to take a fresh look at last year's dud, the Muni Bond - a topic I covered in a previous article on 'Reverse Rotation'
Disclosure: I have no positions in any stocks mentioned, and no plans to initiate any positions within the next 72 hours. I wrote this article myself, and it expresses my own opinions. I am not receiving compensation for it (other than from Seeking Alpha). I have no business relationship with any company whose stock is mentioned in this article.