According to the state's marketing slogan: "Everything is bigger in Texas." It's easy to see how public relations arrived at that catchphrase. The place is vast. And beyond the massive mountains and wide deserts, business looms large. There's big oil and big cattle and giant telecommunications and substantial tech firms and large airlines from Exxon Mobil to AT&T to Texas Instruments to American Airlines. It's a big state with a big economy - and right now, it's rocketing on all cylinders.
That's why I'm calling your attention to Bank of the Ozarks' (NASDAQ:OZRK) recently announced acquisition of Texas-based Omnibank. This stunning takeover expands the bank's presence in that state by a Texas mile. Yet, the Market has not yet processed this underreported needle-moving event - shares haven't budged since the announcement. I expect Ozarks' CEO will spell out the implications of this transformational move during the quarterly January 17 conference call. Rather than wait for the call, let's dig into the Texas merger and get ahead of the other shareholders.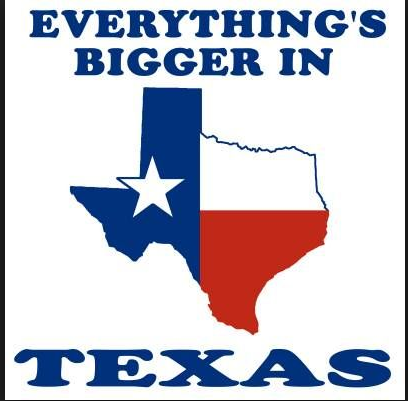 Background
As said, Bank of the Ozarks is taking over Omnibank, a $301 million asset 8-office Texas bank. While the purchase appears modest at best - a $23 million price tag for $30 million tangible equity - as with all things Ozarks, there is more here than meets the eye. Remember: This is Texas real estate. And Texas has been driving the lion's share of Bank of the Ozarks' extraordinary 20% yearly organic loan growth. As the bank noted:
Today almost half of our outstanding loans and leases, excluding covered loans and purchased non-covered loans, have been originated by our Texas offices.
Remarkably, only 14 of Ozark's 135 branches are located in Texas. Therefore, each of these 14 offices is responsible for nearly $100 million of loans sitting on the bank's balance sheet. Keep in mind, all 14 offices were started de novo, the first opened in 2004. The loan generation is even more surprising considering that six of these branches were opened over the last three years. It is not an understatement to say Ozarks created a lending powerhouse out of thin air. Indeed, big things can happen in Texas - at least, on Bank of the Ozarks' watch.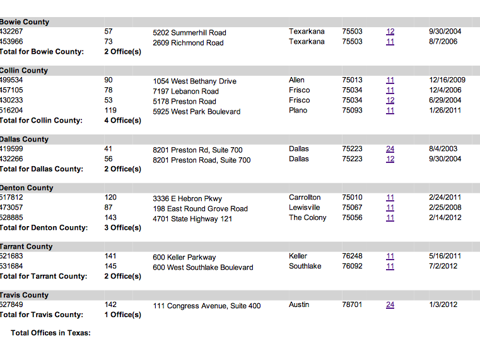 The Texas loan production has been prodigious. As mentioned, in less than a decade, Texas has become responsible for near half of all loans in its legacy loan portfolio. In six years, its Texas loans have quadrupled. Texas originated loans increased at a startling 44% annual rate.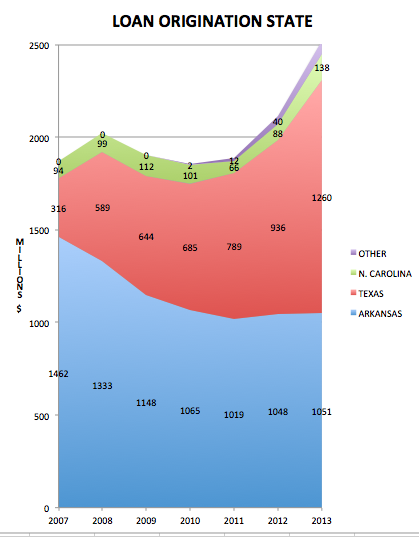 (Sourced from Qs and Ks. All years are December dated except 2013 which is September.)
Bank of The Ozarks May Be Texas' Fastest Growing Bank
Ozarks' Texas loans are growing faster than even strongest Texas banks. Ozark's Texas portfolio has increased 44% y/y, at a much faster pace than Texas Capital Bancshares (NASDAQ:TCBI) (10%), Prosperity Bancshares (NYSE:PB) (23%), Cullen/Frost (NYSE:CFR) (6%) or First Financial (NASDAQ:FFIN) (32%). Surprisingly, the fastest growing bank in Texas seems to be the Bank of the Ozarks. And Ozarks cemented that loan growth leadership with its Omnibank acquisition.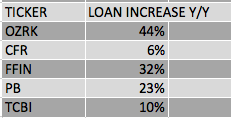 So What Does The Omnibank Acquisition Mean For Ozarks?
In one fell swoop, Ozarks near doubles its Texas presence and adds several key MSAs (Houston and San Antonio) to the repertoire presenting high impact lending opportunities. With the deal, Ozarks adds 8 more branches, setting up another avalanche of loan activity. And what's more, Ozarks is opening a retail specialties group in Houston - nicely fitting into this addition. This very smart acquisition was done at a bargain-basement 0.76X TBV, perhaps the best M&A buy of the season. We saw what Ozarks did with 14 branches. Think what they'll do with 23.
Here are the Omnibank locations: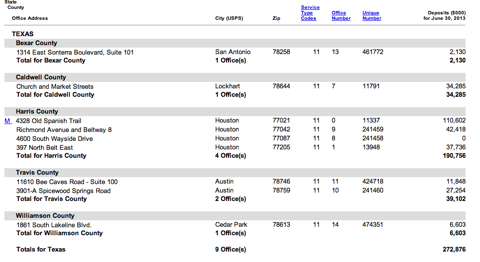 Why Has The Market Missed The Deal?
- It wasn't widely reported. For instance, it wasn't carried in breaking news or market currents. Unless you were a Bank of the Ozarks aficionado, the announcement wouldn't have come across your desk.
- Omnibank is an unspectacular unprofitable private tiny financial.
A Bright Future
Last quarter, the Bank of the Ozarks wowed the Street when it raised its outlook for 2014 loan growth from $480 million to $540 million - and left me wondering how the bank could ever top that performance. Now we know the answer: The Texas acquisition will turn the loan spigot on full-blast. My prediction: Omnibank deal boosts loan growth to $700 million in 2015 with still higher loan originations in the outlying years.
And On The Other Side Of The Country: North Carolina
And while Texas acquisition is impressive, the First National Bank of Shelby purchase is interesting in its own right. Through its Shelby acquisition, Ozarks gained the third deposit spot in Shelby's 3 county service area for a combined 14% market share and a dominating 36% share in Shelby's primary county - Cleveland - gaining $600 million of deposits to feed its high-yielding Texas mezzanine loans. Only BB&T (NYSE:BBT) and Wells Fargo (NYSE:WFC) take bigger share - and Wells is by just a hair. Granted, these North Carolina counties are not hot MSAs but $600 million is just as green as anyone else's money. Plus the Shelby acquisition hands Ozarks a venerable bank with 5 branches the community has been doing business with for over 100 years and over $500 million in loans and $900 million in assets.
So, here we have it. Ozarks takes its low cost North Carolina deposits and invests them in high-yielding Texas loans.
Risk
- The bank drops on valuation concerns after disappointing execution. Response: Management's visionary moves earn it a higher valuation.
- Ozarks muffs the Omnibank integration. Response: The bank has successfully acquired 12 financials in the last 5 years.
- Texas' economic growth slows. Response: Unlikely. Ozarks has other levers to pull. North Carolina loan growth just started to ignite this year.
Valuation
Most serial acquirers run efficiencies above 60% and ROAs below 1. After all, M&A is a messy, inefficient process. Now try pulling off 13 acquisitions in 5 years. Yet, Ozarks accomplished this feat and still managed a dazzling 46% efficiency, 0.09% charge-off, 1.8 ROA, and 13.8 ROE. Outrageous growth, execution, conservative lending - Ozarks has it all. If Ozarks wasn't a bank, it would already be priced at 40X EPS. Sometimes you have to go for the best and pay up for quality.
Bottom Line
Bank of the Ozarks is making two very smart acquisitions at bargain-basement prices, setting the company up for strong financial growth and reinforcing the notion that management can make all the difference. With its most recent acquisitions, the bank has insured a big future.
When you think big Texas oil, think Exxon Mobil. When you think big banking in Texas, think Bank of the Ozarks. This bank just might become the biggest bank in Texas.. BUY.
Disclosure: I am long OZRK. I wrote this article myself, and it expresses my own opinions. I am not receiving compensation for it (other than from Seeking Alpha). I have no business relationship with any company whose stock is mentioned in this article.
Additional disclosure: The opinions in this document are for informational and educational purposes only and should not be construed as a recommendation to buy or sell the stocks mentioned. Past performance of the companies discussed may not continue and the companies may not achieve the earnings growth as predicted. The information in this document is believed to be accurate, but under no circumstances should a person act upon the information contained within. We do not recommend that anyone act upon any investment information without first consulting an investment advisor as to the suitability of such investments for his specific situation.