BlackBerry (BBRY) refuses to die. Despite horrible results and management chaos, the company continues to operate and to raise capital. Fairfax Financial just put another $250 million into BlackBerry's treasury to keep the company liquid while newly installed CEO John Chen takes a shot at a turnaround.
The popularity of the BBM Messaging service released last fall to iOS and Android users suggests that there is still some traction to the BlackBerry name. The service added some 40 million iOS and Android users with weeks of its cross platform launch.
The barriers to the company's success are formidable. Device sales are in the toilet and BlackBerry is losing market share even faster than Apple but without the "profit share" Apple (NASDAQ:AAPL) bulls continue to point at.
Those barriers include:
No application ecosystem to speak of in comparison to Android and iOS, each of which have over 1 million applications and turn in billions of dollars in download revenue for developers, Google and Apple;
A tarnished brand, with loyal users disappointed the new devices launched in 2013 failed to provide the mini-track pad, "back" button and in the case of the Z10 and Z30 the traditional and once very popular BlackBerry Qwerty keyboard;
Competitive prices in a market where very solid devices from Android OS suppliers were on the market for significantly less than a BlackBerry.
Trying to carve out a "prosumer" market segment bridging BlackBerry's traditional strength in enterprise and the rank and file of consumers.
Chen seeks to change all that and is well on his way with bold and decisive steps that suggest there is at least hope.
First, seizing an initiative started by much maligned and now ex-CEO Thorsten Heins, Chen has cut a deal with Foxconn (OTC:FXCOF) to design and assemble BlackBerry devices at much lower cost and to share the inventory risks. BlackBerry devices with prices below $200 may appear in Asian markets later this year.
Second, Chen has made it clear that future BlackBerry devices will have the Qwerty keyboard. With any luck, they will also have the mini-track pad and "back button" although there has been no statement by BlackBerry to that effect.
Third, Chen has stated publicly BlackBerry will go back to its roots and focus on enterprise where the company still has a following. Chen expects BlackBerry to turn a profit again by 2016.
Finally, and perhaps most importantly, it seems BlackBerry engineers have finally made the device run Android applications natively and without "side loading" them. Simply download Instagram, Skype or Snapchat and it will run smoothly.
Now, if I got my wish, my next BlackBerry device would be a clone of the BB7 Bold but running BB10 and Android applications. Forgive me for a bit of nostalgia but such a device would likely find customers.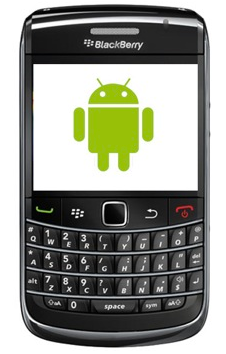 The new Android run-time will be released as part of BlackBerry's BB10 release 10.2.1 which is currently in the hands of developers and will potentially be released to users later this month.
The recent scandal regarding the NSA spying on people reinforces the value of security, something for which BlackBerry is still renowned.
Unlike competitor Apple BlackBerry did not have to make a statement regarding its awareness of the NSA probe or to deny its involvement. For its part, Apple says it is unaware of NSA spying communications between people using iPhones. To be very specific, the following is a quote reportedly from an Apple memo on the subject:
"Apple has never worked with the NSA to create a backdoor in any of our products, including iPhone. Additionally, we have been unaware of this alleged NSA program targeting our products."
The full text of the Apple statement can be found here.
Apple executives must be the only people on earth so "unaware". I guess they thought that the NSA was only interested in data stored on Android or Windows devices. Yeah, that must be it. No one who uses an iPhone has anything that could interest the NSA, right?
An April 2013 NSA presentation (note they use Powerpoint) has a nifty Apple logo together with logos for Gmail, Facebook (NASDAQ:FB), Hotmail, Skype and YouTube. I guess the NSA was targeting all mobile devices, including those of Apple. That makes sense doesn't it? Maybe Tim Cook can advise.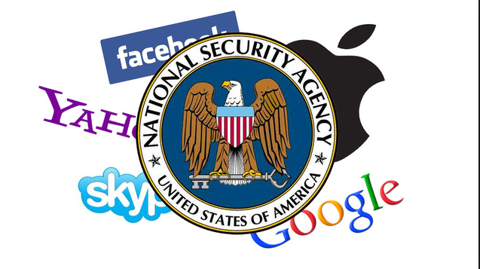 Jeff Gamet writing in the Mac Observer reports information from Jacob Applebaum, a security researcher, that the NSA can spy on any iPhone any time using software known as Dropout Jeep, which can even activate your iPhone camera for real time video surveillance. Applebaum says the program could not work as well as it does without help from Apple.
The cartoons that cropped up after the new of the NSA spying are really priceless. Apparently Angela Merkel was not amused at the suggestion that the United States was spying on her.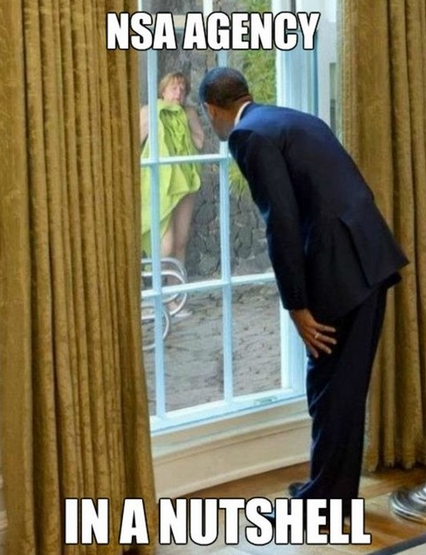 Thankfully, Merkel uses a BlackBerry Z10. Most observers believe even the NSA can't crack a BlackBerry loaded with Secursmart software.
Humor aside, the NSA scandal highlights the risks of mobile communications and in particular the risks of using devices built for consumers without a real concern for security. Most of us have few secrets and do not have any concern whether the government knows what we communicate or view on our devices. But we are concerned about the security of our financial records and the safety of our children.
Security is at least one solid argument why BlackBerry has a chance of surviving.
Meanwhile, BlackBerry stock has been on a tear despite the dismal financial reporting and failure of the Fairfax bid, up over 50% in the past month.
I still hold a slew of BlackBerry long term calls, a hangover from what I thought a month ago was the residue of a bad call made in early 2013. As it turns out they might be a good investment after all. Go figure.
Disclosure: I am long BBRY, . I wrote this article myself, and it expresses my own opinions. I am not receiving compensation for it (other than from Seeking Alpha). I have no business relationship with any company whose stock is mentioned in this article. I hold BlackBerry calls and Apple puts.