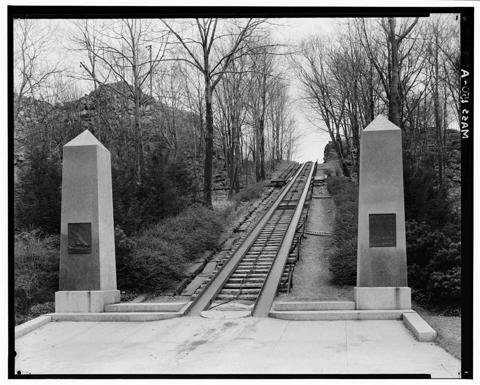 (Editors' Note: This article covers micro-cap stocks. Please be aware of the risks associated with these stocks.)
In 1826, near Quincy Massachusetts, the first commercial U.S. railroad - the Granite Railway was born. It was built to haul granite blocks from a local quarry to the Neponset river, for further transport by barge to Boston. This was America's first short line railroad.
In the beginning of the industry, all railroads were short line railroads. However, by the time of the American Civil War, consolidation between these lines formed regional systems that eventually became the Class I and Class II railroads of today. In the early part of the 20th century, competition from trucking and manufacturing changes led to a long slow decline in American short lines. Through the late 50's the 60's and early 70's, American railroads virtually collapsed, resulting in the formation of Conrail in 1976, and eventually leading to the passage of the Staggers Rail Act of 1980. The turning point for the short line railroad industry.
Today, there are hundreds of successful and profitable short lines in the U.S. These range from regional line-haul railroads to terminal operators and rail car switching operators, and make up a significant portion of the more than 225 thousand jobs in the rail transportation industry. In addition, there are a number of publicly traded stocks on these companies. This article will highlight three to stay away from and why you shouldn't buy them, two that you can watch if you are interested in the industry, and one that should have a place in the transports allocation of your portfolio.
3 to Forget About
Don't let anyone talk you into buying these stocks. Yes these companies are operating, and I'm sure in some cases they are doing quite well. But truth of the matter is that NONE of them are independent anymore. Yes, their shares trade, sometimes infrequently, over the counter. But in each of their cases, they are tied directly to a major player in the rail industry.
Mobile & Birmingham Railroad (OTC:MBRRP) - These are preferred shares that are trading dark. The shares do pay a $2 per share semiannual dividend payable in January and July. However, the company has been leased in perpetuity to Norfolk Southern (NYSE:NSC).
Dayton & Michigan Railroad (OTCPK:DMRR) - These shares are traded over the counter, but without current information and are currently being quoted with a 6 dollar spread. The shares have been paying an $.0875 semiannual dividend. However, the company leased in perpetuity to CSX (NYSE:CSX).
Allegheny and Western (OTCPK:AWRY) - These shares are traded over the counter as well, also without current information and are currently being quoted with a $9.50 spread. The shares have been paying an $3 semiannual dividend. However, the company leased to what is now the Genesse and Wyoming Railroad (NYSE:GWR).
2 to Watch
In these two cases, either the business is too small (high risk) or the shares are too thinly traded. While these companies might be of interest to enthusiasts of the industry or certain other stakeholders, retail investors have other, much lower risk options available to them. Do not, however, take these statements to suggest that these shares are a sell, or that there is anything wrong with the companies.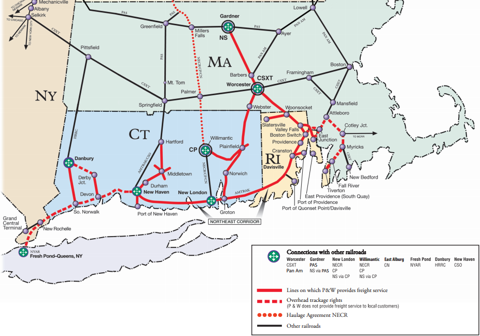 Providence and Worchester (NASDAQ:PWX) - The company is a short-line freight railroad operating in Massachusetts, Rhode Island, Connecticut and New York. It interchanges freight traffic with CSX, Pan Am Railways, Norfolk Southern, New England Central Railroad, and Canadian National and Pacific Railways. It also interchanges with the New York and Atlantic Railroad at Fresh Pond Junction in Queens, NY. It operates four classification yards in Worcester, MA, Cumberland, RI, and Plainfield and New Haven, CT. The Company transports a wide variety of commodities and goods, including automobiles, construction aggregates, iron and steel products, chemicals, lumber, scrap metals, plastic resins, cement, coal, ethanol, construction and demolition debris, processed foods and edible foodstuffs, such as frozen foods and corn syrup, and boasts to having over 140 customers.
First response to the company is that Providence and Worcester Railroad is too small, and therefore concentrates risk for the retail investor. Truth of the matter, it serves the largest metropolitan service area in the United states, so the "to small" argument is a bit skewed. However, once you couple the single service area with an average daily trading volume of less than 5,000 shares, the company just has to go on the Watch List rather than the buy list.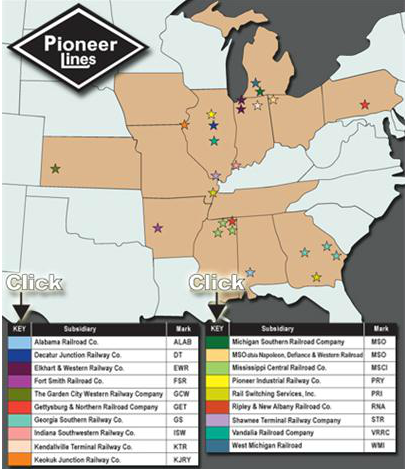 Pioneer Railcorp (OTCPK:PRRR) - Pioneer Railcorp is a railroad holding company that owns short line railroads and several other railroad related businesses including a railroad equipment company and a contract switching services company. Pioneer Lines rail system is primarily devoted to carrying freight and currently consists of 25 rail operations in 13 states with over 600 miles of track serving over 100 customers.
Although much larger, area wise compared to our prior company, Pioneer is even more thinly traded. This OTC stock averages less than 1000 shares a day, and pays just $0.10 per year in dividend.
Together, these are interesting companies, but a bit on the illiquid side. That makes them less attractive. Therefore, I'll pass for those reasons alone.
1 to Buy
This brings us to the highlight of this short line article; a New York Stock Exchange treated company that averages over 400 thousand shares per day in average volume.
Genesse and Wyoming (GWR) owns and operates short line and regional freight railroads in the United States, Canada, Australia, the Netherlands and Belgium. This includes service at 36 ports in North America, Australia and Europe and the operation of the Tarcoola to Darwin rail line which links the Port of Darwin with the Australian interstate rail network in South Australia. In total, Genesee and Wyoming operates 111 railroads organized in 11 regions, owns or leases more than 15,000 miles of track and has approximately 2,500 additional miles under track access arrangements.
The company has been growth focused through acquisitions, and recently announced their newest acquisition, the west end of Canadian Pacific's (NYSE:CP) Dakota, Minnesota & Eastern (DM&E) line encompassing approximately 660 miles of CP's current operations between Tracy, MN and Rapid City, SD; north of Rapid City to Colony, WY; south of Rapid City to Dakota Jct., NE; and connecting branch lines. It also includes trackage from Dakota Junction to Crawford, NE, currently leased to the Nebraska Northwestern Railroad (NNW). Seeking Alpha author Gregory Vousvounis recently published an article focused on GWR growth strategy here.
However, one should always be wary of companies that grow solely through acquisitions. Luckily, GWR has been posting internal growth as well. Here are a couple of tables from their November rail traffic report.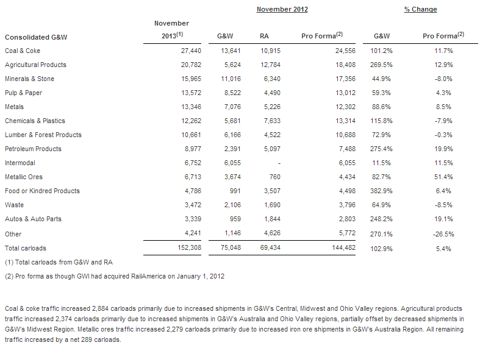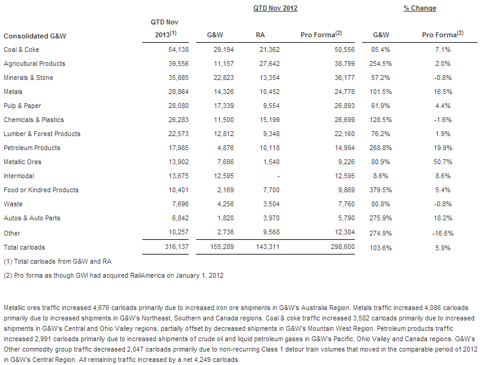 A few of the things I would point out are the growth rate in petroleum shipments, growth in metallic ore shipments, and intermodal.
I have done a previous article discussing the opportunities before GWR in the Oil and Gas E&P in the Marcellus and Utica Shale regions here. The company has been the "final mile" shipping crude from Bakken to Gulf Coast refineries for years now, and the numbers above reflect those consolidated operations.
Next, there is a lot brewing in the intermodal transportation sector. With the ongoing expansion of the Panama Canal, dredging programs of east coast ports, and the beginnings (or potential for) recovery in Europe, Genesse and Wyoming's Port Operations in Jacksonville, Savannah, Wilmington, and Norfolk and Rotterdam and Antwerp should see growth.
Finally, there are possible green shoots in the coal industry as well. (See here) With that in mind, there is potential growth in GWR's Contract Coal Loading operations in Wyoming and Montana as well.
Conclusion
A well diversified portfolio should include transportation companies, including railroads. But if one only has major Class I railroads like Union Pacific (NYSE:UNP), Norfolk Southern (NSC), or Canadian National (NYSE:CNI) you are missing half the story. There is a very interesting macro story developing and Genesee and Wyoming fits nicely in the middle.
Look for more from me down the road (err ... down the rail) on this macro story.
Disclosure: I am long GWR, . I wrote this article myself, and it expresses my own opinions. I am not receiving compensation for it (other than from Seeking Alpha). I have no business relationship with any company whose stock is mentioned in this article.