Realty Income (NYSE:O) has been facing considerable headwinds recently. The stock has vastly underperformed the market, down over 30% from its May 2013 highs. However, this decline can likely be explained more as a change in market sentiment than as an indictment on Realty Income's fundamentals. Simply put, Realty Income has some of the best metrics out there among the triple net REITs, with a modest payout ratio, diversified customer base and an investment grade credit rating. By far, Realty Income's most attractive feature would be its monthly dividends, which has it yielding about 5.73% at current prices.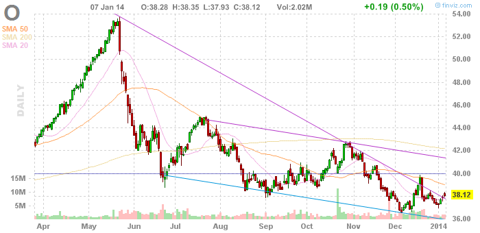 Why has Realty Income struggled?
This question is hard to answer without making some educated guesses. It is clear that investors shifted towards high dividend paying names during early 2013. The market was searching for yield anywhere it could find it, sending shares of nearly every income oriented stock soaring. This lead to valuations being out of sync with the underlying earnings growth potential of these names. In short, income stocks became a bubble.
Further adding fuel to the fire was the volatile interest rate situation (QE and tapering) during 2013. Interest rates were all over the place, rising and falling at very atypical levels. This lead to massive price swings in many income producing assets.
Touting itself as the "monthly dividend company," Realty Income became a prime example of this trend. During its peak, shares of Realty Income were trading at an absurd 20x multiple to FFO. That valuation was simply too high given Realty Income's modest growth potential.
Patient investors should not worry about Realty Income
However, with its decline, Realty Income is now finally back at a sane valuation. For 2014, the company expects FFO to range from $2.53 to $2.58 per share. This puts Realty Income's multiple at about 15x FFO using the midpoint of this guidance. This is a pretty fair valuation given its 7% growth rate over the past five years.
I would argue that long-term investors should really not worry about Realty Income as the company is fundamentally strong. In my previous article, I showed that the company continues to operate well, with its current occupancy rate of over 98%. In addition, Realty Income's customers diversified, with low amounts of industry concentration. Realty Income's customers also are mostly investment grade at about 65% of revenues. Furthermore, Realty Income's revenue is essentially locked in for many years, with the vast majority of its revenue coming from long-term (10 to 20 year) leases.
Realty Income also has an advantage compared to many of its peers, namely an investment grade credit rating. Realty Income is one of the few REITs out there with such a rating. This gives the company larger access to the credit markets as well as a lower cost of capital.
The company is also making some smart acquisitions. On December 18, Realty Income agreed to purchase 84 single-tenant net-leased properties for $503M from Inland Diversified Real Estate Trust. Closing is expected sometime in Q1 2014. The portfolio contains 16 tenants in 12 industries spread across 22 states with 68% of the rental revenue generated by investment grade tenants. According to a Morningstar report, this transaction is expected to be moderately accretive to FFO per share. The anticipated yield on these assets is around 7%, inline with previous transactions. This may indicate that the company may have some more wiggle room for a potential dividend increase.
When reinvested, monthly dividends can lead to outsized returns
Realty Income is true to its motto as the monthly dividend company. With its recent declaration, Realty Income has now paid out monthly dividends for 522 consecutive months. This includes a total of 74 dividend increases since its 1994 IPO as well as 64 consecutive quarters of dividend increases.
While some may argue that a 5.7% yield is not enough reward for the risk, this sort of thinking is short-sighted at best. Realty Income has easily beaten the markets when reinvesting dividends. Since the 1994 listing on the NYSE, Realty Income has posted an average annual total return of 16.8%, nearly double the performance of the major indices.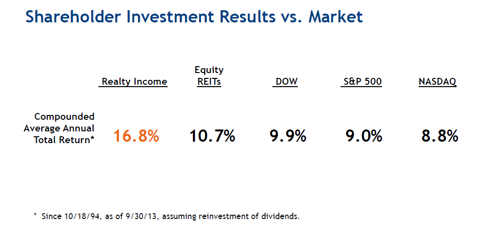 Want a shorter timeframe? Over the past 5 years, Realty Income has posted a total return of over 130%, easily beating the S&P 500. This proves the compounding power of monthly dividends.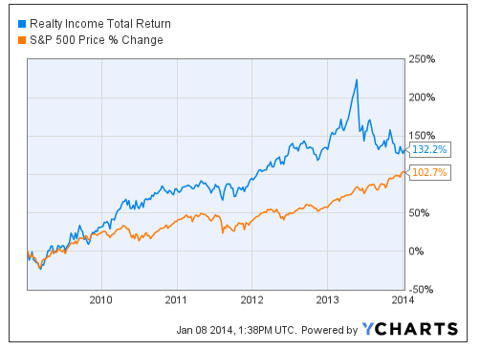 Conclusion
Realty Income remains a solid choice for monthly dividend income. The current weakness in its share price seems to be more related to a shift in market sentiment than to anything specifically related to Realty Income or its operations. The company has some of the best fundamentals in its peer group as well as a strong track record of dividend growth.
Disclaimer: The opinions in this article are for informational purposes only and should not be construed as a recommendation to buy or sell the stocks mentioned. Please do your own due diligence before making any investment decision.
Disclosure: I am long O. I wrote this article myself, and it expresses my own opinions. I am not receiving compensation for it (other than from Seeking Alpha). I have no business relationship with any company whose stock is mentioned in this article.