Facebook (NASDAQ:FB) is one of those legendary internet phenomena that was spawned in a dorm room and in no time became a household word with over 1 billion users. Its database holds more secrets than the CIA or FBI ever dreamed of, making it a powerful tool for law enforcement and a daily ritual for almost everyone between 13 and 19 worldwide. If you think the NSA is spying on you, they have nothing on Facebook. The difference is that the NSA secretly sneaks into your privacy and spirits away information you had not planned on making public. Facebook does not do anything sneaky. In fact, you just give them your information believing they won't misuse it.
Facebook makes no bones about cooperating with law enforcement. Facebook even has a simple page to facilitate law enforcement requests for information.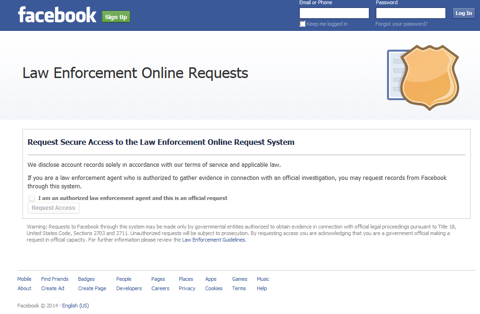 Not surprisingly, with access to a database where you post information about your age, location, interests, friends and what you are up to from time to time, law enforcement can find a great deal of information about you in short order. If you have been up to no good, it is a great tool to help them ferret out the evidence they need. Quite a few crimes have been solved using Facebook data.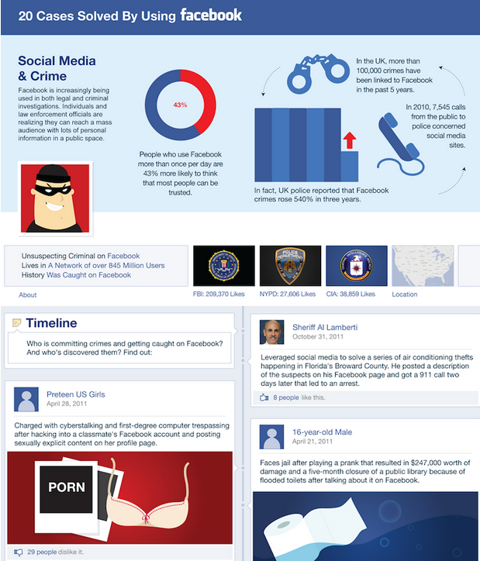 I often wonder if, one day in the future, people will think their privacy is just about as important as telling the world which of their friends came to their birthday party or what girl they think is cute.
In 1949 Eric Blair writing under the pen name George Orwell published his now famous and almost clairvoyant look into the future entitled "1984". While Blair died not long after it was published and did not live long enough to see any of the advances the computers he imagined would bring to the world, there can be no doubt his work was prescient in its insight into the power of information and communication.
I am quite confident Orwell would have seen Google (NASDAQ:GOOG) and its formidable databases and search capabilities as something akin to the "Big Brother" he imagined in his classic novel.
I am not suggesting that Facebook or its rival Google, both massive repositories of personal data, are odious in any way. They are large, popular and powerful organizations and provide services their users and advertisers value highly. Rather than being feared for collecting enormous gobs of our personal data and using it to target ads for their paying customers, we embrace them willingly and many would find life hard to live without them.
For investors, the question is whether to own them.
Both Facebook and Google depend on advertising revenues. Between them, they gobble up 69% of the global mobile ad revenue, a staggering accomplishment in my view. Google is the giant, of course, but Facebook is growing at a heady pace. Most other on line businesses based on advertising are miniscule by comparison.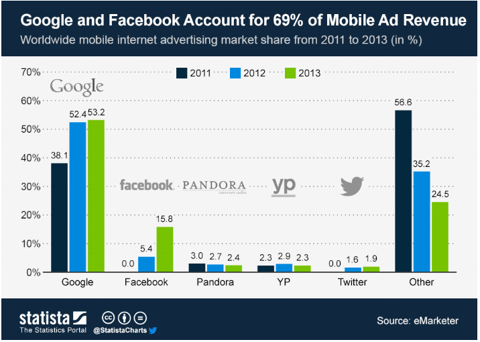 Investors don't usually see Google and Facebook as competitors seeing Google as primarily a search engine and Facebook as the leading social networking site. The fact is they are competitors and lock horns every day in their quest for advertising dollars.
Facebook has yet to turn its sights on the search market, but Google has definitely seen the importance of social networking and is surprisingly close to Facebook on social logins.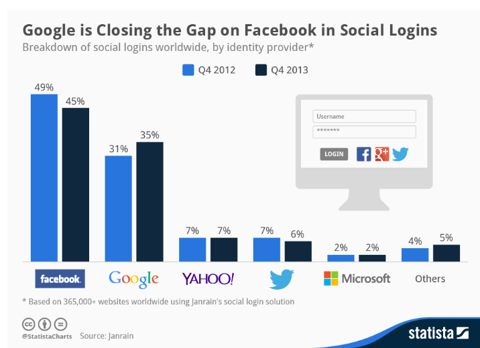 These two Internet titans have made bold and effective strategic decisions in the past few years. Google's acquisition of YouTube is a runaway hit despite Google being criticized for the $1.7 billion price tag. Facebook's $1 billion acquisition of Instagram was equally successful.
Both companies have become key internet properties with Google topping the list of most visited and Facebook taking third place.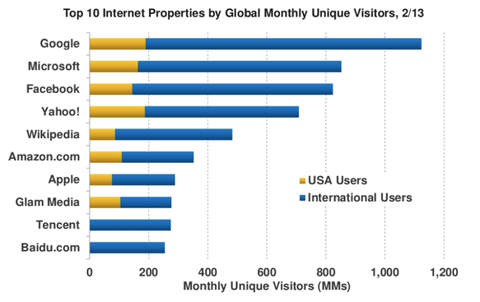 Mobile has become a key factor in the success of both Google and Facebook each enjoying a massive mobile audience reach.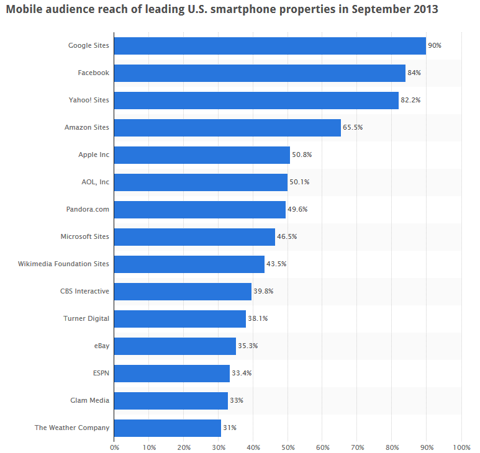 Facebook made mobile a priority only last year and already 21% of its users are "mobile only".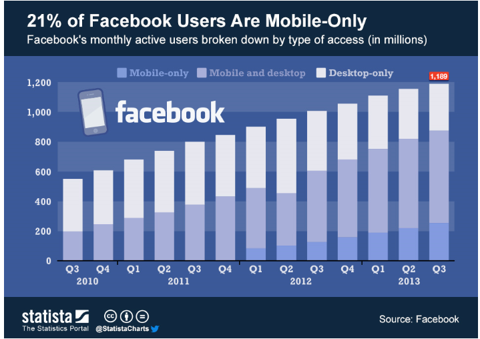 Facebook's revenue is growing very quickly with mobile ad revenue forecast to make an increasingly important contribution to that growth.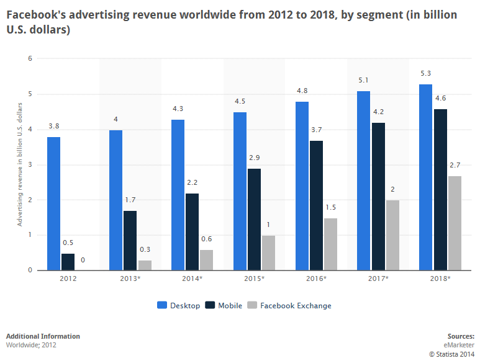 Facebook's average revenue per user has pretty well stagnated on the desktop while mobile continues to grow.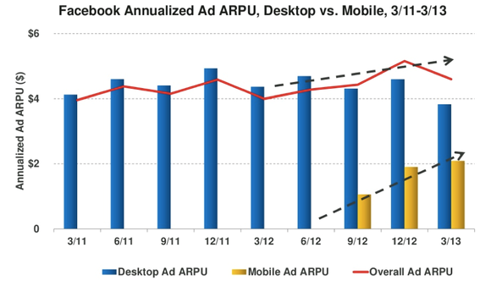 And, not surprisingly, Facebook earns the most from North American users.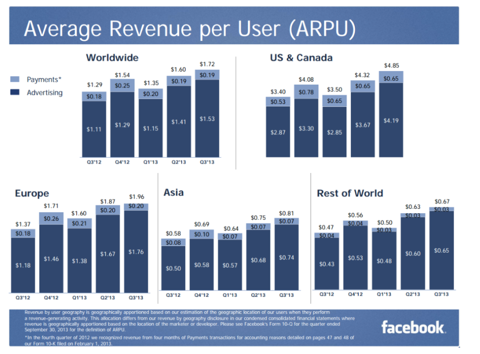 Google has been around longer and has a more diversified platform than Facebook, so it should not be surprising that Google's ARPU is substantially higher than Facebook's, as shown by these estimates.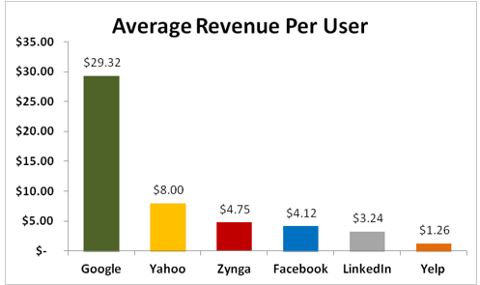 So what should investors choose? The answer is both. Google had a terrific 2013 with the stock up over 50% while Facebook rose more than 80% last year. Neither has finished growing and both offer the prospect of further increases in earnings and hopefully in stock price.
They are not without risk. Both depend on advertising dollars for revenues and both harvest private information to make their platforms powerful vehicles for advertisers to get the most "bang" for their customers' advertising dollars. That makes each vulnerable to user concerns over privacy and to changes in privacy legislation.
I don't currently hold a position in either company but I am hoping for a market correction to buy into both. They are great companies with bold management in a burgeoning space and should do well for years to come.
Disclosure: I have no positions in any stocks mentioned, but may initiate a long position in GOOG, FB, over the next 72 hours. I wrote this article myself, and it expresses my own opinions. I am not receiving compensation for it (other than from Seeking Alpha). I have no business relationship with any company whose stock is mentioned in this article.