The development of new technologies over the past several years has resulted in the production of vast amounts of natural gas and oil in the US and Canada. These developments will transform the global economy over the next few decades as tactical obstacles facing the US companies are resolved (i.e., Oil export ban, Keystone pipeline, and insufficient natural gas pipelines). In the meantime, domestic markets are affected by a growing glut of domestic crude oil and natural gas as well as recent concerns about transporting Bakken shale-derived crude oil by rail.
These obstacles provide opportunity to the investor as the share prices of refineries ("Marathon Petroleum Corporation (NYSE:MPC)", "Valero Energy Corporation (NYSE:VLO)") and chemical companies ("The Dow Chemical Company (DOW)") continue to rise in the face of cheap feedstock. In a similar manner, the transition of coal-fired power plants to natural gas without sufficient transportation infrastructure has created a supply issue. In the northeastern United States this has resulted in a 25% spike in the spot price of natural gas since November. These forces have combined to induce a nice appreciation in the share price of a couple of companies focused on domestic natural gas transportation ("Spectra Energy Partners, LP (NYSE:SEP)", "The Williams Companies, Inc (NYSE:WMB)") which augments their above average dividend yields of 4.6% and 4.0%, respectively. These two companies are fairly priced relative to their book value (2 and 5,respectively) and provide above average dividends.
| | | | | | | | |
| --- | --- | --- | --- | --- | --- | --- | --- |
| Ticker | Stock | Div. | P/E | P/B | D/E Ratio | Operating Margin | b |
| WMB | Williams & Companies | 4.0% | 34 | 5 | 119 | 20% | 1.4 |
| SEP | Spectra Energy Partners | 4.6% | 13 | 2 | 110 | 46% | 0.5 |
Spectra Energy Partners, LP is a Master Limited Partnership with access to or ownership of nearly 13,000 miles of natural gas pipelines and storage facilities from the in the eastern United States, covering regions from the Gulf coast up the eastern seaboard to Nova Scotia. Their natural gas pipelines connect the remote areas of natural gas production with high-demand markets. The Texas Eastern, East Tennessee and Algonquin transmission pipelines can transport 6.7 Bcf/d of natural gas from Texas and the Gulf Coast to the northeastern United States and beyond to Nova Scotia. Furthermore, SEP has created 150 billion cubic feet of natural gas storage, and approximately 5 million barrels of crude oil storage. Not to be ignored are their 1,700 miles of crude oil pipeline (Express-Platte) which originate in the Bakken formation and transport to crude oil refineries in the Midwest. The recent concern that Bakken-derived crude oil may require special processing prior to shipping by rail may further enhance the value of this particular asset.
Spectra Energy Partners, LP obtains approximately 90% of its revenue from transport and storage of its customer's products. The cash flow derived from these long-term contracts reduces the risk for a stock with a 4.6 % yield and a significant potential for growth.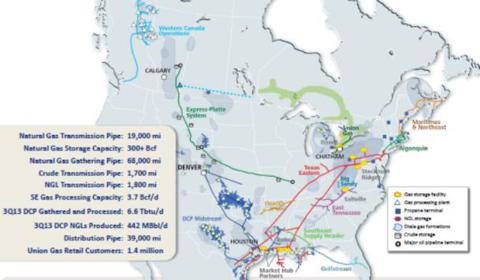 The Williams Companies, Inc. is another player which appears to be well-positioned to meet the natural gas pipeline demands based on pipeline infrastructure which is overlapping and complementary to SEP. This company owns or operates significant infrastructure with 15,000 miles of natural gas pipelines. On a single day last December, the Company stated that its Transco pipeline delivered sufficient gas to heat nearly 50 million U.S. homes in an area stretching from Mississippi to New York City. This pipeline and its recent Northeast Supply Link were designed specifically to connect Marcellus natural gas supplies direct to nearby customers in Pennsylvania, New Jersey and New York.
WMB also derives much of its revenue comes from transport and processing of its customer's products. The cash flow derived from these long-term contracts reduces the risk from a stock with a 4.0 % yield and a significant potential for growth.
The author conducts thorough research as a basis for the opinions provided within this article. Do not invest without first doing your own research.
Disclosure: I am long WMB, . I wrote this article myself, and it expresses my own opinions. I am not receiving compensation for it (other than from Seeking Alpha). I have no business relationship with any company whose stock is mentioned in this article.