I find it very amusing that Microsoft's (NASDAQ:MSFT) resurgent mobile effort is partly being funded by licensing fees from Android devices. Microsoft will assume ownership and full control of Nokia's Devices & Services division early this year. I am sure that some of the $7.2 billion it paid to acquire Nokia's phone business came from the patent fees that Android OEM and ODM companies pay Microsoft.
Steve Ballmer will gracefully exit this year and the Nokia deal might prove to be his greatest accomplishment. Ballmer's biggest coup to date is his impressive patent taxing of Android device makers.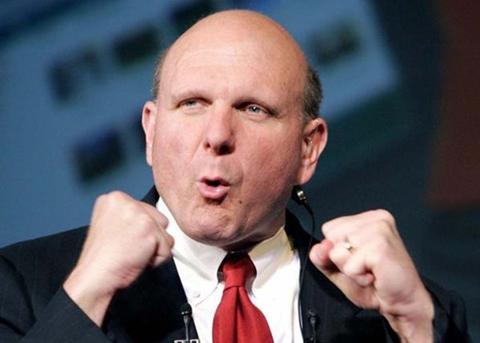 Thanks to the billions of dollars that it earns from Android licensees, Microsoft is now a full-pledged hardware & software company like Apple (NASDAQ:AAPL) and Google (NASDAQ:GOOG). I believe that Microsoft version 2.0 is again the top contender to overtake Apple in terms of market value.
Apple and Google have outperformed Microsoft for the last five years. I'm confident, though, that a post-Ballmer MSFT is likely to catch up with its two biggest rivals within two years. Using the money of your enemy to win the mobile war is very impressive. Even the great Sun Tzu never thought about this tactic. Ballmer deserves a big pat on the back for this feat.
MSFT is already a BUY in my book. I do not have the money yet, but if ever RedBerry (BBRY) recovers and lets me unload it at a smaller loss, I'll use the money to purchase a few MSFT. I can't resist it, Android money is funding Microsoft's Lumia and Surface line of products.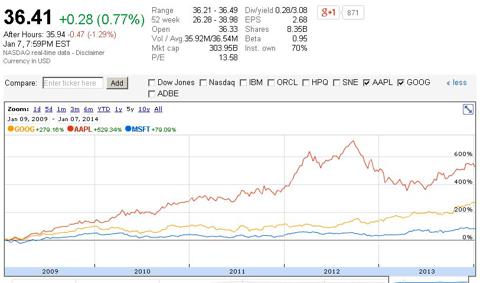 Milking the Android Cows
Most investors already know that Microsoft has successfully landed licensing deals from almost all Android device manufacturers. Only Google's subsidiary Motorola has so far refused to bow down to Microsoft's demand for patent royalty fees. Despite Google's rabid refusal to pay, Microsoft is still raking in big money from the 21 companies who produce Android smartphones, tablets, and other devices.
It is estimated that Microsoft makes money from 80% of all Android devices sold in the U.S. In the global market, 65% of all Android and Chrome OS devices are also covered by Microsoft which, despite its previous failure in the smartphone and tablet sectors, made a lot of money for the past 3 years from the huge sales of Android and Chrome OS products. Since 2010, a lot of companies have agreed to pay Microsoft royalty fees for every Android gadget they sell.
Here's a list of Android Cows and the dates they agreed to pay Microsoft's Patent Toll Booth. Ballmer is a very persuasive, Mafia-strong patent enforcer. You gotta pay or else…
The above list is not complete. These are the only ones I managed to dig up. I'm writing this at the office. Two big Chinese smartphone sellers, Huawei and Lenovo are yet to sign a patent licensing deal with Microsoft.
Guesstimating Microsoft's Android Royalty Fees
All the patent agreements were secret so nobody can really accurately estimate Microsoft's annual Android licensing income. If we based it on the Nokia - Apple licensing agreement where Nokia gets around $12 per iPhone sold, an average of $8 per phone royalty fee is reasonable.
Gartner estimates that 1 billion Android devices will be sold this year. I'm going to use the 65% global Microsoft patent coverage as a basis.
650 million Android devices x $8 = $5.2 billion
If you think $8 per device is too high, let's cut it to $4. Microsoft still gets $2.6 billion free-money, no-cost income.
I'm just talking about Android devices. I haven't included the royalty fees from Chrome OS products yet. If we add another 100 million Chrome OS gadgets for 2014, that's another $400 million. My guesstimate is that Microsoft gets at least $3 billion from patent license fees starting this year. The said amount will increase year after year. In five years' time, it might be worth $8 billion.
Here's a guesstimate chart of Microsoft's Android money machine based on Gartner's predicted number of Android device sales until 2017. It covers 50% of total Android sales so the numbers are lower.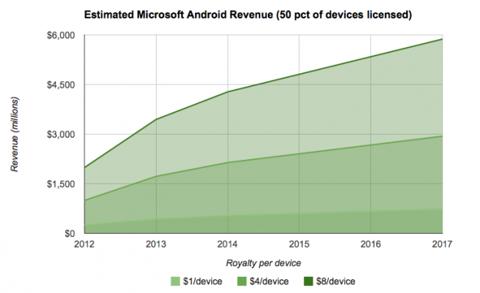 Microsoft Can Start A Price War
With so much free money coming from Android and Chrome OS OEM and ODM companies, Microsoft can easily afford to subsidize its 2014 mobile campaign. It can improve its chances of grabbing market share from Apple and Samsung if it starts a price war like what Google did with Moto X.
The $3 billion guesstimated Android money that Microsoft earns this year is huge enough to cover any losses from selling Lumia phones below cost. The iPhone is well entrenched as the world's best selling premium handset. Samsung's Galaxy S4 and Galaxy Note 3 took the lion's share of non-iOS phone sales.
As of 3Q 2013, Nokia's Lumia isn't even in the top 6 in global smartphone sales ranking. The chart below is from Gartner. Windows 8 Lumia phones actually did great last year. In Q3 2013, 8.8 million Lumia smartphones were sold, up from the 7.7 million units it sold in Q2 2013.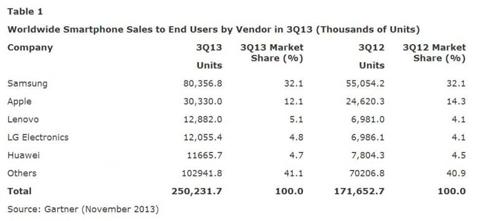 Microsoft will take over Nokia's phone business early this year. I hope Microsoft uses its $3 billion Android money to develop better models of the Lumia brand, subsidize existing ones, and spend a lot on marketing.
The Lumia's record sales figures last year was spurred by the $199 entry-level Lumia 520. Microsoft can afford to further lower the 520's price to attract more buyers for it especially in Emerging Markets like China, India, South America, and Africa.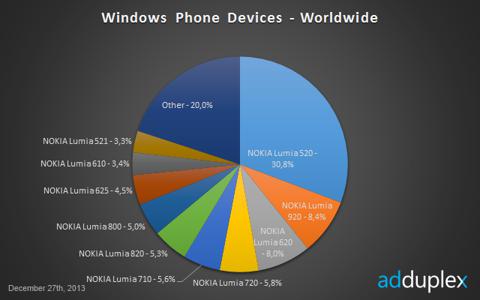 The affordability of the Lumia phones has helped Windows 8 gain significant market share in 2013 in different major countries in the world. Microsoft smartphones are now more popular than BlackBerry in Europe and Asia Pacific.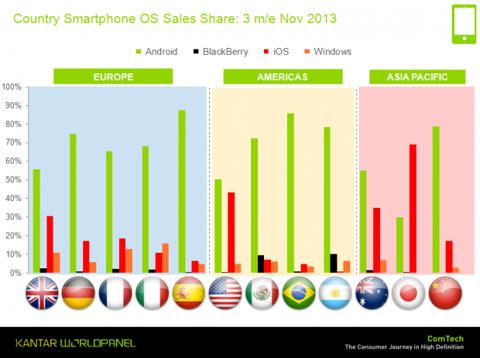 Most Lumia sales in 2013 are from non-North American countries. Microsoft should continue Nokia's successful entry in non-U.S. markets. Low-cost but high-quality smartphones is now the current market trend.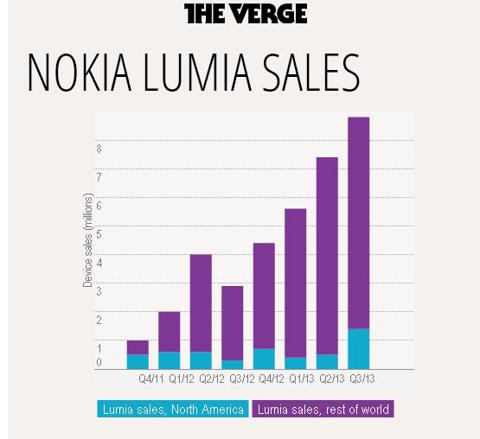 Seducing U.S. Customers Away from Samsung and Apple
Apple and Samsung dominate the U.S. market now - even Google's Motorola can't compete with this two. Microsoft, however, has a great premium handset/phablet in the Lumia 1520. Features wise, the Lumia 1520 is as good as the Apple iPhone 5S and Samsung Galaxy Note 3.
There's also the incredible Lumia 1020, the 41 megapixel camera is a killer feature that no other smartphone could match. Microsoft should use some of its Android money to subsidize these two great Lumia premium phones to attract more buyers in the U.S. Lower the price by 20%-25% and Lumia high-end phones become very enticing.
Market Share First, Profits Later is a great tactic to grab buyers away from the iPhone and Galaxy S4. The losses can be recovered by future sales and commissions from app download. The top priority for now is to propagate the number of Windows Phone users so that Microsoft's MarketPlace can become the cash cow that iTunes Store is right now.
It is also not hard to wage a price war against Apple because of its high-margin-only mantra. Tim Cook is still not stepping out of Steve Jobs' core practice of selling very expensive products to Apple's cult of iFanatics.
Conclusion
Microsoft's massive annual royalty fees from Android can cover all the initial losses in its mobile campaign for the next five years. The 2014 $3 billion patent fees from Android devices ought to be used exclusively in maximizing sales numbers of Windows 8 phones and tablets. Microsoft should not spend it to offset the losses from Xbox One.
Microsoft is a Strong BUY. It has very strong fundamentals. See the charts below - MSFT is undervalued compared to the market valuation of other big-cap tech companies. BUY MSFT now while it is still cheap.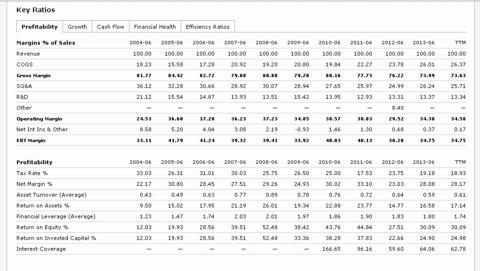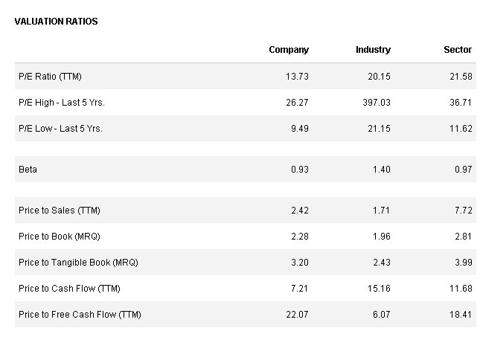 Disclosure: I am long BBRY, GOOG. I wrote this article myself, and it expresses my own opinions. I am not receiving compensation for it (other than from Seeking Alpha). I have no business relationship with any company whose stock is mentioned in this article.