Vale (NYSE:VALE) is the world's largest iron ore producer and second largest nickel producer. The Brazilian company produces approximately ¼ of the global iron ore supply and is the country's largest exporter. Vale operates worldwide and employs more than 145,000 people.
The company published very good 3Q13 results and YE results should be pretty good too thanks to rising iron ore prices due to robust steel production in China.
Currently trading at approximately $14, the shares might then appear undervalued.
However a likely slowdown in the iron ore demand from China and the impact of the Brazilian government on Vale's management and results strongly raise the company's risk profile.
This article will focus on several keys to understand Vale's operating framework for the upcoming years and provide an indicative DCF.
The end of 2013 provided more visibility on Vale's future performance
- A positive tax discount that should boost the share price at short term
Vale agreed to pay $9.61 billion in taxes on profit from overseas operations to the Brazilian Government after a discount (the previous estimated amount was $19.4 billion). I believe that the cash impact on Vale's 2013 profits should be about $2.9billion as 27% of the amount is already due this month.
The outcome of the issue is very positive for Vale and should impact positively the share price. However it highlights again the impact of the Brazilian Government on the business, which is to me one of the main risk drivers at the short and medium term.
According to the company, the tax rate should be about 23/25% in the upcoming years (compared with 18% in recent years), which should affect negatively the FCFs.
- Q3 results showed improving results, margin and cost reductions
Operating revenues for the three months ended Sept. 30 increased by 14.5% yoy and jumped from $11,277m to $12,910m. Net income also soared 114% to $3.50 billion from $1.64 billion.
EBIT margin improved to 36.2% for the first nine months of the year, compared with 32.3% a year earlier.
The Brazilian company benefited from strong volumes and increasing iron ore prices. After touching a seven-month low of $110 in May, iron ore has rallied 26%.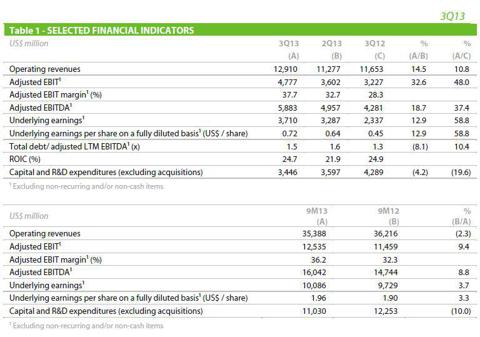 - Decreasing investments
In order to reflect the upcoming slowdown in the demand from China, Vale (But also BHP Billiton (NYSE:BHP) and Rio Tinto (NYSE:RIO)) decided to cut its investment plan. Investment in the first nine months of 2013 already decreased by 9.8% and accounted for $11 billion.
Vale expects to spend $9.3 billion on capital expenditures in 2014, which shows a decline for the third year in a row.
Moreover decreasing investments should boost profits at short term.
Growth drivers and perspectives for the upcoming years
I believe that Vale can be analyzed considering the following main topics:
| | |
| --- | --- |
| Strengths and opportunities | Risks and weaknesses |
| Improving operating efficiency | Slowdown in the demand / low commodity prices |
| Stabilizing iron ore prices | Lack of diversification |
| | Brazilian government impact |
- Improving operating efficiency
Vale decided to cut costs and focus on iron ore one year ago, which triggered improving operating margins. The Brazilian company reduced costs by approximately $2 billion in the first three quarters.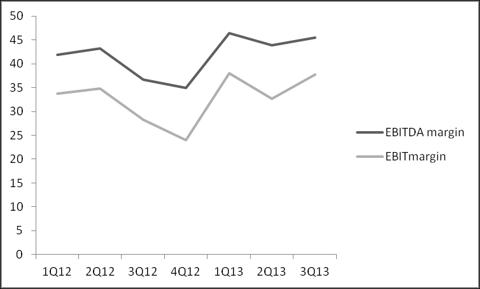 Source: Financial reports
Iron Ore price forecasts
The World Bank raised its iron ore forecasts in its last report to $134 in 2013 and up to $145 in 2025.
The analysts stated an improving global manufacturing activity and the rebound of imports by China. Moreover, the prices should stabilize over the upcoming years, which should provide more visibility on Vale's results.
Iron ore prices outlook ($/mt)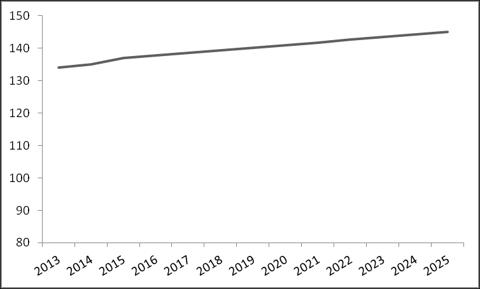 Source: World Bank
However, I believe that the World Bank's scenario can be considered as very optimistic given the increase of the supply and the uncertainty regarding the Chinese economy. For instance Morningstar already expects benchmark prices to fall to $90 by 2015.
Slowdown in the demand growth
According to more and more analysts, the Chinese growth model based on construction and infrastructure is coming to an end, which should impact negatively steel production and iron ore imports. As iron ore production is increasing (Vale expects to produce 312 million tons in 2014 and all the main players focus on quantity), iron ore prices could decrease sharply next year.
China represented for instance 40.6% of Q3 operating revenues compared with 33.0% one year ago.
Operating income by destination (%)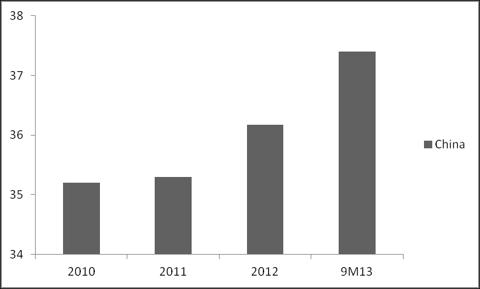 Source: Annual reports
Lack of diversification
Vale started refocusing on iron ore and producing a better quality ore one year ago in order to compete with Australian producers that can ship to China at a lower cost.
For instance iron ore represented 60.1% of the 3Q13 revenues compared with 53.3% one year before.
As a consequence, Vale relies more and more on Chinese imports and should be impacted very negatively in case of slowdown.
Brazilian government
The impact of the Brazilian government is to my mind one of the most risky aspects of the company. Vale being a cash cow and an instrument of power, the government should be keen on protecting this asset. However there is still too much uncertainty. Valepar (Vale's controlling shareholder) can still appoint nine of the board's ten directors.
The Brazilian Government also owns 12 golden shares that allow vetoes on strategic changes.
Valuation
I realized an indicative valuation using a DCF based on the following assumptions:
WACC = 10%.
Terminal growth = 2%.
EBIT margin stabilized at 33% of revenues.
Tax rate stabilized at 24% of revenues. Company officials declared that the tax rate should stay at the 23/25% level in the future.
D&A stabilized at 10% of revenues.
Capex stabilized at 25% of revenues after a decrease in 2014 and 2015 as stated in the business plan.
I assumed that iron ore prices will stabilize over the upcoming years and realized three scenarios based on various prices. I also included a 5% overcapacity when forecasting the revenues in order to reflect the uncertainty regarding Chinese demand.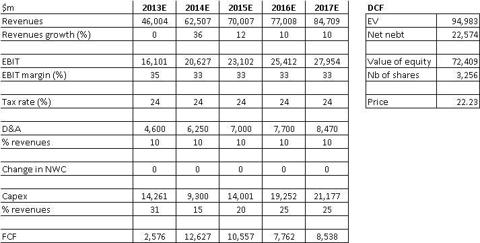 | | |
| --- | --- |
| Iron ore price ($/mt) | Share price ($) |
| 135 | 22.2 |
| 110 | 18.2 |
| 90 | 15.0 |
The $135 scenario is very optimistic. I personally believe that the fair value is about $18.

Source: Yahoo Finance
Vale is now trading at $14.7, which accounts for a 16.6 PE ratio.
Conclusion
I still believe that Vale is a great company with good perspectives for long term investors. The activity should improve over the upcoming years thanks to stabilized iron ore prices and the company should be able to provide cash to investors in the short term.
However Vale's future is strongly linked to iron ore prices and Chinese demand, which creates a lot of uncertainty. The role of the Brazilian government in the shareholder structure is also critical and must be monitored carefully. Finally, decreasing investments combined with a lack of diversification could be dangerous if the economy deteriorates and the Brazilian company needs to adapt to a new environment.
As a consequence, I believe that Vale could be considered undervalued right now but the company has a very high risk profile.
Disclosure: I have no positions in any stocks mentioned, and no plans to initiate any positions within the next 72 hours. I wrote this article myself, and it expresses my own opinions. I am not receiving compensation for it (other than from Seeking Alpha). I have no business relationship with any company whose stock is mentioned in this article.