Calgary based Precision Drilling (NYSE:PDS) is Canada's leading oilfield services firm which provides contract drilling, well servicing and strategic support services to its customers. The company was formed as a private drilling contractor in the early 1950s and has grown on the back of fleet expansion and acquisitions, most notably, the $2 billion acquisition of Grey Wolf Inc in 2008. The business owns a large fleet of horizontally capable drilling rigs.
Earlier in December, the Alberta Investment Management (NYSEMKT:AIM) Company, which owned 56 million shares of Precision Drilling, sold its entire stake in the Canadian driller in an overnight transaction. This came after the company announced disappointing quarterly results in late November. As a result, Precision Drilling's shares dropped by more than 9% on December 5. This was largely due to the overreaction by the shareholders as the company's future outlook is still bright.
Business Segments
Precision Drilling has two business segments; contract drilling services and completion services.
Under contract drilling, Precision Drilling operates its rigs and provides onshore well drilling services to E&P firms, mainly in Canada and the United States. Until the end of 2012, Precision Drilling had 321 land drilling rings, including 186 rigs in Canada, 127 in the United States, 5 in Mexico and 3 in Saudi Arabia. In a recent presentation held earlier in December, Precision Drilling's management pointed out that their onshore drilling fleet has now grown to 334 drilling rigs, including 206 tier-1 rigs, 204 tier-2 rigs and 24 PSST rigs.
Through completion and production services, Prevision Drilling provides completion, workover and other support services to energy firms operating mainly in Canada. The business provides service rigs, snubbing, coil tubing, equipment rental and wastewater treatment services. Until the end of 2012 this segment included 190 service rigs (185 in Canada and 5 in the U.S.) and 5 coil tubing units (3 in Canada and 2 in the U.S.). The company has now significantly grown its capacity to 222 service rigs and 12 coil tubing units.
Precision Drilling gets more than 80% of its revenues from the contract drilling segment, which will be the main focus of this article. For the three years ending 2012, the business got an average of 83.7% of its total revenues from contract drilling. In the first nine months of 2013, the segment contributed 84.5% of the company's total revenues.
In terms of location, Precision Drilling normally generates nearly half of its revenues from Canada, a little less than half from the U.S., and the remaining from international markets. Last year (2012), the company got 51% of its revenues from Canada, 46% from the U.S. and 3% from international markets. Similarly, in the first nine months of the current year, Precision Drilling got 49% of its revenues from Canada, 46% from the U.S. and 6% from international markets.
Sluggish Growth
In 2012, Precision Drilling reported a 5% increase in revenues to C$2 billion due to higher drilling prices in North America. This was entirely due to the 6% increase in contract drilling revenues. The company's segment wise performance, over the last five years is, shown in the pictures below.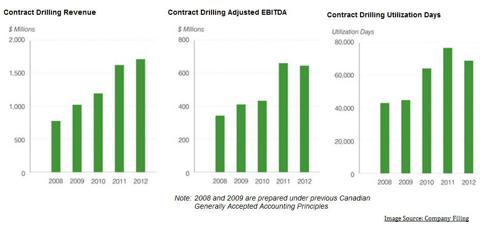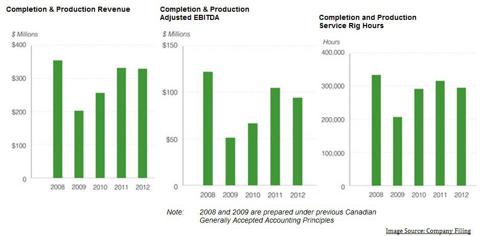 As shown in the pictures above, Precision Drilling's growth significantly slowed down in 2012, with a drop in adjusted earnings coupled with falling utilization days and fewer service rig hours.
This drop was due to the challenging market conditions caused by the volatile oil and natural gas prices, high levels of inventory in natural gas, regional oil price discount caused by oil transportation bottlenecks and the sluggish economic environment in North America.
In 2013, the company's performance shows no significant improvement. In the first nine months of 2013, Precision Drilling has reported a 3% year-over-year drop in revenues to C$1.46 billion and a 10.7% decline in adjusted EBITDA to $441 million.
On the other hand, despite the sluggish performance, in 2013, Precision Drilling has reported improvements in drilling rig revenues per utilization day for both, Canada and the U.S. In Canada, the drilling rig revenues per utilization day has improved by 5.3% from 2012 to C$21,805 while in the U.S., it is up 1.3% to US$23,474 (C$25,382). This improvement was due to the better rig mix and is a clear indication that the company's high performance tier-1 rigs continue to enjoy healthy levels of demand.
In the U.S. market, a significant portion of the company's rigs operate in the spot market but the business was still able to improve its revenue per utilization day; which is impressive.
Growing High-Performance Rig Fleet
Most of the Precision Drilling's fleet in the contract drilling segment which is comprised of tier-1 rigs. These are high performance rigs, called Super Series, which are highly mobile with horizontal drilling capability. The tier-1 rigs are ideal for customers with highly complex drilling requirements for shale or unconventional resources. These rigs can move through pad or skidding systems. The tier-2 rigs are also high-performance rigs that can drill horizontally but are less mobile as compared to tier-1 rigs. The PSST are the conventional mechanical rigs without any automation and lower pumping capacity.
Over the years, Precision Drilling has consistently grown its fleet of tier-1 Super Series rigs from 109 in 2009 to 116 in 2010 to 144 in 2011 to 188 in 2012 to finally 206 by November 2013. Of these 206 rigs, 188 are existing tier-1 rigs, 6 are upgrades while 12 are new builds. Of these 12 new builds, 6 are awaiting delivery in North America and 2 in the international markets.
In the meantime, Precision Drilling has retired its older tier-3 rigs and exited from the tier-3 contract drilling business. The tier-3 rigs are mainly mechanical rigs with considerably lower horsepower units with a lack of the advance technology. In 2011, Precision Drilling decommissioned 36 rigs followed by further 42 decommissions of tier-3 rigs in 2012. The related write-downs had an adverse impact on the company's earnings but I believe that the business has significantly improved the overall quality of its fleet. As a result, the company is in an excellent position to take advantage of the improvement in demand and the anticipated oilfield services rebound on the back of LNG development (discussed later in the article).
These high performance rigs (tier-1 and tier-2) have fueled the company's growth over the number of years. The growth of tier-1 Super Series rigs in particular has made Precision Drilling a "driller of choice" for unconventional drilling in North America. This is evident from Precision Drilling's large footprint in all the major resource plays located in Canada and the U.S such as Bakken, Cardium, Montney and Viking formations, Barnett, Eagle Ford, Marcellus, Niobrara and West Texas resource plays.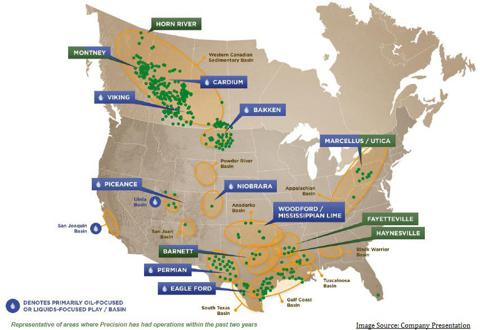 On the Verge Of A Turnaround
Despite an unimpressive performance, Precision Drilling could be poised for a turnaround on the back of positive outlook due to improvements in demand, the company's high-performance rig -mix and the significant improvement in the expected activity for 2014 in Canada's oilfield services industry due to anticipated LNG boom.
First, as mentioned earlier, Precision Drilling's growth has suffered due to the slowdown in the drilling activity across North America. The conditions, however, appear to be improving which is evident in the sequential increase in rig counts.
In its previous quarterly results, Precision Drilling's average active rig count in the U.S. was 81 rigs, which shows a year-over-year decline of 9 rigs, but a sequential improvement of 1 rig. Similarly, in Canada, Precision drilling's average active rig count was 83 rigs, showing a modest year-over-year decline of just 1 rig, but an impressive sequential improvement of 43 rigs.
More importantly though, this trend of sequential improvement will likely continue and the business will report modest improvements in the coming quarters. This is evident from its higher active rig count numbers. Earlier in December, the company revealed that it currently has 93 and 109 active rigs in the U.S. and Canada respectively. This shows improvement from 87 and 96 active rigs which the company had in Canada and the U.S. when it announced its quarterly results.
Secondly, it should be noted that despite softness in the industry's rig count, Precision Drilling has not reported a significant drop in revenues. As mentioned earlier, in 2013, the company's revenues have fallen by just 3%. This includes its previous quarterly results when it reported a 0.8% year-over-year growth in revenues.
I believe that this is because of Precision Drilling's rig mix which includes a higher percentage of high-performance assets. As a result, despite the softness in the industry, the company's tier-1 rigs have continued to enjoy strong demand.
Moreover, through its performance, Precision Drilling has proved that due to its focus on tier-1 assets, the company is in a good position to withstand the challenging industry conditions.
Thirdly, and more importantly, the deep drillers in Canada with a better mix of high performance rigs will be the first ones to reap the rewards coming from expected west coast LNG development. Canada has significant reserves of natural gas and the country is aiming to exploit these reserves to feed the energy hungry Asian markets. Oil giants from around the world, from Europe's Royal Dutch Shell (NYSE:RDS.A) to America's Chevron (NYSE:CVX) to China's PetroChina (NYSE:PTR) are betting billions on Western Canada's LNG industry.
As a result, the markets are expecting an uptake in the region's oilfield services activity, which would begin in early 2014 and would continue going upwards over the next five years. This will be an opportunity for the drillers in general, and Precision Drilling in particular, to consistently post top and bottom line growth over the next several years.
As identified by analyst Jason Sawatzky in an interview published three months ago, the deep drillers like Precision Drilling, Trinidad Drilling (OTCPK:TDGCF) and Akita Drilling (OTC:AKTAF) will be the front runners to take advantage of the favorable conditions.
Precision Drilling's high performance fleet can drill extremely shallow, deep, or extended reach wells with depths of more than 9,000 meters and are rated up to 4,000 horsepower. The company's rigs can drill all kinds of conventional and unconventional oil and gas wells located anywhere in North America.
Moreover, Precision Drilling is considerably bigger than these two firms (Trinidad and Akita), in terms of market cap, size and scale of operations and the size of rig fleet. The business dominates Canada's land drilling market and is therefore in a better position than its competitors. In 2012, Precision Drilling marketed a total of 186 rigs in Western Canada, which represents nearly 23% of the industry's total drilling rigs capacity.
As a result, Precision Drilling will report considerable growth in the coming years. Analysts are expecting annual revenues of C$2.25 billion from the firm, which could show double-digit growth from the current estimates and 2012 revenue levels.
Furthermore, neither Akita, nor Trinidad are listed at any of the American stock exchanges and trade only on the grey markets. Therefore, I believe that Precision Drilling is the best deep driller to bet on in terms of west coast's LNG development.
LNG Focused CapEx
To ensure that Precision Drilling remains at the forefront of the LNG development, the company will spend millions on the development of its rig fleet. Earlier in December, Precision Drilling announced its $504 million capital expenditure plan for 2014. As expected, nearly 94% of this expenditure will flow towards the contract drilling segment. For 2014, the company has allocated $255 million for expansion works, including capital for 5 new build rigs and for deployment of 6 new rigs announced earlier, $192 million for sustaining and infrastructure expenditures and $57 million to upgrade its existing rigs, including between 6 and 10 new rig upgrades for 2014.
Precision Drilling has already received commitment from customers for five new build Super Triple drilling rigs for drilling programs related to LNG.
Conclusion
Precision Drilling's growth has stalled since 2012 as the company has reported shrinking revenues and declining earnings. The business, however, now appears to be on the verge of a turnaround and has shown clear signs of improvement (higher drilling rig revenues per utilization day and sequential improvements in active rig count). Furthermore, Precision Drilling's market share and its high-performance rig-mix puts it in a good position to capitalize on the expected changes in the industry conditions coming from the LNG development at the west coast.
For these reasons, I am bullish on Precision Drilling and I believe the current dip was an attractive opportunity for long term investors. The company's shares are still attractive as they are hovering around $9.15, which is below the pre-AIM sale announcement level of $9.62. Analysts at Jefferies and Raymond James have recently upgraded the stock with a price target of $11 and $11.50 respectively.
Notes:
Precision Drilling Corporation Announces 2014 Capital Expenditure Plan
PDS: Annual Filing (html)
PDS: Quarterly Filing Oct 2013 (html)
PDS: Quarterly Filing Nov 2013 (html)
PDS: Q3 Results and Management's Comments (pdf)
PDS: Company Presentation December 2013 (pdf)
Disclosure: I have no positions in any stocks mentioned, and no plans to initiate any positions within the next 72 hours.
Business relationship disclosure: This article expresses my own opinions and does not constitute investment advice.The article contains information that was obtained from company's official documents and/or other sources which I believed were reliable, but has not been independently verified. Therefore, I cannot guarantee its accuracy. I am not receiving compensation for it (other than from Seeking Alpha). I have no business relationship with any company whose stock is mentioned in this article.