With 2014 arriving fast and furious, it is time to look ahead into the events expected in the upcoming months. In scanning our data sheets for upcoming dividend increases in February among companies that we follow, three big names stand out. This article is intended to alert investors about those upcoming increases, when to expect them, and what to expect. Let us get into the details.
What are those three companies?: Coca-Cola (NYSE:KO), Lorillard (NYSE:LO) and Wal-Mart Stores (NYSE:WMT).
When exactly to look forward to the announcement:
Coca-Cola usually announces the dividend increase the third Thursday of February. That happens to be the 20th of February this time. Lorillard's dividend increase announcement can be expected the week of February 10th to 14th. It might be the week of February 17th as well. Wal-Mart's announcement is very likely to be in February but some time in the recent past the announcement has been in the first week of March.
The table below should give a fair idea on when to expect the announcement and when to expect pocketing the new dividend (ex-dividend date).

(Source: Table compiled with data from Finance.Yahoo.Com)
Recent History: The tables below show the last few dividend increases by each of these companies.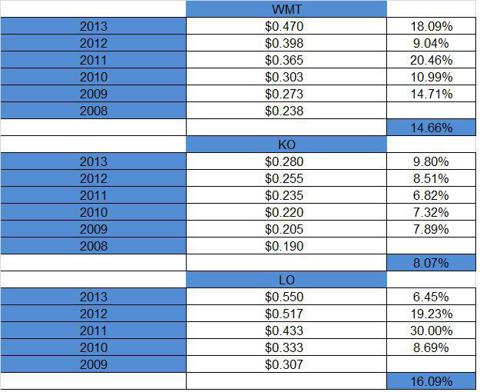 (Source: Table compiled with data from Finance.Yahoo.Com)
What to Expect? The Verdict: Based on the high, low, and average increases from each of the tables above, the table below shows the expected new dividends for these three companies.

We believe Wal-Mart is likely to announce a dividend that is in line with the "Average" column above, which will bring the new quarterly dividend to 54 cents a share. The biggest thing in favor of Wal-Mart when compared to the other two stocks here is its low payout ratio. The new dividend is likely to push Wal-Mart's trailing payout ratio to just above 40% and the yield will edge toward 3% based on the current share price of $78.
Coca-Cola is still a great business but there are more questions than answers right now about its future. With the stock's not so great performance in 2013, we expect the board to surprise investors on the upside and announce an increase that is near the "High" range predicted above. That would mean a new quarterly dividend of 31 cents per share. This will push the stock's yield based on current price to the magical 3% mark where a lot of long-term investors tend to buy the stock. The payout ratio will be around 64% at this new dividend level. Out of these three stocks, we will be the most comfortable buying Coca-Cola here as it is near the proven 3% mark.
Lorillard's days of huge double digit dividend increases are probably in the rear window for now. Even if it increases the dividend by the "Low" range mentioned in the table to about 59 cents per share, the trailing payout ratio reaches around 75%. This will also push the current yield to around 4.7%. Investors are usually comfortable with an 80% payout for such companies that lack great growth prospects. So, this is not yet a red flag for Lorillard investors but merely a signal that the future dividend increases will not be as high as the past 5 year average. Nonetheless, the high yield plus moderate dividend growth plus buybacks make this stock very attractive.
Conclusion: So, what are your predictions for these three upcoming increases? Please leave your comments below. We hope this article is helpful in two ways: a) alerting investors of these upcoming increases and b) showing a very simple way of calculating the future dividend increases based on the recent past increases, payout ratios and expected yield. We look forward to covering the dividend increase announcements of each of these stocks in detail once they come out.
Disclosure: I am long LO, KO. I wrote this article myself, and it expresses my own opinions. I am not receiving compensation for it (other than from Seeking Alpha). I have no business relationship with any company whose stock is mentioned in this article.