Over the past few quarters, Sears Holdings (NASDAQ:SHLD) has been struggling hard to save the sinking ship by spinning off its business operations, mostly in Canada. Its most recent spin off, and its last resort, is its Lands' End business. The company said that the separation of its Lands' End apparel, automotive service-centers units and the selling of its auto centers may raise as much as $2.5 billion. This would help the company to raise capital and improve its remaining business operations. The important thing to note here is that the Land's End business is one of Sears' few profitable businesses that appeal to affluent customers.
Getting rid of one of its more profitable ventures leaves the company in a very difficult position. The company now has its Kmart, Sears domestic, and some portion of Sears Canada which have constantly performed poorly over the past few years.
Moreover, the company has experienced 27 straight quarterly sales declines ever since the merger of Kmart and Sears in 2005. Its November 2013 same-store sales appear to be negative 3.1%, with the company continuing to lose sales in consumer electronics, lawn & garden, tools, home appliances and apparel categories.
Cumulative Total Return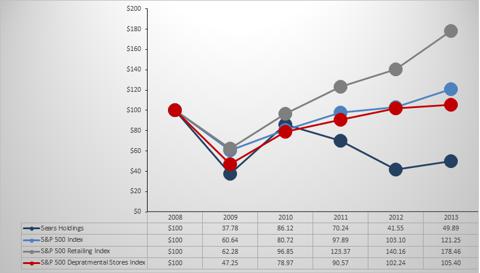 The graph assumes an initial investment of $100 on February 1, 2008 in each of the company's common stocks, the S&P 500 Stock Index, the S&P Retailing Index and the S&P 500 Department Stores Index. The S&P 500 Retailing Index consists of companies included in the S&P 500 Stock Index in the broadly defined retail sector, including competing retailers of soft-lines and hard-lines, as well as food and drug retailers. The S&P 500 Department Stores Index primarily consists of department stores that compete with the company's full-line stores.
As you can see, the company's poor performance is also evident from its cumulative total return with respect to the S&P 500 index, S&P 500 retailing index and S&P 500 Departmental Stores Index. The volatility is the fluctuation in a company's financial performance, and when assessing an investment, one should remember that fluctuation is inevitable. So, looking at the cumulative total return offers an overall picture of a company's financial performance. If you looked at the company's past or current year performance, you would understand that its underwhelming performance is actually the norm and not a fluke.
Segment Performance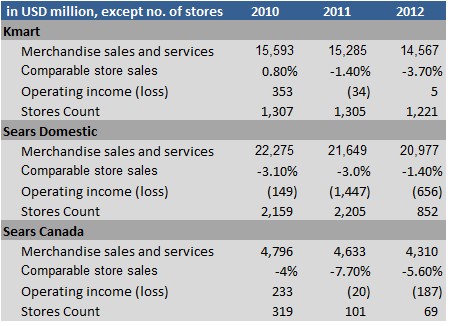 Deteriorating sales performance, comparable store sales and store counts are indications of a troubled company. In this case, the company is in serious trouble because, despite the reduction of its stores, the company was unable to transform its business operations into a profit-generating business. Sears' domestic stores count will further drop by 15 stores after the spinoff of its Lands' End business operations. Moreover, despite the drop in stores count, the company's same store sales were still negative. During the most recently ended quarter of 2013, the company's same stores sales were negative 3.1%.
Competition
The competition between retail stores intensifies day by day. The company competes with a wide variety of retailers, including other department stores, discounters, home improvement stores, consumer electronics dealers, auto service providers, specialty retailers, wholesale clubs as well as many other retailers operating on a national, regional or local level in the U.S. and Canada. According to research, 96% of the U.S. population lives within 20 miles of a Wal-Mart (NYSE:WMT), which is one of the biggest competitors of Sears Holdings. On other hand, Amazon.com (NASDAQ:AMZN), a market leader in online retail, offers the ultimate convenience with its vast online retail store.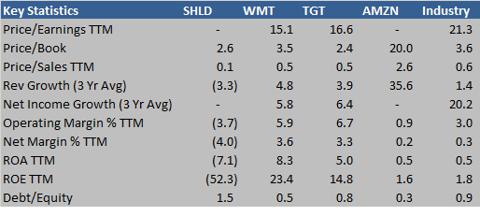 Compared to its competitors, Sears Holding's financial performance has been depressing. Over the last three years, the company has experienced negative growth in revenues and net income compared to its competitors mentioned in the table above. Moreover, the company's debt position is worse than its competitors and the industry. In addition, the company currently has negative ROA and ROE compared to its competitors and the industry. One of the biggest reasons behind its fall was because it failed to "change with the times" while other companies began offering unique services and adapting to the changing landscape.
CEO Selling Shares
In a recent SEC filing, it was discovered that the company's CEO reduced his stake in Sears from 55% to 48%. Eddie Lampert said that the sale had to do with needing to reimburse investors in his hedge fund who had made withdrawals, and that the sale had nothing to do with his confidence in the company. Despite this statement, a CEO selling around 7 million shares can never be considered a positive sign. Usually, these kinds of activities create doubt in investors' minds, which is what happened to Sears and resulted in drop in the company's stock price.
Conclusion
I would like to believe that an iconic brand like Sears will find a way to rebound and survive, but I can't see any justified reason for it to do so. The company has already spun off some of its business operations and now due to stiff competition in the retail industry, poor financial performance, decreasing stores counts and sales, it is not likely that the company would turn around its business anytime soon. Moreover, the company is also in the list of five companies that may not survive past 2014. Keeping these factors in mind, I would suggest investors sell this stock.
Disclosure: I have no positions in any stocks mentioned, and no plans to initiate any positions within the next 72 hours.
Business relationship disclosure: The article has been written by a Blackstone Equity Research research analyst. Blackstone Equity Research is not receiving compensation for it (other than from Seeking Alpha). Blackstone Equity Research has no business relationship with any company whose stock is mentioned in this article.