2013 was an incredibly tough year for the mortgage real estate investment trusts (mREITS). Most were down 20%-40%. Some were fortunate and only lost a few percentage points, while others have been cut in half. There's a few reasons why this happened. One was fear. Fear of the Fed. Fear of tapering. Fear of the companies being unable to keep the lights on. Part of it was of a technical basis, where the negative momentum got started and like lemmings many investors followed suit by pushing that sell button. A lot of this had to do with the sharp rise in interest rates during the summer. Since then, earnings have suffered, the portfolios have been pressured, the interest rate spreads narrowed and book values have fallen because of interest rate volatility. The rapid ups and downs of rates in 2013 have impacted mREITs portfolios. This is really what just crushed the company's portfolios. The truth is that mREITs cannot handle rapid rises in rates. That said, if long-term rates increase gradually while short-term rates stay stagnant, this can widen the interest rate spreads. The companies can also handle slowly rising rates in time through their leverage strategies and hedging plans. All of this needs a strong management. Annaly Capital (NYSE:NLY) has one of the most seasoned management teams in the business. On top of that, I believe the stock is bottoming, and the fundamentals are too strong to ignore.
Is The Stock Bottoming?
Anything can happen in this market. As severe catastrophe in the real world can send global markets spiraling. Terrible unforeseen news from individual companies can send that company's stock into a tailspin and destroy one's investment right along with it. Barring such wild events, technical analysis when it is on the side of the fundamentals are a strong ally. Take a look at figure 1. Figure 1 shows price action in the last three months. During the summer and fall of 2013 where the chart begins (October 2013), NLY's management team took a ton of realized losses in its mortgage backed securities investments. They simply liquidated a huge section of the poisonous assets that were bleeding red to preserve the company's future and raise some cash. This in turn crushed net income in the third quarter which I will discuss below and took the stock down another 20% in a few short weeks. This selloff and negative momentum is show in the chart. Then, tax loss selling began, pressuring prices. As we can see however, there was resistance from bargain hunters that supported prices. In the chart you can see this bottoming action. The question is, with the buyers now winning out, despite ten-year treasuries at/over the 3% mark, is this recent positive action in the stock a possible inflection point? It sure seems as though the bottom is in, as NLY tested breaking below $9.75 several times, only to dip slightly below and come back on. Time will tell if my thesis is correct, but a bottom appears in. I will now discuss what could send shares lower (or conversely higher) and discuss reasons why you should buy for yield and potential growth.
Figure 1. Chart of Annaly Capital's Share Price And Momentum Indicators Over The Last Three Months.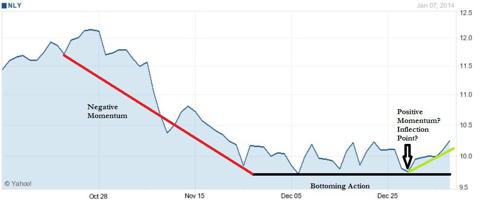 Another Dividend Cut Could Hurt, But the Worst Is Likely Over
NLY can handle higher rates but it is the pace of the increases we need to be concerned with. Last month, NLY's dividend announcement revealed yet another cut to $0.30 down from the Q3 2013 dividend of $0.35. We know that NLY has to pay 90% of its taxable income to shareholders, but the company generally only gives us GAAP earnings. Taxable and GAAP earnings will typically differ due to items such as unrealized and realized gains and losses, differences in premium amortization and discount accretion, and non-deductible general and administrative expenses. This makes it hard to predict where the dividend is going. What 2014 will bring is tough to predict accurately but I think most of the cuts are over. There could be a Q1 2014 cut to the dividend down to $0.27-$0.28 per share, but I think we are more likely to see the dividend be maintained at $0.30. Another cut could be a catalyst that sends shares below the $9.75 support line. However, should the company maintain, or even raise its dividend, the stock could rise as this would be viewed as a positive catalyst. While maintaining the dividend may be perceived by some as difficult to pull off, the company's diversification is starting to pay off. We will get more clarity after the Q4 2013 report. But, the acquisition of CreXus was wise in my opinion. Another bloodbath quarter is unlikely. This is because the company has reduced leverage and increased its hedging activities. While this cuts off upside potential for its earnings, the downside is now severely limited. All in all, I think the risk is starting to look to the upside for this stock.
A Word About Funds From Operations
While technically the stock looks like its bottoming, rates are stabilizing at 3%, the dividend cuts are likely over, NLY is a good buy at these levels because its funds from operations are improving. At the current share price of $10.00, assuming the $0.30 dividend is maintained in Q1 2014, it will pay $1.20 annually or 12%. How about NLY's most recent funds from operations? NLY's most recent funds from operations were a big improvement quarter over quarter. While many viewed the third quarter as weak, it was strong in this regard. In Q2 2013, the company reported funds from operations of -$3,900,000,000, a major loss, but rebounded to roughly $795,000,000 in the most recent quarter, snapping three straight quarters of decline and losses. I am confident that another positive will be delivered, and if funds from operations can exceed the Q3 number, it could serve as a huge catalyst to send shares higher.
Time is On Your Side So Collect The Dividends And Consider Reinvesting.
The plain fact is that NLY has been paying a strong dividend since the late 1990s. Many of my readers who have asked me for advice directly often cite they bought in and held strong since 2010 or 2011 when these stocks were first widely being recommended. I often say, it is probably not as bad as you think. Any losses are on paper. You need to remember why you bought NLY and that reason is primarily to collect the dividend! To see where some of these buys might be, with a worst case scenario analysis, I generated table 1 to see how much an NLY investor would be down who got in during December 2009.
Table 1. Annaly Capital Management's Common Stock Dividend History, Dividends Paid Since 2010.
| | | |
| --- | --- | --- |
| Ex Dividend Date | Dividend Paid Date | Dividend |
| 12/24/2009 | 1/28/2010 | $0.75 |
| 3/30/2010 | 4/28/2010 | $0.65 |
| 6/25/2010 | 7/29/2010 | $0.68 |
| 9/30/2010 | 10/28/2010 | $0.68 |
| 12/23/2010 | 1/27/2011 | $0.64 |
| 3/29/2011 | 4/27/2011 | $0.62 |
| 6/28/2011 | 7/28/2011 | $0.65 |
| 9/28/2011 | 10/27/2011 | $0.60 |
| 12/27/2011 | 1/26/2012 | $0.57 |
| 3/28/2012 | 4/26/2012 | $0.55 |
| 6/27/2012 | 7/26/2012 | $0.55 |
| 9/27/2012 | 10/29/2012 | $0.50 |
| 12/26/2012 | 1/29/2013 | $0.45 |
| 3/27/2013 | 4/29/2013 | $0.45 |
| 6/27/2013 | 7/29/2013 | $0.40 |
| 9/27/2013 | 10/31/2013 | $0.35 |
| 12/27/2013 | 1/31/2014 | $0.30 |
As you can clearly see, NLY has paid bountiful dividends for the last three years. The dividend now being at $0.30 is obviously at the lowest it has been in the past four years, and wasn't this low since fall 2007 when the dividend was $0.26 (data not shown). What this illustration is going to show is the strength of holding a high dividend payer through all the ups and downs.
Let's take the example of a poor soul who bought in at the highest possible price during December 2009. Let's assume they purchased shares once, not adding to declines or reinvesting any dividends. This buyer with awful timing would have acquired shares then at $18.80 a share on December 14, 2009. Thus, as of the current price of $10.20, this person would be down $8.60 or 45.7%. That is some real pain right there. It's just a real disappointment over five years.
But what if we factor in those dividends? The dividends paid (not counting the $0.30 to be paid in January) total $9.09. Therefore, the most unlucky buyer in December 2009 is actually up $0.49 per share or 2.5% and will be about completely even should the share price hold current levels till the dividend is paid out in January. Should the shares hold around this price or go up, all future dividends are gains. When the shares rebound, real gains are had, solely because of the dividends. Everyone who bought in prior to this and collected earlier dividends is likely up nicely. This example isn't all that fair, because most buyers should build a position on the way down, especially for a long-term holding as I always recommend to do. So, yes, the short-term pain is real. The disappointment of a lower share price from where you may have bought and being paid less to wait for a rebound is not easy to stomach. But, look at it objectively. Yes if you bought in the last two years you are down. It could take several more quarters to break even. You could take a loss and invest elsewhere. However, you are likely to miss out on the coming rebound in prices. Should there not be a rebound, you can simply collect the dividend as cash while waiting for the rebound, or even reinvest those dividends and build a large position while the shares trade so low. When the rebound comes, a nice capital gain can be had.
Quarterly Improvement Likely
The third-+quarter report was considered weak but there were some bright spots. First off, NLY reported a Q3 GAAP net income of $192.5 million, or $0.18 per common share. This is down quite a bit from the prior quarter which saw $1.6 billion in GAAP income of $1.71 per common share. It's also down from the year ago quarter which saw GAAP net income of $224.8 million or $0.22 per average common share. For NLY in Q2, the annualized yield on average interest-earning assets was 2.51% and the annualized cost of funds on average interest-bearing liabilities, including the net interest payments on interest rate swaps, was 1.53%, which resulted in an average interest rate spread of 0.98%. This was a 7 basis point increase from the 0.91% average interest rate spread in Q1. The company deleveraged down to 6.2:1 in Q2 from 6.6:1 in Q1. But here in Q3, despite income being weak, there were some highlights. A prime example is the annualized yield on average interest-earning assets was 2.82%, a rise of 31 basis points. That was a great positive. Yet, the annualized cost of funds on average interest-bearing liabilities, including the net interest payments on interest rate swaps, was 1.81%, a rise of 28 basis points. Combining the two we see an average interest rate spread of 1.01% for the quarter, which was stronger than Q2. This was a 3 basis point increase from the 0.98% average interest rate spread in Q2. In my article one week ago, I estimated the Q3 interest rate spread to be 0.93% to 1.02%, so I was pleased it came in at the high range. I was also looking to see how much NLY cut their risk exposure. I mentioned this previously, but in preparing for the worst, NLY further deleveraged down to 5.4:1 in Q3 from 6.2:1 in Q2. Clearly, they are not comfortable expanding risk or taking on a huge exposure to MBS for the portfolio at this juncture. This is a very conservative play, and should protect the company, but does not bode well for the broader macro environment, should their preparations turn out to be necessary.
The amount of commercial exposure the company has is way up and I expect it to grow in coming quarters. This commercial exposure provides a degree of diversification for the company. In all this time that the real estate market has come back on, it has mostly been residential. We are still waiting for the boom in commercial real estate. The total commercial investment portfolio for NLY represented 11% of shareholders' equity. This is up a relative 37% since last quarter when commercial comprised 8% of equity. At the end of Q3 total shareholders' equity was $12.9 billion. Total commercial real estate investments increased from $1.0 billion at the end of Q2 to $1.3 billion at the end of Q3.
For the third quarter, NLY reported a small decline in book value of 2.5% down to $12.70 per share. As of today's $10.25 price, shares trade at a 19% discount to last reported book value. As Q4 is likely one of stabilization, I believe book value will stay within 2% of the last known book value, which means shares are at a bargain.
Conclusion
There is technical evidence NLY has bottomed. The dividend could be cut once more, but if maintained or raised it would serve as a positive catalyst here in Q1 2014. While many of you may have unrealized losses, look to the dividends paid over time. Time is on your side. No reason to sell now, while a possible inflection point is here. Quarter three was generally considered weak but fund from operations suggest things are vastly improving. NLY has a seasoned management that has lowered exposure of the portfolio which may cap upside but limits severely the downside for Q4 2013 operations. Finally, shares are trading at a significant discount to book value. If investors can secure shares under $10.00, they should be handsomely rewarded moving forward.
Disclosure: I am long NLY. I wrote this article myself, and it expresses my own opinions. I am not receiving compensation for it (other than from Seeking Alpha). I have no business relationship with any company whose stock is mentioned in this article.