After beating FQ1 2014 EPS by $0.14, despite a revenue miss, Apollo Education Group (NASDAQ:APOL) shares closed up 14% on January 8th, bringing other previously beaten down educators along for the ride. But the stock was merely adding to its momentous 43% increase over the past twelve months.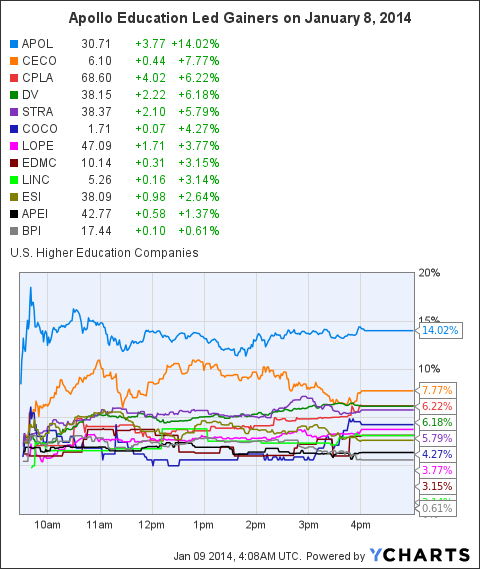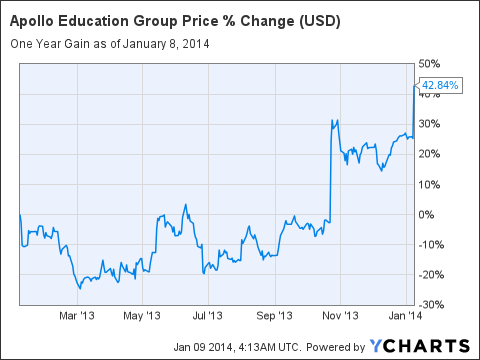 As originally presented in my "big blue" turnaround thesis here on SA last July, Apollo Education, under the cautious yet enthusiastic leadership of Greg Cappelli, chief executive officer, remains a value oriented investment opportunity. This view is driven primarily by the company's now very public turnaround story, relatively strong fundamentals, and attractive pricing metrics. But market risk, including the regulatory record of this education services industry leader, remains suspect.
Fundamentals + Valuation + Margin of Safety for Apollo Education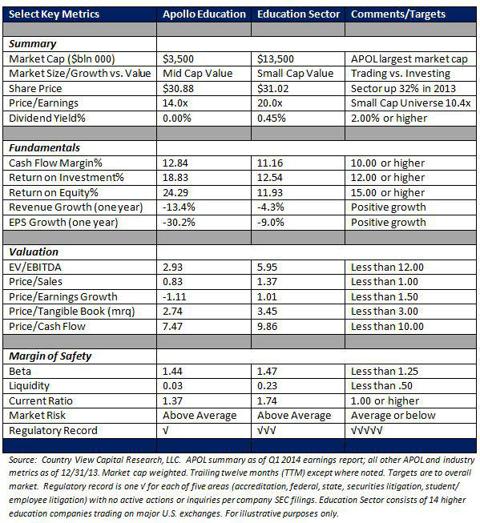 Resilient Fundamentals Despite Enrollment Decline
Fundamentally, Apollo Education continues to enjoy favorable cash flow plus investor friendly returns on capital and equity. Conversely, it has experienced a significant hit on revenue and earnings per share growth when compared to its collective sector competitors. Since the removal of safe harbor regulations for recruiting students at for-profit schools by the Obama administration in 2011, slowing enrollment has directly affected top and bottom line growth at Apollo and most other educators. Another factor was the tightening of lending rules, also in 2011, by the U.S. Department of Education (USOE) on the Parent Loan for Undergraduate Students (PLUS) leading to an estimated 54% decline in loans to dependent student recipients at for-profits. These students are generally defined as under age 24 with no children or spouse.
Although Apollo Education, like many online educators, caters primarily to independent (age 24 and older) adult learners, traditionally aged dependent students are typically welcomed for their propensity to graduate, gain employment, and pay back student loans at higher rates. Indeed this trend has overall reversed in recent years with the underemployed millennial generation, but is probably more a recession induced business cycle effect rather than any permanent development.
The good news is the lending standards for federal student loans are up for review again this year and the USDOE is expected to be sensitive to complaints on the issue of PLUS loans from community colleges and historically black colleges who want lending rules relaxed. These non-profit colleges, who like for-profits generally cater to students from lower socio-economic households, may unintentionally support competitors like Apollo Education as lending standards cannot be redlined based on the tax status of the institution the student is attending.
Valuation Remains Compelling After 43% Spike
Apollo Education's price to earnings is better than its peers but lagging the education industry correlated small cap universe. However when compared to the mid cap value space, more closely aligned with Apollo's valuation, the company delivers at 14.0x vs. approximately 17.0x for domestic mid cap value stocks. And Apollo is also a better value when compared to both the education sector and overall market in general. Thus it arguably remains a reasonably priced stock.
This thesis is also confirmed by captivating valuations in price to trailing sales and future earnings growth as well as enterprise value in relation to operating margin. It appears long investors have not yet caught up to Apollo's turnaround efforts. In the market's defense, until recently Apollo Education's management has taken an almost stealth approach to the turnaround plan. Not a bad strategy if one prefers the approach of "walk the walk and not the talk."
Margin of Safety Prolongs Downside Risk
Risk, particularly regulatory records, remains a thorn for the publicly traded education companies participating in the federal Title IV financial aid program, including Apollo Education. According to its most recent 10-Q filed with the Securities and Exchange Commission (SEC), Apollo is still managing regulatory exposure from four of the five levels of oversight: federal, state, accreditation, securities litigation and employee/student lawsuits. I am discounting the one federal inquiry from the Office of the Inspector General (OIG) of the USDOE to Apollo's University of Phoenix unit, as it is apparently a general inquiry aimed at the industry in general dating back to 2011. Yes 2011 again, the year of the federal government's notorious assault on for-profit higher education in America. It is ground zero for the historic enrollment declines, industry wide.
Another burgeoning risk to for-profit educators are the upstart and growing non-profit online colleges and universities as I wrote recently here on SA. However, with few exceptions, such as the aggressive Southern New Hampshire University online program which curiously emulates the for-profit model, I believe the persuasive leverage of skeptical faculty, mainstream media, influential alumni, and interested politicians will keep overall growth at the traditionals tempered.
Massive open on-line courses, or MOOCs, are an intriguing technological experiment in higher ed also meeting resistance from cynical traditional faculty members. But if MOOCs prevail, for-profits like Apollo Education with established online platforms will find ways to meet the traditional competition, if not outright beat them in MOOC and other technological disruptions. History has demonstrated for-profit higher education's affinity for one-upping traditional education in student-centered delivery models in all areas of the campus operation.
On the positive side of the regulatory battlefield, University of Phoenix's 90/10 ratio, the federal measurement for the maximum dollars for-profit colleges can derive from Title IV funds, dropped to 83% in fiscal year 2013. This should be a manageable level. And the company expects Phoenix's three year cohort default rate on student loans to drop from its current level of 26%. One year at 40%, or three consecutive years at 30%, are the USDOE induced death nails, so the company appears in decent shape in these two crucial areas of federal compliance.
An Enduring Turnaround Story
According to CEO Cappelli in his FQ1 '14 earnings release and conference call comments, Apollo Education Group is making progress on its strategic plan to differentiate the flagship University of Phoenix brand, diversify the company in general, and drive operational improvement throughout the organization. To support the company strategy, Cappelli expects to continue innovation, roll out new and differentiated programs of study, and expand the company's footprint globally.
Also emphasized in its turnaround plan is increasing partnership opportunities with Fortune 1000 companies to provide contract training (degree or certificate) for current and future employees. B2B or business to college (B2C as it is referred) in higher education is an outstanding opportunity to increase enrollment and community awareness with potentially less reliance on Title IV funds.
The global footprint did indeed expand in December when wholly-owned subsidiary, Apollo Global, Inc., completed its acquisition of 70% of the outstanding shares of Open Colleges Australia Pty Ltd. I believe, despite widespread investor concerns of regulatory and pricing challenges at foreign education operations in general, that a multi-national footprint is strategically necessary for continued growth and universal appeal at U.S. based education companies. In my own professional consultancies with international for-profit education oriented clients, I have discovered a definitive attraction to the U.S. model of higher education.
Cappelli also talked about becoming a more efficient company, as reflected by the $32 million restructuring charge taken in FQ1 2014. Brian Swartz, chief financial officer, added the company expects to shed an additional $35 million throughout fiscal 2014.
Under its recent share repurchase program, Apollo Education Group bought back approximately 600,000 shares of its common stock at a weighted average purchase price of $26.02 per share during the three months ending November 30, 2013. Since then, the company spent approximately $10 million more to repurchase additional shares and currently has approximately $225 million available for future share repurchase authorization. This could be a good sign for investors as the company attempts to increase its earnings per share by utilizing abundant cash reserves in an otherwise challenging marketplace.
Business Metrics as Potential Inflection Points
Catalysts for Apollo Education's continued turnaround may potentially be propelled by select business metrics critical to success in the education industry.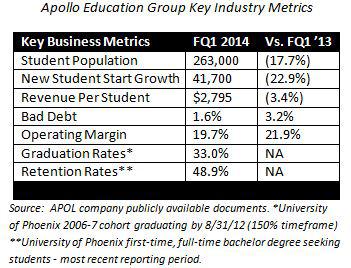 Population deceleration and subsequent erosion in total revenue are well documented. But Apollo's bad debt is attractive in an industry that often exceeds 5% annually. And operating margins in the 20% range are favorable in today's environment. Student persistence rates have room for improvement as stated by the company executives themselves. But when compared to traditional colleges enrolling similar demographics, the company's retention and graduation rates are frankly not out of whack.
Granted, students who drop from for-profit colleges are more likely to default on student loans than non-graduates at traditional colleges. The differentiation being for-profits treat their students as customers and enroll them based on opportunity for employment, whereas the faculty centered non-profits commoditize students and enroll them as invited guests into a perceived academic opportunity. In a sense traditional students are cultured based on course completion, whereas for-profit students are cultured based on full program completion.
In my opinion, this well-intentioned disparity in student management results in the higher percentage of defaults at the for-profits. Another factor is the lower socio-economic student demographic at the for-profits, including Apollo Group's degree programs. Community colleges, and to some extent state colleges, enroll similar students but enjoy tuition encompassing Pell grants supported by state funding subsidies. This taxpayer driven combination effectively keeps potentially defaulted student loan disbursements at low levels within the state-owned traditionals.
Regardless, continued improvement of student centric outcomes and value propositions during its turnaround can offer investors opportunities to further profit from APOL. On the other hand, any renewed struggles, especially if amplified by regulatory bodies or the mainstream media, can stall Apollo's return to the promised land. At the very least, attractive entry points for value oriented investors could present themselves should any deflections be deemed temporary.
Timeline for a Buy Side Opportunity
If Apollo Education Group can sustain its turnaround story of genuinely serving its constituent students, staff, employers and regulators, then long only shareholders should continue to be rewarded from a risk adjusted unlocking of intrinsic value. Ultimate achievement of its plan would be validated by a return to positive growth of both top and bottom lines, driven by dramatically improved student outcomes.
Likewise, putting the lawsuits and attorney general inquiries to rest with relatively worse case scenarios of reasonable settlements plus achieving removal of the two-year probationary accreditation statuses at its Phoenix and Western University units from the Higher Learning Commission (HLC) should be a no-brainer for an education company with Apollo's resources. Of course, the question begs why didn't those resources prevent the litigation, inquiries and probation statuses in the first place? One can only speculate that priorities quickly realign when adversity knocks on the door.
Regardless, a long-term comeback in both shareholder and student value is potentially in the making at Apollo Education Group. And as the bellwether of an infamously maligned industry, it can bring other education turnaround stories along for the journey upward as it did on January 8th. But this time the ride just might be an enduring one.
Disclosure: I have no positions in any stocks mentioned, and no plans to initiate any positions within the next 72 hours. I wrote this article myself, and it expresses my own opinions. I am not receiving compensation for it (other than from Seeking Alpha). I have no business relationship with any company whose stock is mentioned in this article.
Additional disclosure: Charts and narrative are for illustrative purposes only and not meant as investment advice nor as a recommendation to buy/hold/sell/short or avoid these or any other securities. Readers should always engage in further research and/or consider consulting a certified financial planner, licensed broker/dealer, or registered investment advisor before making any investment decisions.