By Carla Fried
Nearly 85% of the stocks in the S&P 500 index paid a dividend in the third quarter; that's a 17-year high according to FactSet. And payers aren't scrimping. The $339 billion paid out in the 12 months through September is more than double the level of dividend payouts 10 years ago.
Getting your share of that income stream can be expensive, however. For example, the news that Boeing (NYSE:BA) is lifting its dividend payout by 50% (and authorizing another $10 billion repurchase plan) comes after a year when its trailing 12-month PE ratio ballooned from below 14 to nearly 24. And the rising market has turned plenty of other dividend champs into pricey stocks.
So, if you're looking for a sweet spot in dividend land, technology is the sector to set your sights on for further investment research. Tech stocks in the S&P 500 clocked 12 months dividend growth of 46% through September. Yes, Apple's (NASDAQ:AAPL) big dividend hike is a main driver, but FactSet notes that even if you back out Apple, dividend growth for the tech sector was a still strong 23.3% over the 12 months through September; good enough to hold onto the top spot among S&P 500 stocks in terms of dividend growth. And from a valuation standpoint, the sector's 13.8 projected PE ratio for 2014, according to S&P Capital IQ, is well below the 14.7 estimate for the entire S&P 500.
Among the tech stocks in the S&P 500 that grew dividends at least 20% over the past 12 months are Cisco (NASDAQ:CSCO), Qualcomm (NASDAQ:QCOM), Oracle (NYSE:ORCL), Texas Instruments (NYSE:TXN), Corning (NYSE:GLW) and Seagate Technology (NASDAQ:STX). Granted, that's a bit of a motley crew. Cisco and Oracle are behemoth old techs that haven't proven they can lead in a new-tech world. From a dividend perspective, Corning's recent dividend growth comes after a few years of stagnation. And Seagate cut its dividend during the global recession.
This is a bit of a crowded chart, but it's worth a close look: only Qualcomm can lay claim to a steadily increasing dividend policy over the past 10 years: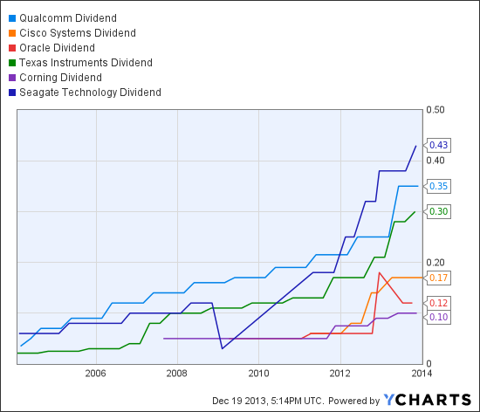 QCOM Dividend data by YCharts
That suggests a nice commitment to dividend growth. While the stock has lagged lately, some very successful value managers are buying Qualcomm.
Cisco and Seagate also happen to be among the top five highest yielders among the techs in the S&P 500, joining Garmin (NASDAQ:GRMN), Intel (NASDAQ:INTC) and Microchip Technology (NASDAQ:MCHP).
Intel can join Cisco and Oracle as poster children for struggling growth models no mater how large their legacy footprint. Garmin and Microchip Technology aren't exactly engendering EPS confidence: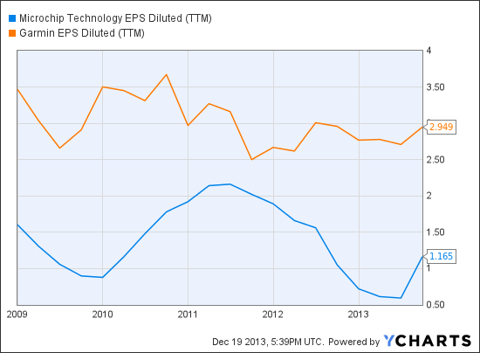 MCHP EPS Diluted (TTM) data by YCharts
Nor do they have a consistent dividend growth policy.
Apple has only returned to the land of the dividend payers over the past year, but it's with an impressive vengeance. In dollar terms Apple's $10.56 billion in dividends paid over the trailing 12 months is second only to Exxon Mobil's (NYSE:XOM) $10.7 billion. Somewhat quietly, Apple stock has been outperforming by a wide margin over the past six months, smoking both the S&P 500 and the Technology Select SPDR ETF (NYSEARCA:XLK).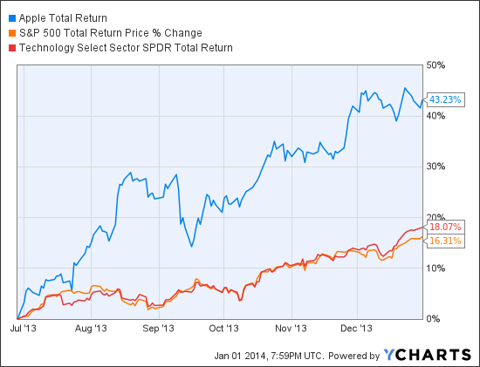 AAPL Total Return Price data by YCharts
That suggests investors are warming to the notion that a.) the stock is too damned cheap and/or b.) Apple earnings are about to rebound from their slump of late.
Apple's valuation has moved north during the recent price spurt, but at 13.7x, its trailing PE ratio is still well below the 16x for the S&P 500, and 15.3 for the tech stocks in the index. Moreover, an 11 forward PE ratio is a 20% discount to the forecasted 2014 PE for large cap tech stocks.
Carla Fried, a senior contributing editor at ycharts.com, has covered investing for more than 25 years. Her work appears in The New York Times, Bloomberg.com and Money Magazine.
Disclosure: None