Chevron (NYSE:CVX) is one of the world's "supermajor" oil and gas companies, with worldwide net oil and natural gas production averaging 2.67 million barrels per day in 2012, according to the company's most recent annual report. While this figure may not be as large as that of Exxon Mobil (NYSE:XOM) with 4.3 million barrels in the same year, Chevron has consistently shown that it is able to squeeze more profit out of each barrel of O&G compared to its rivals. For instance, Chevron's net income generated per barrel of oil and gas was $24 for 2012 according to the latest data available. This is almost 20% higher than Exxon Mobil, despite the company's larger size.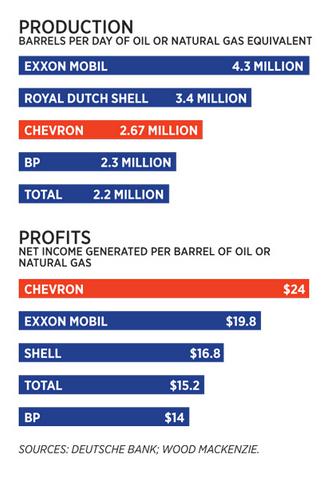 In an industry renowned for its high barriers to entry, Chevron is one of the most efficient producers in the business and has great potential for future growth. Nevertheless, big oil hasn't found great favor among investors lately, with many of the bigger oil companies appearing to have missed out on the "U.S. Oil Boom" that is underway. In fact, Jim Cramer of CNBC argues that investors should favor the smaller oil and gas companies to share in Big Oil's good fortune. Regarding Chevron, Cramer argues that "Chevron is a play on the oil and gas revolution, but the smaller ones have the most exposure. Chevron has been stuck in neutral. It's really become a company that's either not here or there. I can't see the stock rallying more than five or six bucks." Cramer does not cite a particular reason why smaller oil companies are set to benefit to a greater extent from the U.S. Shale Boom. It could be the case that smaller oil companies such as EOG Resources (NYSE:EOG) and Whiting Petroleum (NYSE:WLL) have used their size to their advantage, with the flexibility to quickly locate and drill in more profitable locations, while investing in technology to lower oil extraction costs. However, here is the major reason why I disagree with Cramer and I believe we will see great things from Chevron over the next decade. I do not see that shale will be a key driver of the energy market in the coming years. Instead, I am strongly of the opinion it will be driven by demand for LNG, and Chevron is in the perfect position to capitalize on this market.
At present, shale oil and gas has proven to be the preferred source of energy for companies and governments worldwide. The major reason for this is due to the costs and long-term commitment involved on the part of potential buyers for LNG. It is estimated that due to the levels of cost inflation associated with LNG projects, oil and gas companies are charging customers 60% of the contract up front in order to guarantee purchase. Hence, customers are weary of paying a high price for delivery on projects that have an uncertain future. However, looking through to 2020 there are three major reasons why I believe LNG has far more growth potential than shale O&G:
1. Ease of transport. LNG takes up 1/600th of the volume of conventional shale gas. This has big implications for companies that are investing in LNG - emerging markets outside the US can afford to order in much higher volume due to the ease of transport and lower cost. Companies that are currently investing heavily in the US Shale O&G market may well find that demand grows sluggish worldwide due to higher transport costs, which could result in a high degree of sunk costs.
2. Shale deposits are prone to steep decline rates. i.e. the more oil and gas is used, the more capital investment is needed to maintain the well and continue current production rates. A primary example of this has been production in the Bakken Formation of North Dakota, with decline rates reaching 50% in the first year of production. In contrast, LNG is a more efficient fuel source due to its lower volume which allows for lower extraction levels while maintaining production efficiency.
3. Emerging market demand and highly attractive variable cost savings compared to current energy sources. LNG contains 30% less carbon dioxide than shale gas, and the liquefaction process ensures removal of other impurities that would otherwise decrease fuel efficiency. In addition, it is expected that LNG consumers will benefit from a lower rate of tax on clean energy sources. This is already evident in emerging economies, with South Korea lowering taxes on LNG, propane and kerosene. In fact, the majority of demand for LNG is expected to come from emerging economies, particularly East Asia. The JKT region (Japan, Korea and Taiwan) will continue to see growing demand, along with China leading growth for the rest of the Asian region.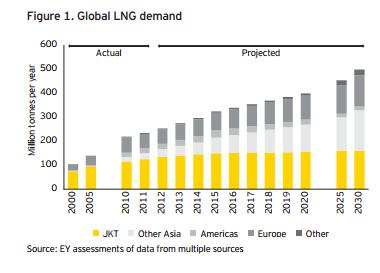 So, why is Chevron set to benefit the most from future LNG expansion? Well, Chevron has already proven that they are the most efficient producer in the industry, reaping the most dollars for every barrel of O&G produced. Moreover, Chevron has made a clear commitment to making the necessary capital investments in order to establish their position in the LNG Industry and reap the necessary economies of scale to succeed in the business. In addition, Chevron's LNG operations are widely dispersed geographically:
1. The company has a 50% stake in the Kitimat LNG Project in Canada, with access to approximately 19 trillion cubic feet of recoverable natural gas resources and close proximity to the Asia Pacific LNG markets.
2. Chevron has also invested hugely in the Gorgon LNG Project in Australia, which is the largest single resource development in Australia's history. Of the six companies participating in the joint venture (Chevron, Exxon Mobil, Shell, Osaka Gas, Tokyo Gas and Chubu Electric Power), Chevron has the largest stake in the project at 47 percent. The project is estimated to yield 15.6 million tonnes of LNG per day.
3. Chevron is also the only American company to be participating in the Angola LNG Project with a 36.4% stake. The estimated potential from this project is 125 million standard cubic feet of liquefied natural gas per day.
From the above, we can see that Chevron is in the process of setting itself up to become the preeminent supplier of LNG in the future, and it is clear that the firm's investments in this sector are outpacing even the largest firms. In conclusion, it is my view that LNG is set to see a great surge in demand due to lower cost of production and transport, along with greater demand from emerging markets. Admittedly, there is a high degree of risk involved in this venture as Chevron betting large sums on the future of LNG and the current costs of these projects makes it uncertain as to whether they will succeed. However, I still maintain that if Chevron's efforts pay off, they will pay off in a big way.
Disclosure: I am long CVX. I wrote this article myself, and it expresses my own opinions. I am not receiving compensation for it (other than from Seeking Alpha). I have no business relationship with any company whose stock is mentioned in this article.