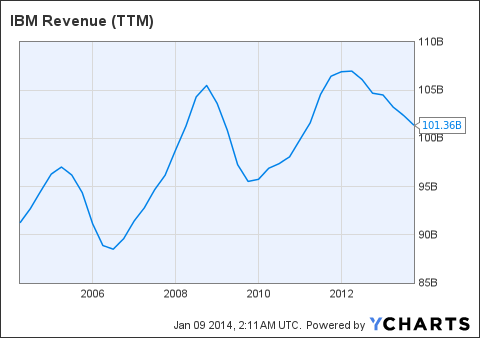 IBM Revenue ((TTM)) data by YCharts
2013 was a lonely year for IBM (NYSE:IBM) as it finished the year being the only stock of the Dow Jones Industrial Index in negative territory. The culprit pointed to by many was a lack of top-line growth. Many authors here alongside myself have pointed out this is strange logic that critics are using with IBM. After all what's more important, the top-line or the bottom-line, the latter of which IBM has an abundance of growth in? IBM's antithesis in this matter, Amazon (NASDAQ:AMZN), further points out how attracted investors are to growing revenues at this time, even if the company isn't actually making any money.
IBM operates in 5 main segments:
| | | | | | | | | |
| --- | --- | --- | --- | --- | --- | --- | --- | --- |
| Segment Revenues ($ in millions) | 2012 | 2011 | 2010 | 2009 | 2008 | 2007 | 2006 | 2005 |
| Global Tech Services | 40,236 | 40,879 | 38,201 | 37,347 | 39,264 | 36,103 | 32,322 | 31,501 |
| Global Business Services | 18,566 | 19,284 | 18,223 | 17,653 | 19,628 | 18,041 | 15,969 | 15,906 |
| Software | 25,448 | 24,944 | 22,485 | 21,396 | 22,089 | 19,982 | 18,161 | 16,830 |
| Systems And Tech | 17,667 | 18,985 | 17,973 | 16,190 | 19,287 | 21,317 | 21,970 | 20,981 |
| Global Financing | 2,013 | 2,102 | 2,238 | 2,302 | 2,559 | 2,502 | 2,365 | 2,401 |
When looking through this segmental breakdown certain trends become apparent. Importantly, Services have been experiencing growth, in addition to Software, which is the biggest area of growth. Systems and Tech is the main problem area with revenues. This is a much different story than if the revenue problems were seen throughout the various segments equally.
First of all, IBM has been strategically divesting itself of low-margin businesses. 2005 saw them getting rid of their personal computing division and 2007 saw them getting rid of their printing business. As this process takes place IBM's total revenues will reflect the omission of these divestitures, but it allows IBM to allocate its resources to more profitable areas. The resulting increase in gross and net-margins is a big reason why even with stagnant revenues IBM has been able to drive up net income so much. $25 billion in Software revenues (which has a gross margin around 90%) is a lot more valuable to the company than $25 billion in Systems and Tech revenue. This is why despite being only 24% of the overall company's revenues, Software ends up being 44% of its pre-tax income.
It also follows that given a continuation of these trends the segments increasing their revenues will grow in importance for the overall IBM revenue picture, while those falling will shrink. Eventually the perpetual loser S&T will have their percentage of the company's revenue, and its impacts on it dwindle to the point where IBM as a whole can generate better and more consistent revenue growth.
Of course, that is all based on the assumption that the current trends will continue. Fortunately, the beauty with IBM is that it is a highly predictable company. This is what allows the company to issue roadmaps, outlining specific goals for revenues, profits, EPS etc., which many other companies couldn't dream of issuing. The "sticky" nature of its business and its predictability is exactly what drove Buffett into purchasing his stake in the company, uncharacteristically buying into a tech company. They have a total services backlog of $141 billion as of the 3Q 2013, for example.
So far for 2013 software has continued to demonstrate growth, giving IBM $17.8 billion in revenue - up 1% (2% in constant currency) for the 1st quarter, 4% (5% in constant currency) for the 2nd quarter, flat (up 1% in constant currency) for the 3rd quarter.
Aside from segmental issues there are two other main points investors need to consider with IBM's revenue:
The impact of currency movements. The currency impact to IBM's revenues last quarter was almost 2.5 points. Revenues were down 4%, but only 1.6% in constant currency. Like many of the roughly two dozen U.S. companies, which derive 10% or more of their sales from Japan, the weakening Yen is having some substantial impacts on their numbers. Difficulties in currency hedging need to be remedied, but that is an aside from IBM's core business.
The Economic reform plan taking place in China. Due to this, IBM does not anticipate demand in China to pick up until after 1Q 2014. The lack of current Chinese demand contributed to 75% of IBM's constant currency revenue decline last quarter.
So, IBM has some work to do, but there is a fairly clear path to growing revenues open to them. It certainly isn't the dire situation some make it out to be, with IBM out of ideas and options. You already have a company with expanding margins, explosive net income and EPS growth, and a very shareholder friendly management team making well-timed buybacks and giving generous dividend increases. Adding in growing revenues into the mix could be a catalyst towards some very nice future stock prices.
Disclosure: I am long IBM. I wrote this article myself, and it expresses my own opinions. I am not receiving compensation for it (other than from Seeking Alpha). I have no business relationship with any company whose stock is mentioned in this article.