Editors' Note: This article covers a stock trading at less than $1 per share and/or with less than a $100 million market cap. Please be aware of the risks associated with these stocks.
After concluding another exciting year of FDA decisions, 2014 is already looking like a very important year for pharmaceutical catalysts. There are many upcoming FDA decisions which are highlighted in this article that have the potential to help make investors money. The main idea of investing in pharmaceutical catalysts (this article will focus primarily upon PDUFA decision dates, and some FDA panel dates) revolves around the possible increase in price as a company gets closer and closer to its PDUFA date. The PDUFA date, for those investors that are not familiar with the FDA system, is the date by which the FDA is targeting to make a decision. Now, obviously this is not set in stone and the FDA can push back the date if it needs to and will sometimes come out with their decision before or after the PDUFA date. For investors though, this date represents a very important one for the future of a pharmaceutical stock, and as such it is a compelling catalyst for shares. For more information about investing in FDA catalysts, along with previous performances check this article.
An important thing to remember about FDA panels are that the panel information and questions come out a few days before the panel actually meets (since this itself is a catalyst, I often sell well in advance of the panel date). For simplicity I have tried to limit this article to lesser known companies, and to companies with relatively smaller marketcaps. I have found that the companies that are larger, such as a Pfizer, unless the drug is really exceptional do not generally experience very much of an increase in shareprice based upon a PDUFA date. So without further ado, lets dive into the upcoming FDA decisions. For some of the stocks that are having FDA decisions before Vanda, please check my previous article.
Vanda Pharmaceuticals January 31
Vanda Pharmaceuticals (NASDAQ:VNDA) has an upcoming PDUFA date on January 31, 2014 for its drug Hetlioz. Vanda is seeking FDA approval for Hetlioz for the treatment of non-24 hour disoreder in the completely blind. This indication has the potential to be very lucrative for Vanda as it would be the only drug approved for the indication, and would have the potential to generate meaningful revenue for the company. In fact Zacks is estimating worldwide peak sales of Hetlioz (if approved) of $500 million. Vanda also has orphan drug status on the drug in the United States and Europe, which would allow for Vanda to usually charge a premium for the drug and would bar competitors from entering the space for a certain amount of time. An FDA advisory panel recently voted in favor of approving Hetlioz. This is significant for all parties, as the FDA usually follows the advise of its advisory panels (note how I say usually, not always). The FDA can break away from its advisory panels, however, it is relatively rare for the FDA to do so.
With the FDA panel decision in favor of Hetlioz, it appears as though the approval prospects for Vanda are rather promising. With that being said, an investor may still invest in Vanda ahead of its PDUFA date and have the potential for significant returns. I would also consider this investment to be lower risk, given the fact that a FDA panel has already given the go-ahead for the drug it is unlikely for the FDA to go against the decision, so should a decision come early from the FDA it will probably be positive for shareholders resulting in US approval for the drug.
Chelsea Therapeutics January 14, 2014/February 14,2014
Chelsea Therapeutics (NASDAQ:CHTP) has an FDA advisory panel coming up on January 14th. The meeting is regarding Chelsea's drug Northera, which is indicated for the orthostatic hypotension. This approval would help to generate revenue for Chelsea, which could desperately use the revenue given its history of operating losses. This FDA advisory panel vote should be hotly contested, but even without that point, this article is coming out way too late in order to advocate taking a run-up position in the stock ahead of the FDA advisory panel. It will be interesting to see what ends up happening with the final vote for the advisory panel. For more insight as to the advisory panel vote, I would suggest an article by Nick Zheng in which he analyzes the upcoming vote for the FDA panel. It is important to note that I view this as essentially a coin-flip but am leaning towards the FDA panel actually suggesting for approval based on a favorable risk-benefit analysis. Now, turning back towards the actual trading strategy.
The PDUFA date for the drug is February 14th. An interesting possibility would be to take a position in the stock after the FDA panel decision and wait for a run-up into FDA approval. The run-up interestingly is rather pronounced usually when the company received a negative FDA panel decision. This decision will likely be very important to investors in Chelsea and as such I would expect a run-up. Looking at the chart for Chelsea, it definitely appears as though the stock has some room to run.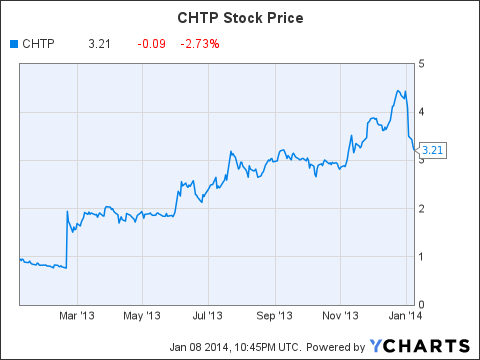 The dip downwards heading into the FDA panel will be interesting for investors, however, also quickly notice that if an investor got in well ahead of the panel date say in July, that the investor would have made quite a bit of money selling in advance of the panel.
IntelGenx Corp February 3, 2014
IntelGenX (OTCQX:IGXT) has a upcoming PDUFA date on February 3rd for its oral film anti-migraine product. This approval decision is very important for the future of the company. If approved, it would be only the second product on the market from IntelGenx and would be the product with the higher revenue potential. I really like the run-up potential of IGXT.OB, given the significant run-up which investors experienced based upon the first FDA approval.
The oral film anti-migraine product could be very important for a company as small as IntelGenX (with a marketcap of $41.3 million). Also, a recent $3.5 million public offering helped to increase the company's cash coffers so the possibility of dilution should no longer be a concern for any catalyst investor. With this out of the way it appears that the stock has considerable room to run up before its PDUFA date. On January 8th, the stock went up 11% on almost 10x the average volume. This monumental shift could be the start of the run-up for the company. With this in mind, the stock is still well off of its 52 week high and may have the potential to test its high. Given the very important nature of this go around for the company, it appears as though it is poised for a significant run-up and is meriting of further investment consideration.
Durect Corporation February 12, 2014
Durect Pharmaceuticals (NASDAQ:DRRX) is facing an important upcoming FDA decision for its drug Posidur. The PDUFA date is set for February 12th. Posidur is indicated for the relief of post operative pain for up to three days after surgery. This drug is a new method of delivery for an already approved drug Bupivacaine. This product would be very important to Durect for a multitude of reasons. The primary reason would be that it would be Durect's first FDA approval (it has tried on several occasions to have its lead drug candidate, Remoxy approved by the FDA to no avail). An FDA approval would also help to validate Durect's drug delivery technology and would correspondingly raise the value of the company in the eyes of investors.
The revenue generated by the drug would help to subsidize Durect's pipeline. However, Durect still currently holds worldwide marketing rights for the drug so it will either have to partner or try to build up a significant infrastructure for a US launch. Either way though, this drug will be closely watched by investors and as such the investors that are simply interested in the possible for an increase in share-price heading towards the FDA decision date should be very interested in this stock. There is a rather large potential for a price increase due to the very important nature of the drug and also due to the fact that Durect really could use a drug approval after the problems that it has had with Remoxy over the years (Remoxy is also partnered with Pain Therapeutics (NASDAQ:PTIE) and Pfizer (NYSE:PFE)).
Progenics Pharmaceuticals March 10,2014
Progenics Pharmaceuticals (NASDAQ:PGNX) has an upcoming advisory committee meeting on March 10, 2014. The meeting is regarding Progenics' drug Relistor, for which Progenics is seeking to expand the label in order to include opiod-induced constipation for patients suffering from chronic pain. Relistor has already been approved by the FDA in a different indication, and as such this meeting is solely on whether or not to expand the label for Relistor to include the new indication. This event is very important for the company.
In the event that the label is expanded in order to include OIC patients, then Progenics stands to receive even more revenue from the drug. The drug is currently partnered with Salix pharmaceuticals (NASDAQ:SLXP), and the drug is very important to Progenics going forward. It is a very interesting situation though, as investors do not know the exact date that a final FDA decision will be handed down on the drug. The FDA is convening the advisory panel after Progenics appealed an FDA decision to not allow the additional indication. The FDA has indicated that it will act on the appeal after it receives the input of the advisory committee. The fact that the FDA did not want to act without the advisory committee is very telling, as it means that the FDA is actually considering overturning the CRL. Typically FDA appeals are unsuccessful, but it is highly unusual for the FDA to call a panel in order to help decide an appeal so this is an event that has the potential to be the influencing factor in whichever way the FDA ends up deciding to rule. For more information on Progenics I would like to recommend an article by one of my favorite Seeking Alpha authors Scott Matusow, I believe that he does a very nice job covering the drug and its potential for Progenics.
The FDA Advisory Committee decision represents a significant run-up opportunity for the stock, and given the fact that Progenics looks like it may still have room to run, it should be a very interesting consideration for investors interested in making money based on a potential stock price appreciation heading into an FDA decision.
Exact Sciences Corp March 26
Exact Sciences Corporation (NASDAQ:EXAS) has a FDA advisory committee meeting on March 26,2014. This is for Exact's correlectal cancer screening test called Cologuard. The test would be Exact's only approved product and seems to be the only meaningful product in Exact's pipeline.
With this in mind, this test is very important to the overall future of Exact, and as investors interested in catalyst events this is a huge catalyst for the company. Should the FDA advisory committee come down in favor of Exact it would appear as though Exact would be well on its way to FDA approval. I am reasonably confident in the advisory committee coming down in favor of Exact Sciences, as Exact conducted one of the largest colorectal cancer screening studies ever in the United States, which means that the committee will be very confident in the data. The data for the screening study seemed to be rather impressive and as such I believe that the panel will come down in favor of Exact. However, what I believe about the panel I am not necessarily interested in. I would still sell before the FDA panel, as I do not want to introduce the extra risk of trying to guess how an FDA panel will come down on the issue. Exact appears to have room to run in terms of stock price, so it might be advantageous to take a position in the stock on any sort of pullback.
Mannkind Corporation April 15
Mannkind Corporation (NASDAQ:MNKD) is once again facing FDA approval for its drug Afrezza. Afrezza is inhaled insulin delivered using Mannkind's proprietary Dreamboat inhaler. The drug/device combination has been the subject of multiple FDA complete response letters, however, this time Mannkind is armed with additional studies which it hopes will help it to leap over the bar for FDA approval. Mannkind has a history of losses as a company and this drug would be Mannkind's only approved drug. As such Afrezza is very important to the future of Mannkind.
Afrezza's potential commercialization value is widely debated, however, the drug would be Mannkind's only approved drug and as such would be Mannkind's main source of revenue. It is also important to note that an approval also validates Mannkind's Technosphere platform as well as Mannkind's dreamboat inhaler; so the company has a lot at stake in its upcoming FDA decision. With that in mind, let's take a quick peak at the chart.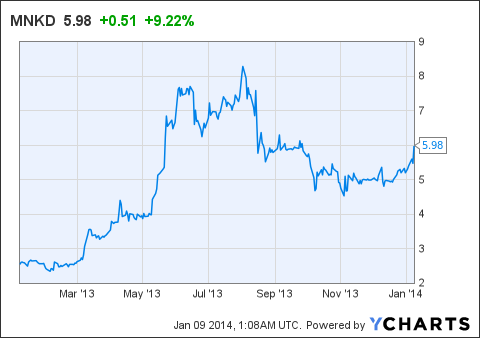 Mannkind definitely has some room to grow between now and the PDUFA date. It does appear as though Mannkind will be a very interesting investment heading into its PDUFA decision date. If Mannkind were to be rejected again, there would likely be substantial questions as to whether or not Mannkind will ever obtain FDA approval for Afrezza and as such, this might be a make or break scenario for Mannkind.
Pozen Inc April 25,2014
Pozen (NASDAQ:POZN) is seeking FDA approval for its PA8140/PA32540 tablets. Pozen's indication if approved would be rather large and it would be the first drug approval for the company should the drug ultimately clear the FDA. This makes the drug very important to the overall future of Pozen and as such we should be very interested in the possibility of investing in the stock as investors.
It is important, however, to know that Pozen is currently conducting an additional Phase I pharmacokinetic study comparing the amount of the omeprazole component in PA 8140 vs. PA 32540 with the results being expected in March of 2014. With that in mind, the investment is not completely de-risked for investors as should there be any warning signs from this study it could potentially derail any run-up investment in Pozen.
Pozen does have some room to run, currently trading at 8.17, with a 52 week high of 9.90. Should Pozen's study come back clean I would then consider investing in the price increase potential of the stock. While I do not believe that the Phase I study will be a big problem for the drug or anything like that, it just might not be good for an investor to give themselves the additional risk. However, the flip side of the coin is that it could also equal a larger profit should the stock jump massively on a positive result.
Conclusion
This list is by no means comprehensive, so if you find a stock that I forgot somewhere in between the ones mentioned in this article feel free to let readers know in the comments section. Investing in catalytic events can be inherently risky, but through being disciplined and selling before the estimated date of the event we can not only help to eliminate some of the downside, but we can also end up with a significant upside. All of the stocks in this article I believe have the potential for significant run-ups and as such merit further consideration by investors.
Disclosure: I am long IGXT. I wrote this article myself, and it expresses my own opinions. I am not receiving compensation for it (other than from Seeking Alpha). I have no business relationship with any company whose stock is mentioned in this article.
Additional disclosure: I have previously owned stock in MNKD and may invest in MNKD again as it gets closer to the PDUFA date.