Earlier this week World Fuel Services (NYSE:INT) expanded its operations in Europe by acquiring UK-based Watson Petroleum. The company at times makes these bolt-on appealing acquisitions and has a great track record in integrating these into the business.
Given the solid growth track record and still appealing valuation, I am upbeat about World Fuel, despite lack of appealing dividends.
World Fuel Services Expands Into The UK
On Monday, World Fuel Services announced a $191 million acquisition of Watson Petroleum Limited. Watson is a leading distributor of gasoline, diesel, heating oil, lubricants and related services in England and Wales.
Watson employs some 670 workers expected to generate $2.2 billion in annual revenues for 2013. This makes the company one of the largest fuel distributors in the country.
The deal could be accretive to GAAP earnings of $0.18 to $0.22 per share in the first twelve months after closing. Non-GAAP accretion is seen ten cents per share higher.
As such the deal seem very favorable. GAAP earnings could increase by some $15 million per annum after financing costs, implying the company pays 13-14 times earnings after financing costs, which is a slight discount to World Fuel's own valuation. Revenue multiples are in line.
Note that following the deal, investors in World Fuel stand to benefit from all cost or revenue synergies going forward, achieved after twelve months after closing. The extent of these have not been specified unfortunately.
A Solid Financial State
World Fuel operates with $333 million in cash and equivalents while holding $459 million in total debt, for a modest net debt position of around $126 million. As such, the deal will be financed with cash available at hand, boosting the net debt position to little over $300 million, which is still very much acceptable.
Revenues for the first three quarters of 2013 came in at $31.2 billion, up 7.4% on the year before. Margins are very thin, with gross margins being just 1.8%. Net earnings of $151 million represent just after tax profit margins of 0.5%.
While Operating In A Nice Niche
World Fuel Service operates in a specialized niche, thereby even supplying services to many major oil integrated energy companies, even as they could provide these services themselves. Some of its customers include firms like BP, Exxon Mobil (NYSE:XOM), Shell and Chevron (NYSE:CVX), among others.
Some of these specialized services include credit management, claims management, customer relationships and significant purchasing power. These services from World Fuel add the most value in the downstream segments, notably between the refinery stage and the terminal operations, and between terminal and retail as well as commercialization stages.

With Diversified Operations
While the market niche is stable and nice, World Fuel has diversified operations between industries as well. The company focuses on the aviation market, marine and the land business. The market shares in these markets are respectively 6%, 12% and 1% on a global basis.
Note that the deal will furthermore improve the geographical diversification as well. The $2.2 billion in additional revenues, could boost overall revenues by some 5% per annum going forward, boosting the importance of the European business on a relative basis.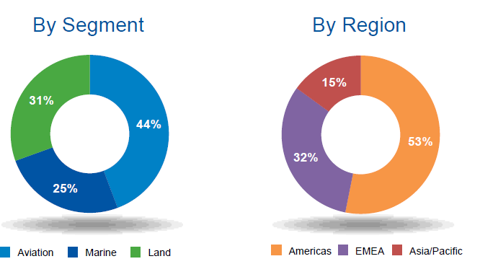 Growth Forward
These modest acquisitions, the organic growth based on the flexible and asset-light business model continues to show growth potential. Note that the company has seen significant growth in past years, partially on the back of acquisitions.
Between 2009 and 2013, revenues are expected to increase from $11.3 billion to some $42 billion, as expected for 2013. While earnings have risen as well, net earnings are "only" expected to nearly double toward $200 million per annum for this time period.
Takeaway For Investors
Over the past few years, shares of World Fuel have mostly traded in a $35-$45 trading range, currently exchanging hands at the high end of this range. The $3.2 billion valuation, combined with expected earnings of around $200 million, imply a 16 times earnings ratio.
This seems very fair, especially given the strong historical growth. Note that investors in the company rely on growth for their returns as dividends are very modest. The quarterly dividend of $0.0375 per share provides investors with a yield of just 0.3%.
Yet the solid growth, strong track record in bolt-on acquisitions and appealing valuation makes the company still a good hold in your portfolio, despite the lack of appealing dividends.
Disclosure: I have no positions in any stocks mentioned, and no plans to initiate any positions within the next 72 hours. I wrote this article myself, and it expresses my own opinions. I am not receiving compensation for it (other than from Seeking Alpha). I have no business relationship with any company whose stock is mentioned in this article.