After Q4 2013 results were released yesterday, Alcoa (NYSE:AA) shares sold off as investors reacted to falling revenues and impairment charges amounting to billions of dollars. Shares are down 4.4% in after-hours trading and it can be expected that shares will test the $10 mark during the normal trading session today.
Impairment charges and lower revenues dictate Q4 2013 performance
Alcoa achieved revenues of $5.59 billion in the most recent quarter (down about 5% compared to Q4 2012 revenues of $5.90 billion) but revenues beat analyst estimates of $5.36 billion. Q4 2013 goodwill impairments of $1.73 billion have led to a massive net loss of $2.34 billion which compares to net income of $242 million in the same quarter last year. Net income per diluted share fell from $0.21 in Q4 2012 to ($2.19) in Q4 2013 driven by impairment charges for legacy acquisitions in the smelting business.
The fourth quarter also saw higher restructuring and related charges of $380 million which compares to $151 million in the previous quarter and $60 million in Q4 2012.
Lower aluminum prices also contributed to Alcoa's lower profitability: The realized aluminum price in the fourth quarter of 2013 stood at $2,157 $/MT which compares to $2,180 $/MT in Q3 2013 (down 1%) and $2,325 $/MT in Q4 2012 (down 7%).
Alcoa's SG&A expenses have declined 8% to $255 million in Q4 2013 vs. $277 million in the fourth quarter of 2012.
Overall, the picture looks everything but enticing: Lower revenues, lower realized aluminum prices, massive impairment charges, higher restructuring costs and a deep red bottom line are not exactly what commodity investors are looking for. However, the fourth quarter could be a turnaround quarter as the company sees decent growth rates in a variety of segments in the coming year. As the global economy gains vitality and free cash flows improve, Alcoa could present investors with an attractive risk/reward ratio.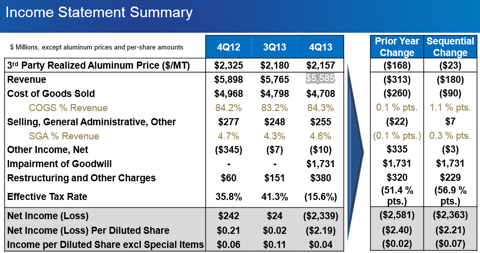 Segment outlook
Alcoa's segment growth assumptions show that Europe still causes some headaches due to weak growth and restructuring cases in Southern Europe. China could lead to surprises going forward if the economy picks up steam and the country pulls the rest of the world along with it.
Alcoa's aerospace segment is seen to deliver growth of 7-8% and is likely to be the fastest growing segment of the company in 2014. Automotive, beverage can packaging and commercial building and construction are also estimated to deliver positive growth ranging from 1-6% in 2014. The industrial gas turbine segment is projected to take a significant hit of 8-12% in 2014 which will offset gains in other segments.
Primary aluminum consumption is projected to hit 52.8 mmt in 2014 of which 25.5 mmt will be attributable to China (around 48% of total consumption) and Alcoa expects 2014 aluminum demand growth to come in at 7%. Stronger than expected demand growth from China, a recovering Europe and a faster growing US economy could provide substantial catalysts for Alcoa's share price in 2014.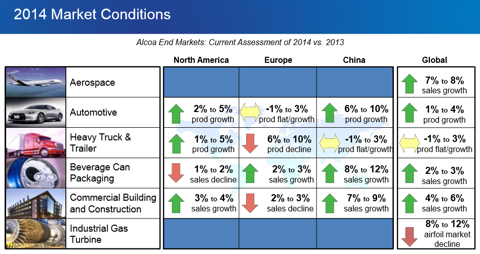 Valuation
Alcoa's forward P/E ratio stands at around 26 at the moment but the P/E ratio could fall substantially if the company can achieve a sustainable EPS turnaround. Alcoa is focused to deliver productivity gains of $850 million in FY 2014 which will be cash flow accretive. A rebounding global economy led by China could also provide substantial boosts to Alcoa's EPS and share performance.
Share performance
Shares of Alcoa are up 19% over the last twelve month but the majority of share gains is almost solely attributable to Alcoa's December surge.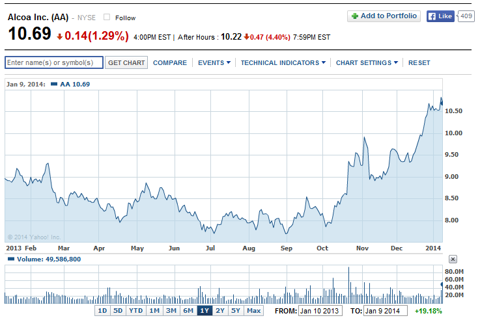 Alcoa gained 13% over the last two years while Century Aluminum (NASDAQ:CENX) returned 7%, Aluminum Corporation of China Ltd. (NYSE:ACH) lost 28% and Noranda Aluminum Holding (NOR) 67%. Alumina Ltd. (AWC) lost 17% and Kaiser Aluminum (NASDAQ:KALU), the best performing aluminum company in the peer group, gained 42% over the same measurement period. High supply levels and depressed commodity prices have taken a toll on aluminum companies over the last couple of years.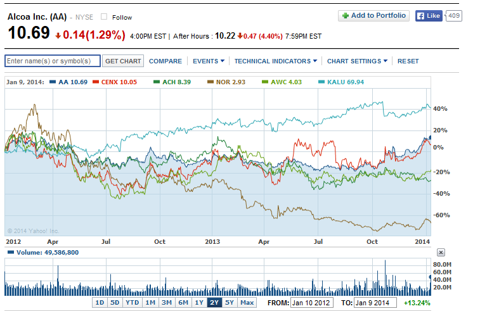 Conclusion
Overcapacity and weak aluminum prices have suppressed Alcoa's share price way too long. Ultimately, a rebound in aluminum prices will depend on China's growing aluminum consumption and increasing construction- and manufacturing activity in the country. Europe still poses challenges but is way less important than China for driving aluminum prices. I think the fourth quarter can be seen as a clean-out quarter. Alcoa's fourth quarter impairments are non-cash and non-recurring and are a result of low aluminum prices which won't remain low forever. When the global economy grows more dynamically, Alcoa is a good bet for surprises as its share price is highly correlated with the underlying aluminum price. Before the financial crisis Alcoa was trading around the $40 mark and there is no reason why Alcoa couldn't return to such levels when aluminum prices rebound. Anti-cyclical, long-term BUY.
Disclosure: I have no positions in any stocks mentioned, and no plans to initiate any positions within the next 72 hours. I wrote this article myself, and it expresses my own opinions. I am not receiving compensation for it (other than from Seeking Alpha). I have no business relationship with any company whose stock is mentioned in this article.