On the morning of Friday, August 23rd, 2013, Microsoft (NASDAQ:MSFT) investors were pleasantly surprised that shares of the technology giant were spiking. CEO Steve Ballmer announced he was retiring. Microsoft shares had just started to recover from the July 2013 fall after the company's dismal earnings report. That Friday, shares jumped more than $2 a share, gains that were somewhat lost when the deal with Nokia (NOK) was announced. But the announcement that Ballmer was stepping aside brought hope to shareholders, and Microsoft stock which bottomed out just under $31 nearly touched $39 in early December. When Microsoft got to those high $30s, I was one who advocated shorting the stock due to valuation, but I told investors to not be too greedy as shares have come back down. On Thursday, Microsoft shares closed at $35.53, down more than $3 from the early December high. Why are shares falling so quickly? Today, I'll detail why Microsoft's short-term promise has turned into a problem for the company, and why a new short theory is in play here.
The CEO debate rages on:
Everyone wants to know who will be the next leader of Microsoft. Initially, when Ballmer announced his retirement, most were hoping a decision would be made in late 2013. However, search committee chief John Thompson has stated that Microsoft expects to finish the process in early 2014. The problem, as the link above suggests, is that a few candidates seem to be concerned about Ballmer and Bill Gates' roles going forward. Some candidates are wondering how Ballmer would react if they were to embrace a strategy different from that of Ballmer.
Microsoft shares continued to decline this week when Ford (F) CEO Alan Mulally stated that he was not leaving Ford for Microsoft. Some have suggested that the reason for the recent selloff in Microsoft shares were the diminishing prospects of Mulally replacing Ballmer. Well, that has been put to rest. Ford investors seem to be happy with the news that Mulally is staying along with the recent dividend raise. Shares of the automaker are up a couple percent recently, and are at their highest levels since the company's weak 2014 outlook sunk shares in late December.
So now it is back to a series of conflicting reports. Some sources say that Microsoft is very close to naming a new CEO. Sources have told Reuters that Microsoft is down to a "handful" of candidates, including at least one outsider from the tech industry, ex-Nokia chief Stephen Elop, and insiders Satya Nadella and Tony Bates. On the other hand, Kara Swisher is reporting that a decision may not come until February or even later. Swisher reports that Nadella is the top internal candidate, but that there are concerns over his business/sales expertise.
Microsoft shares had rallied on the prospects of a CEO decision coming quickly, and most were betting on Mulally. Now that he is out and the process seems to be dragging on, investors are becoming a bit nervous, and analysts are calling recent developments disappointing. Microsoft shares are now down $3.45, or 8.85% from their 52-week high. That doesn't seem like much, but Microsoft isn't a name like Tesla Motors (TSLA) or Twitter (TWTR) that moves in 5% or 10% increments each day. Thursday's close for Microsoft was the lowest close since November 1st, as seen in the chart below.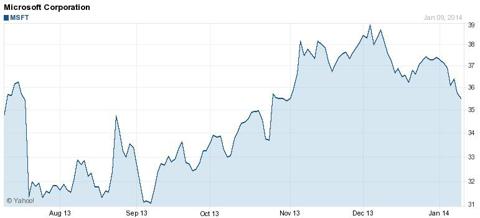 (Source: Yahoo! Finance)
Selecting a forward strategy:
Obviously, the future of Microsoft does depend on who becomes the next CEO. One person might want to do one thing, while another person may want to do something else. Stephen Elop says he is open to the selling of the Bing and Xbox units. Nomura's Rick Sherlund thinks Microsoft could see its earnings per share rise by 40% between the sale of these two units as well as some other cost cutting.
One thing is clear. The new leader will need to integrate the Nokia business that Microsoft is in the process of acquiring. In writing for this site, Michael Blair discussed how Nokia can help put Microsoft on the mobile map. Mr. Blair discusses how the Windows Phone, while having a small market share, can grow in several regions as it piggybacks the historic success of Nokia.
Estimates and comparisons:
As I discussed in my fiscal first quarter earnings wrap up, Microsoft actually provided revenue guidance for the fiscal second quarter. This is something that the company has not done in recent years, so I applaud management for being more transparent with investors. Microsoft guided to revenues of $23.1 billion to $24.1 billion for the quarter, which at the time was above analyst estimates for $22.93 billion. Since then, analysts have obviously raised their estimates, with current estimates calling for revenues of $23.67 billion. On the flip side, earnings per share estimates for the quarter have come down by a nickel since the last report. Analysts are looking for $0.69 currently. In the year-ago period, Microsoft reported revenues of $21.46 billion and earnings per share of $0.76.
So how does Microsoft's story stack up against some other top tech names? Well, the following table shows some key growth and valuation metrics for the company against Google (GOOG), Apple (AAPL), Intel (INTC), and Cisco Systems (CSCO).

*EPS and P/E numbers are non-GAAP.
Microsoft offers the third best amount of growth right now, with almost comparable revenue growth to Apple. Microsoft doesn't have the earnings per share growth of Apple right now, and that is for two reasons. First, as I mentioned above Bing and Xbox are hurting the bottom line. The second reason is that Apple has a much more powerful buyback program right now, and that will have a decent impact on earnings per share. It is slightly interesting here that Microsoft trades at a small discount to Intel, given how bad Intel's last two years have been and the low expectations for Intel in 2014.
That being said, I believe that Microsoft is fairly valued at these levels, and I could then make the case that Apple is undervalued, looking at the table above. I still am recommending Microsoft as a short candidate, but for a different reason, which I will explain in my conclusion. I am no longer calling Microsoft a short on valuation, which was the basis of my argument when shares were north of $38. In one of my December articles where I argued for a short position, Microsoft was at 14.40 times this fiscal year's expected earnings. At the 52-week high, this number peaked at 14.60 times. At 13.31 times currently, the valuation argument has changed dramatically.
Final thoughts:
Microsoft's CEO search is ongoing, but uncertainty has led to the stock coming down significantly from its 52-week high. Ford CEO Alan Mulally will not jump to Microsoft, and that has a number of investors concerned. While I am no longer calling Microsoft a short on valuation, I still think it remains a short candidate because of uncertainty at the top. A small short position wouldn't be a terrible idea here, but I wouldn't go as all-in as I would of when this stock was $3 or more higher. Additionally, those that have been short for some of the fall might want to take some of their money off the table and cash in some profits. It would not be crazy though to leave some of a short position on, however. Until Microsoft is able to pick a new leader, one that is not worried about Ballmer and Gates hovering over them, there could be some more pain in store for shares of this technology giant. That makes Microsoft a continued short candidate, for now anyway.
Disclosure: I have no positions in any stocks mentioned, and no plans to initiate any positions within the next 72 hours. I wrote this article myself, and it expresses my own opinions. I am not receiving compensation for it (other than from Seeking Alpha). I have no business relationship with any company whose stock is mentioned in this article.
Additional disclosure: Investors are always reminded that before making any investment, you should do your own proper due diligence on any name directly or indirectly mentioned in this article. Investors should also consider seeking advice from a broker or financial adviser before making any investment decisions. Any material in this article should be considered general information, and not relied on as a formal investment recommendation.