A lot of attention and speculation has been brewing on GT Advanced Technologies' (GTAT) sapphire screens replacing Corning's (NYSE:GLW) Gorilla Glass in the iPhone 6. Sapphire is one of the hardest materials on earth and is basically scratch proof, but it's extremely hard to mass produce and has seen limited use in today's products. However, Apple (NASDAQ:AAPL) recently announced a multi-year, $578 million contract with GTAT to supply advanced sapphire materials. Apple also announced a patent to basically sandwich a chemically strengthened piece of glass between 2 sapphire screens in hopes of reducing costs. This is what caused the speculation of sapphire being used in the iPhone 6. I think this demise of Gorilla Glass is vastly overstated and Corning's success will continue for a number of reasons.
Limits of Sapphire
-Cost: A sapphire screen used in a phone today costs roughly $30, or 10x the cost of Gorilla Glass. Apple's investment in GT Advanced Technologies may bring down production costs, but it is unlikely to reduce costs by 1,000% to be competitive with Gorilla Glass.
-Clarity: Sapphire screens let through roughly 6% less light than Gorilla Glass, which leads to less clarity in the display.
-Fracture Strength: No one is arguing sapphire's clear advantage in scratch resistance, but its fracture strength is definitely up for debate. The hardness of sapphire doesn't necessarily translate to better shatter resistance. Corning released a video showing Gorilla Glass beating Sapphire in a shatter resistance test.
-Energy Cost: Gorilla Glass uses about one-hundredth as much energy to form as sapphire. Corning said, "If all the smartphones in the world used sapphire as a cover, we calculate that the incremental energy required would be the same as 2.6 million average U.S. households use annually, or 7.4 times as much energy as the Hoover Dam produces in a year."
-Mass Production: Currently sapphire is only being used as camera lens and thumb-print scanner covers on the iPhone 5S. Sapphire has also been used in high end watch covers and in a select few smartphone screens. Producing screens for potentially tens of millions of iPhones is a completely new ballgame. Ramping up production to this level in around a year for an iPhone 6 launch would be extremely difficult. I don't believe Apple would take the risk of having production issues just to use a far more expensive screen.
Even with the limits of sapphire, I think an even bigger reason for Gorilla Glass's continued success is Corning continues to invest in and innovate its product.
-Gorilla Glass evolution: Since 2007, Corning has released 3 versions of Gorilla Glass, each improving over the other. Corning claims Gorilla Glass 3 is 3x more damage resistant, 40% more scratch resistant and more flexible than Gorilla Glass 2.
-Antimicrobial: Corning is currently working on an antimicrobial film for its next evolution of Gorilla Glass, which will be designed to minimize bacterial proliferation on mobile displays. The company claims their new glass kills more than 99.9% of bacteria on the screen surface. When the average mobile device screen has more germs than a public toilet, customers will surely embrace this change.
-Flexible: Flexibility will also increase in the next evolution. Corning is working to make Gorilla Glass capable of being used in curved displays. Improved flexibility will also inherently increase its fracture strength.
-Lower Reflectance: A common complaint with mobile devices is the difficulty to view them in bright sunlight. The next Gorilla Glass version will likely have significantly lower reflectance compared to every other glass used to cover the displays of mobile devices. The picture below looks like a hole in a piece of glass, but is actually a circular piece of Corning's new anti-reflective glass inside an ordinary display screen.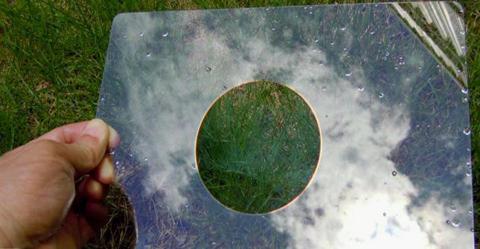 Fundamentals
GT Advanced Technologies 3Q2013 Financial breakdown
| | | | |
| --- | --- | --- | --- |
| Revenue by Segment (millions) | 1Q2013 | 2Q2013 | 3Q2013 |
| Photovoltaic (PV) | $ 4.4 | $ 11.4 | $ 4.4 |
| Polysilicon | $ 38.0 | $ 150.8 | $ 28.6 |
| Sapphire | $ 15.4 | $ 6.2 | $ 7.4 |
| Total Revenue | $ 57.8 | $ 168.3 | $ 40.3 |
| Net Income | $ (18.7) | $ 11.9 | $ (38.1) |
| EPS (diluted) | $ (0.16) | $ 0.10 | $ (0.31) |
| Cash | $ 320.3 | $ 294.7 | $ 258.5 |
2013 YTD sapphire sales have accounted for only 10% of GTAT's total revenue. This is expected to drastically change in 2014, thanks to their new contract with Apple. The company is forecasting 2014 revenues of $600-$800 million with 80% of revenue coming from their sapphire segment, or $480-$640 million. The company cites growing use in camera lens covers and the new material business with Apple as the primary reasons for this amazing growth.
Corning 3Q2013 financial breakdown
| | | | |
| --- | --- | --- | --- |
| Revenue by Segment (millions) | 1Q2013 | 2Q2013 | 3Q2013 |
| Display Technologies | $ 650 | $ 670 | $ 689 |
| Telecommunications | $ 470 | $ 601 | $ 650 |
| Specialty Materials (Gorilla Glass) | $ 258 | $ 301 | $ 326 |
| Environment Technologies | $ 228 | $ 228 | $ 225 |
| Life Sciences | $ 207 | $ 219 | $ 215 |
| Total Revenue | $ 1,814 | $ 2,021 | $ 2,108 |
| Net Income | $ 494 | $ 638 | $ 408 |
| EPS | 0.3 | 0.32 | 0.33 |
| Cash | $ 5,800 | $ 5,500 | $ 5,400 |
Corning is far more diversified than GTAT, and even though Gorilla Glass is the company's fastest growing segment, it only accounts for 15% of total revenue. While that number should continue to grow, Corning will never be as dependent on Gorilla Glass as GTAT is on Sapphire.
Analysis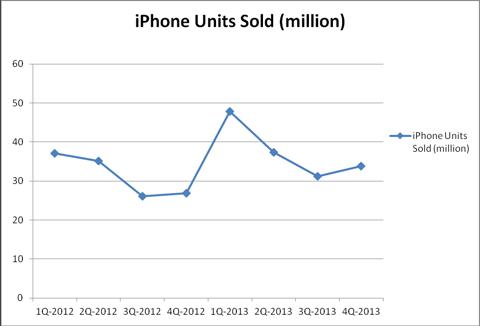 Sapphire screens are estimated to cost roughly $30 per screen. Being extremely generous and assuming GTAT and Apple can find a way to cut that cost in half, $15 per screen, that would equal 32-42 million screens based on the company's sapphire sales projections of $480-$640 million (480/15=32 640/15=42.66). Apple sold roughly 150 million iPhones in 2013. I believe if Apple did use sapphire in the iPhone 6, it would only be included in select models. Look for its continued use in the finger print scanner and camera lens.
If Apple did switch entirely to sapphire screens it would be a blow to Corning. But, Gorilla Glass will continue to add customers with its continued product innovations. At over $1 billion in annual sales, Gorilla Glass can still gain market share. It is currently used in over 1000 product models in over 2 billion devices world-wide. Gorilla Glass is constantly expanding to new more profitable areas including, laptops, tablets, televisions and even in rear-windows of the BMW i8. Corning just announced Dell will expand their use of Gorilla Glass to several of their touch-enabled PCs, including the XPS, Inspiron, and Latitude series. James Steiner, senior vice president and general manager of Corning's Specialty Materials, said, "Once we are ready to commercialize this version of Gorilla Glass, the application possibilities are enormous, including hospitals, public spaces, schools, mobile devices and so forth."
Conclusion
There is a chance Apple will try to create "hype" for its iPhone 6 by using a sapphire screen, but I feel few manufacturers would follow suit due to Corning's constant product improvement. Sapphire makes sense for use in screens for camera lens and finger print sensors, because if those screens get scratched it basically ruins their function. Corning's Gorilla Glass 4 will likely be more durable, flexible, scratch resistant, anti-reflective and anti-microbial. Even if Apple is successful in significantly reducing production costs of sapphire, the next version of Gorilla Glass will be head and shoulders above it.
Jeffery Evenson, Corning's senior vice president, said it best:
"What would people say if someone invented a cover that was about half the weight, used 99 percent less energy to make, provided brighter displays, and cost less than a tenth of sapphire?"
Disclosure: I have no positions in any stocks mentioned, but may initiate a long position in GLW, over the next 72 hours. I wrote this article myself, and it expresses my own opinions. I am not receiving compensation for it (other than from Seeking Alpha). I have no business relationship with any company whose stock is mentioned in this article.