Will Stem Cell and Regmed Interest Continue?
Many stem cell and regenerative medicine companies were left behind when other biotechs soared to record highs in 1H 2013, but the trend reversed itself (to some extent) in the second half of the year. Helped by some strong data releases, some stem cell companies went on to provide investors with triple-digit YTD gains.
Markets and Markets also produced an interesting report on the US stem cell industry, predicting a jump to $88.3 B revenues at a total CAGR of ~15%. See details here.
Another indicator of a "second wind" for the cell industry is increased big pharma interest in the sector. Just recently, we saw a surprising financial gamble on a tiny stem company named Capricor Therapeutics (NASDAQ:CAPR) by Johnson & Johnson (NYSE:JNJ). This unusual behavior may signify that big pharma is finally ready to take big risks on stem tech, perhaps due to the general stagnation in traditional pharma.
If this leads to an increase in M&A activity in the cell industry, risk-tolerant investors may stand to profit from increased desire for IP-protected cell technologies.
We think that strong data releases will also go a long way, since many companies still struggle to validate their stem cell or regenerative technologies. The rest of this article will discuss past and upcoming data releases that need to be analyzed.
Osiris Ulcer Data Excites and Intrigues
On August 2013, Osiris Therapeutics (NASDAQ:OSIR) released top-line data that helped to validate the technology behind cell-based regenerative medicine. The impressive top line data from the press release is displayed below: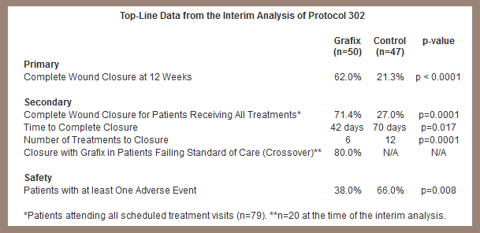 One of the first things that sticks out to anyone is the excellent statistical significance of the results (shown by low p-values). Biotechs with novel therapies are viewed with a lot of skepticism by investors (especially stem companies), but strong data changes everything. Historical failure rates of drugs are dropped by roughly 20-30% after a successful Phase II trial.
While Grafix is already being marketed as a wound cover for acute and chronic wounds, the strength of this dataset makes the product much more viable from a physician's perspective. Osiris has also confirmed an upcoming BLA submission for this product as a treatment for chronic diabetic foot ulcers, which should expand its use significantly throughout the next few years.
Mesoblast Buys Prochymal from Osiris
It's worth noting here that a larger company called Mesoblast (MBLTY) acquired the former flagship product from the Osiris pipeline - Prochymal. This transaction was a hybrid cash/stock acquisition, and it only cost $20 M for Mesoblast upfront ($100 M in total with certain milestones). Prochymal is an older mesenchymal progenitor cell (MPC) therapy that has been in development for the Crohn's disease indication for years. It became rather apparent last year that Osiris wanted to focus more on Grafix, so we think the sale to Mesoblast is unsurprising. Prochymal is currently being put through an ongoing, 330 patient Phase III trial.
Crohn's disease is a chronic autoimmune disorder that is very unpleasant due to inflammation of the small intestines and sometimes the colon. Corticosteroids, aminosalicyclates and immunosuppressants can be used to combat the overactive immune system in Crohn's patients, although unmet need for more, effective therapies remains.
Prochymal is a therapy designed to reduce inflammation of the small intestine/colon through a very hot method of immunomodulation - downregulation of Interleukin-17 producing T-cells. This type of T-cell is believed to play a very big role in Crohn's disease due to the prevalence of this type of cell in the colon of patients with Crohn's.
4 Data Releases We're Watching
Here are some of the stem cell data releases we will be watching for this year. We believe that these have the potential to influence investor perception of the stem cell sector as a whole.
1.) Mesoblast - Phase III Outcome for Prochymal in Crohn's
The acquisition of Prochymal has provided Mesoblast with a catalyst this year (the top-line data from this Phase III). While it is an older cell therapy, it can be quite close to FDA approval given that this trial goes well. This is significant for the stem cell industry due to the sheer size of the targeted indication (1.5 M patients in the US) and the high cost of Crohn's treatment. Prochymal can probably sell for $30,000-40,000 per patient per year if it proves to be one of the best treatments out there for Crohn's.
Prochymal is the first stem cell therapy on the market, and its performance should be watched closely as an early indicator for the commercial potential of stem cell therapies. Prochymal may not have a very significant impact on shares of Mesoblast due to the size of the company, but it should provide us with insight on stem cell use in the clinic.
2.) Athersys (NASDAQ:ATHX) and Pfizer (NYSE:PFE) - Phase II Outcome for Multistem in Ulcerative Colities
Athersys and its big pharma partner Pfizer have recently announced the completion of enrollment for this Phase II trial, which means that data should come out in 2H 2014. This is 128 patient randomized, double-blind trial that will test Multistem against a placebo comparator.
Athersys has been an absolute monster since the start of this year - ATHX is already up 61% YTD at the time of writing. Investors are clearly excited about the completion of enrollment, which confirms to a near-term data release that could simultaneously validate Athersys' technology and provide the company with millions in milestone revenue from the $105 M arrangement made in 2009. It has been a long wait (~4 years), but it has certainly been worth it for anyone who bought ATHX at the lows.
Like Crohn's, ulcerative colitis is a chronic disease that is caused by inflammation of the colon. A large number of patients suffer from it (~700,000), and they are treated similarly to Crohn's patients.
The primary endpoint of this trial is based on the incidence and severity of adverse events, plus changes from baseline in endoscopic scores and Mayo rectal bleeding sub-scores. These measurements are general indicators of the severity of a patient's ulcerative colitis.
If the trial is a success, Athersys will rally. Since the extent of this rally depends on the quality of the results, it is hard to determine how high this stock could go in H2 2014. If they point to a high likelihood of FDA approval, $7-8 per share would not be out of the question.
3.) Neostem - Phase II Outcome for AMR-001 in STEMI
Neostem (NBS) is on track to complete a Phase II trial for their lead therapy AMR-001 in June or July of 2014. This should lead to data in H2 2014, and we think top-line data is coming in August or September of 2014.
AMR-001 is a therapy made up of patient cells that are altered to rapidly increase perfusion to damaged tissue. This is a possible way to reduce damage to affected regions of heart muscle during the recovery stage of a heart attack. AMR-001 is quite unique in its therapeutic application, and it does not have a direct competitor. Because of this, the trial is only attempting to prove the efficacy of this autologous cell therapy against placebo.
Neostem is testing AMR-001 infused at a specific dosage (10+ M CD34+ cells) in its treatment arm against a placebo comparator arm (double blinded). 160 patients are randomized into both arms. Efficacy will be proven with the trial's primary endpoint, which is based on visual improvements seen via an imaging procedure (Gated SPECT).
Positive data will significantly increase the chance of approval for the therapy itself (from 50% to 75% in our view), and it would serve as a validation of the company's technology. Positive AMI data would also help a planned AMR-001 expansion into the congestive heart failure indication. We think that this catalyst gives NBS 2014 upside of 50-100% depending on the positivity of the results.
More details on this upcoming catalyst can be found in my recent article
4.) Neuralstem - Phase II Outcome for NSI-566 in Amyotrophic Lateral Sclerosis (ALS)
Neuralstem (NYSEMKT:CUR) has also been an incredible performer in the last year, and was up ~160% in 2013 due to excitement over recently presented data. Investors are now bracing for a bigger data release that is likely to come in May or June of 2014 - with more details possible in 2H 2014.
Although ALS (aka Lou Gehrig's Disease) is incurable, Phase I results hint at NSI-566 efficacy. The trial, which was conducted on 15 patients with ALS, started in early 2010 and concluded in 2013. According to PI Eva Feldman in an old Neuralstem press release, 6 of the patients in the study experienced stability, slow progression, or even improved disease course 700 to 850 days after implantation with NSI-566 cells. The remaining 9 saw no noticeable improvements, while 6 patients died of ALS within the first few months after the surgery.
Success in Phase II should remove a lot of doubt about that hint of efficacy seen in Phase I. Shares would probably move higher if the data turned out to be good, although the fact that this is not an efficacy trial limits the upside potential. The small sample size of this trial (n=18) also limits the ability to determine efficacy, although ALS is a (very) rare disease indication that would have a lower bar for entry.
Financial Data of Mentioned Companies
Below is some basic financial data for each of the developmental cell therapy companies mentioned above:
| | | | |
| --- | --- | --- | --- |
| Company | Cash | Quarterly Burn in 2013 | Market Cap |
| Osiris | $1.8 M (+20 from deal) | ~$3 M | $598 M |
| Mesoblast | $315 M | ~$15 M | $1.8 B |
| Athersys | $18 M | ~$6 M | $235 M |
| Neostem | $17 M | ~$7 M | $164 M |
| Neuralstem | $16 M | ~$3 M | $267 M |
Investment Risk
Cell therapies are highly experimental, and only a few therapies have been FDA approved at this point. All of the companies mentioned in this article carry development-related and regulatory risk, and are only suitable for investors that are willing to pursue "high risk high reward" opportunities. Investors are encouraged to perform their own due diligence on a company prior to investment.
Disclosure: I have no positions in any stocks mentioned, and no plans to initiate any positions within the next 72 hours. I wrote this article myself, and it expresses my own opinions. I am not receiving compensation for it (other than from Seeking Alpha). I have no business relationship with any company whose stock is mentioned in this article.