(Editors' Note: This article covers micro-cap stocks. Please be aware of the risks associated with these stocks.)
I was thinking of starting this article out by quoting Jimi Hendrix "Purple Haze", but hesitated, seconding guessing the appropriateness of such a quote. As you can see, in the end I have decided not to use it. Nor will I pull out the old "irrational exuberance" oft used quote. Rather, I'd like to get straight to the point.
Today, the OTC markets were a light today with a group of stocks that have one thing in common. I'm not going to get into the moral or medicinal debate surrounding the underlying issue driving interest in these companies. Let me just point out that on a normal day, these stocks trade a fraction of a percentage of today's transactions. The top five companies by number of trades were: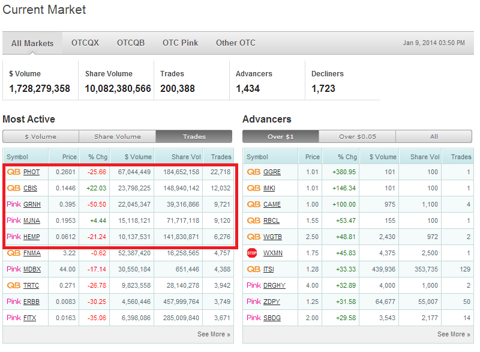 Valuing the Companies - Equity
Each of these companies is traded on the over the counter markets, or OTC. Meaning, there is no one on the floor of an exchange to act as a specialist or market maker. In essence, traders in these stocks are in the wild wild west of the stock market. Below is an overview of information from the companies' last quarter report balance sheets showing their total assets, liabilities and stockholder equity. I have also included the closing price for today (1/9/14), number of shares outstanding (as reported by OTC Markets), and their calculated market cap.
Take a close look at the table, comparing the market cap with assets and shareholder equity.
| | | | | | | | |
| --- | --- | --- | --- | --- | --- | --- | --- |
| Ticker | Price | Market Cap | Shares Outstanding | Cash | Assets | Liabilities | Equity |
| PHOT | 0.26 | $ 185,082,517 | 711,855,833 | $ 237,000 | $ 3,081,000 | $ 2,810,000 | $ 271,000 |
| CBIS | 0.1446 | $ 110,087,437 | 761,323,906 | $ - | $ 586,000 | $ 3,555,000 | $ (2,969,000) |
| MJNA | 0.1953 | $ 185,067,835 | 947,607,961 | $ 2,037,000 | $ 45,319,000 | $ 1,312,000 | $ 44,006,000 |
| GRNH | 0.395 | $ 59,631,461 | 150,965,723 | $ 5,000 | $ 42,000 | $ 154,000 | $ (111,000) |
| HEMP | 0.0612 | $ 100,976,902 | 1,649,949,387 | $ 2,000 | $ 2,640,000 | $ 1,212,000 | $ 1,428,000 |
So, what exactly are you buying for your money? When you purchase shares in a company, you become an owner, and part of the equity listed above becomes yours. In most EVERY case, regardless of the company, investors pay a premium for equity. But what is a reasonable amount? Take a look at this graphic.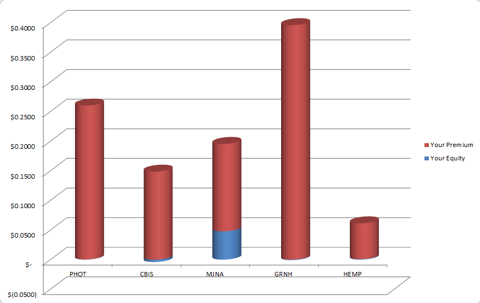 See that little blue area at the bottom? If you buy shares in these companies at these levels, that is your equity. The red is the premium you are paying for that equity. Can't see some of the blue? OK. Lets print out the premiums.
PHOT - 99.8%
CBIS - 102.7%
MJNA - 75.5%
GRNH - 100.2%
HEMP - 98.6%
So, this begs the question; is this reasonable?
Do Your Due Diligence
I'm not going to make a buy/sell call on these companies. (Even though I probably should) But, I am going to implore - nay BEG retail investors to do their due diligence before taking a position in one of these companies. Or, if you have a position, additional research cannot hurt. Please put in the effort.
Go to EDGAR, or OTC Markets, or Yahoo or Google or your broker's research page. Pull up and read the latest quarterly (10Q) or annual (10K) filing. Find out exactly what business your company is in (it might not be what you think). Is there a going concern? Do they have reasonable and responsible financials? These documents are not that hard to read. They're just not very exciting.
Look at your company's financial statements. If instead of buying their stock, if you wrote a check to the company, would it be a material event that would cause them to file an 8K? Are the assets on their balance sheet really cash, and not a lump of illiquid stock that could not reasonable be liquidated because it trades less than 100 shares a day? And, is there sufficient cash to maintain operations, if there are operations?
Where is the money coming from? Does their statement of cash flows indicate that they have sufficient revenue, or are they raising funds by issuing stock. Is there anything significant on the income statement, like sales of any sort? Or, are the losses that have been racking up draining whatever cash is actually left, creating a liquidity crisis.
Summary
Development stage companies have made many people extremely wealthy through hard work, and yes, a bit of luck sometimes. But in reality, retail investors are NEVER the ones that get in on the bottom floor. Companies that have a reasonable expectation of success are heavily sought out by institutions and private equity. Any development stage company that seeks funding from individual retail investors should be looked at extra hard before you commit the first dime.
Temper your expectations, and Caveat Emptor.
Disclosure: I have no positions in any stocks mentioned, and no plans to initiate any positions within the next 72 hours. I wrote this article myself, and it expresses my own opinions. I am not receiving compensation for it (other than from Seeking Alpha). I have no business relationship with any company whose stock is mentioned in this article. This information is not investment advice, nor is it a suggestion to either buy or sell any of these securities. Retail investors should do their own research and fully understand the risks associated with these companies.