McDonald's (NYSE:MCD) seems to be losing its share momentum of the recent past. The share price has been volatile year to date though it has managed to increase 7.3% to $96 adding $6.5 to share value in a year. Consumers have been concerned about the health disadvantages that McDonald's' food brings to the table and therefore the future sustenance of sales is being threatened. For the moment, the company provides a good base for investment.

During its last quarter, McDonald's brought in sales revenue of $7.3 billion reflecting a 2% increase from a year ago net of currency translations. Comparable sales figure increased by a lesser 0.9%. The nearly flat results were a product of declining informal eating market that reduced McDonald's ability to raise prices and put pressure on maintaining a competitive edge to keep its market share.
On a geographic front, Europe raked in nearly $3 billion in revenue becoming the highest area for revenue generation and also showing the highest revenue growth rate (6%) on a yearly basis. This was the result of positive currency translations and positive results driven by expansion into Russia and the UK. The US remained relatively stable whereas the APMEA region experienced a decline owing to poor sales in China and Australia.
The company saw its guest count decrease by 1.4% during the last quarter. Despite these negative events, the company experienced some remarkable milestones. SGA expenses declined by 11% returning to normal levels owing to the completion of the London Olympics last year as well as less incentive based compensation. EPS increased by 6% to $1.52 bringing with it a CAGR of 9.27% over the last 5 years. McDonald's also raised its dividend by 5% to $0.81 during the last quarter payable this year. That translates to a total dividend of $3.24 per share annually. Despite this being a period of not so impressive revenue results, the company has been persistent in delivering dividends and maintaining its value for shareholders.
A New Study Could Change Customers' Perspectives
A recent study could help change consumers' perspective in favor of McDonald's. The company previously received blows that criticized its products for promoting obesity but these could be disputed after this science teacher lost 37 pounds relying solely on the company's food. John Cisna's study relied on a set limit of 2000 calories per day. In a way, he was able to prove that it is the quantity that customers consume that matters rather than the product itself. The recent news may help the company receive an incremental increase in the number of customer visits especially since it has already begun bringing healthier breakfast items to its menu.
Fast Food Market is Growing Despite Health Concerns
There is a positive correlation between consumer confidence and restaurant traffic. The Restaurant Performance Index that tracks the industry's health and outlook is going up after a drop in late 2013. The market is growing faster than the greater restaurant industry. This growth is largely driven by the rising younger population and an increase in the disposable income of the middle class. Some of the advantageous qualities of fast food restaurants such as quick service and low costs are what make them highly popular in today's fast-paced life.
For this reason, McDonald's has been opening new restaurants. As part of a $3 billion capital expenditure planned last year the company allocated nearly 50% of its capital expenditure towards the opening of new restaurants. During its last quarter, McDonald's increased its total number of restaurants to 34,923 adding more than 900 restaurants from 3Q12.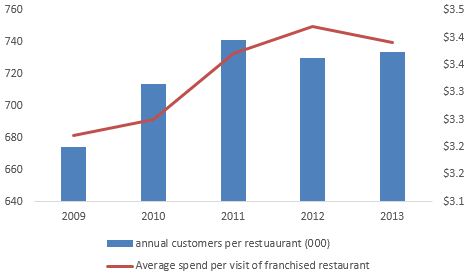 McDonald's has seen its annual number of customers increase in the past 5 years (see graph above) at a modest CAGR of 2.1%. Although the rate has been below the industry's level of 2.5% growth from 2008-2013, the company has been efficient in delivering more returns per dollar of investment. The company has experienced net income growth averaging 6.3% over the last 3 years compared to the 1% growth of the industry.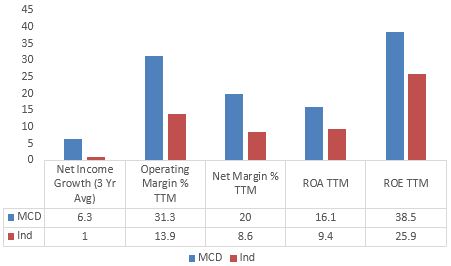 The operating margin has grown by more than double the industry's 14%. Also, McDonald's net margin was 20% during the last 12 months. The company has offered investors a return on equity of 38.5%, which is 12.6% more than that of the industry.
The average spend per visit of a franchised restaurant has also risen to $3.39 to date. These factors combined seem to eliminate or at least reduce concerns about the bad publicity the company has been receiving over the past years regarding health issues.
In fact, restoring brand image is one of the most important tasks the company has to tackle. McDonald's recently announced that it will source "sustainable beef" from 2016 onwards. I believe this move along with the report that declares that the company's products are not the sole cause of obesity could set the pace for the company's brand improvement.
Also, the company's decision towards selling coffee in superstores in an attempt to raise awareness of its products is likely to bring in more coffee enthusiasts. The on-the-go coffee could become a small but stable part of the company's revenue.
Conclusion
The APMEA region offers tremendous potential for the company. Even though it has experienced declining sales its future is still bright because developing economies provide a greater growth in returns. The company is also attempting to revamp its image as a healthy and friendly food provider proving it is difficult to beat this long established fast food provider. Based on all of the factors discussed above and taking into account the stable prospects of the company, I recommend buying stocks in McDonald's.
Disclosure: I have no positions in any stocks mentioned, and no plans to initiate any positions within the next 72 hours. I wrote this article myself, and it expresses my own opinions. I am not receiving compensation for it (other than from Seeking Alpha). I have no business relationship with any company whose stock is mentioned in this article.