The purpose of this article is to highlight NexPoint Credit Strategies Fund (NHF), a closed-end fund that could offer an investor's portfolio solid monthly income, diversification, and significant upside potential. Highlighted on Morningstar's website, NHF seeks current income with capital appreciation through investment in floating and fixed rate loans, bonds, debt obligations, mortgage backed and asset backed securities, collateralized debt obligations and equities. Morningstar was the main source for all data points and charts in this article.
Quote Snapshot
Market Cap: $619.7mil
Distribution Rate: 6.19%
Total Leverage Ratio: 24.09%
52 Week Range: $6.72 - 9.95
Premium/Discount: -17.45%
Current Market Price: $9.78
NAV: $11.75
Here's Why I'm Buying More NHF:
Strategic Portfolio Play for High Yield Portfolios - For people who own closed end funds like AllianzGI Convertible & Income II Fund (NYSE:NCZ) or AllianzGI Convertible & Income Fund (NYSE:NCV), the yield is great, but seeking high yield is only one type of investment strategy that may limit significant capital appreciation. On the flip side, seeking significant price appreciation wouldn't be such a bad idea these days, and NHF offers every investor entry at a perfect price point during a time where the fund is headed in the right direction; NHF would be a great portfolio growth play for any high yield income portfolio.
Discount to NAV will Converge - The most attractive closed end fund characteristic that I found in NHF was the NAV price versus the current trading price. Based on the NHF's performance, the NAV is actually appreciating/increasing at a higher rate than the current market price. Effectively increasing/widening the discount to NAV at that same rate. Reviewing NHF's returns, it appears that NHF has been posting solid results year on year (apart from 2008), and returning impressive results compared to its peer group (review peer group charts below). The three year discount to NAV is around -9%, the last six month discount is -14.41%, and the last discount to NAV stands at -17.45%, which to an investor like myself, just means the price has dropped temporarily to an unrepresentative level due to the unaccounted appreciation in NAV by the average investor, asset management firm, and other serious investors. The only way I can explain this fund's discount is the fact that it might not be well covered or marketed to the general investing community and some of the reasons why this is the case is that the NAV price appreciation is happening at a very high rate (faster than investors realize). Theoretically speaking, all you need is a couple of investment managers to spot this buying opportunity to close the gap between the NAV and current trading price.
More on Discount to NAV - Before an investor solely relies on the discount as a great buying opportunity, there are a few details to consider regarding if the discount to NAV will actually converge to zero, which is what an investor actually wants out of a closed-end fund. First, will a fund like NHF actually appreciate in price to trade at a zero discount? Second, will a moderately capitalized fund like NHF attract enough investors or market sentiment to appreciate in price? The answers to those two questions will lie solely on macro-economic developments in 2014 (and the impact they may have on NHF's investment assets), which are currently unknown or overly focused on the potential impacts of rising interest rates (which have not yet actually risen, even on Fed Tapering).
Distribution Composition - NHF's dividend distributions are solely made up of Fund Income, which follow the objective the fund markets to investors. When it comes to distributions, the first thing an investor should always scrutinize is the composition of the dividends to determine how sustainable certain investments may or can be for a long-term income portfolio. For funds like NHF, any Return of Capital (ROC) would bucket NHF into the "do not invest" bucket, since funds like NHF are not supposed to be distributing the funds they are supposed to be using to grow and distribute income distributions with. There are some funds that are solely ROC funds, however, NHF and other funds with similar strategies are not to be mistaken for those types of funds (a good example of an ROC distributing fund is ETV, where the ROC distributions are explained).
Diversified Asset Allocation - For most investors, diversifying portfolios has been one of the largest concerns going into 2014 since economic uncertainty has become the core concern across all markets. NHF's holdings are what I would describe as relatively diversified. NHF's Portfolio is made up of Common Stocks 50.2%, U.S. Senior Loans 32.5%, Asset Backed Securities 27%, ETFs 10.3%, Securities Sold Short (5.8)%, Preferred Stocks 7.5%, Foreign Corporate Bonds & Notes 7.1%, Domestic Corporate Bonds & Notes 16.5%, and Other securities. I'd also like to note that the ETFs in the fund are largely made up of commodity ETFs, which give the fund an additional level of diversification. Overall, fairly satisfied with the way NHF is allocated.
Potential to Increase Leverage If Opportune - The current fund leverage stands at about 24%. Like many other closed end funds, the leverage ceiling could climb much higher if determined optimal for the fund. (Now, pair high growth with more leverage and you'll have more price appreciation, and imagine the possibilities.) However, based on the chart below, NHF is categorized as a "conservative allocation" investment option when investing in this fund peer group, so the probability of increased leverage is highly unlikely for NHF. The current leverage levels seem to be fairly optimal for NHF and a slight increase would just make the NAV and trading price drift higher.
Distribution Frequency - Monthly Distributions are normally one of my filtering criteria when conducting investment research for my personal portfolio. Mentioned in some of my other articles, the monthly payouts are extremely advantageous for dividend reinvestments, which would account for up to 2% more yield per year. I talk about that more in one of my fairly popular articles on NCZ, titled: "Crank Up Your Portfolio s Yield with this Rock Star Fund". Please read it for more monthly distribution perspective. In NHF's case, the 6.19% isn't going to drive an extra 2% per year in returns, but at least an investor is getting a moderate and consistent payout every month.
Four Star Morningstar Rating - The average Seeking Alpha investor generally does not assign Morningstar's rating system that much value when it comes to investment ratings, but when you do see a four or five star rated closed end fund and compare the funds you currently have in your portfolio (that may have lower or no ratings), wouldn't it be interesting to look into why that specific fund is rated four or five stars? I've always treated Morningstar ratings as additional information to give me perspective on what other investors, or rating agencies, think of that given closed end fund. I actually find the Morningstar rating system fairly credible and will definitely use it to influence my investment decisions. The fact that NHF is a four star rating just convinces me further that this fund is a buy.
Morning Star Risk Statistics Are Very Good - In addition to four stars overall, Morningstar rates 3yr and 5yr returns as "Above Average" and Risk as "Below Average," which is a good indicator considering this closed end fund's NAV is increasing consistently (notably leaving the trading price behind, mentioned earlier).
The Alternatives Are Somewhat Appealing - Based on the Return Data Chart below, there are several different investment options including various Conservative, Moderate, and Aggressive Allocations. Considering some direct alternatives, JH Premium Dividend Fund (NYSE:PDT) and Franklin Universal Trust Fund (NYSE:FT) look attractive in the Conservative Allocation peer group. In the Moderate Allocation group, First Opportunity Fund Inc. Fund (FOFI) and JH Tax-Advantaged Dividend Inc. Fund ([[HTD) look like attractive picks. Finally, in the Aggressive Allocation group, Clough Global Allocation Fund (NYSEMKT:GLV) and Clough Global Opportunities Fund (NYSEMKT:GLO) could be good choices. It would be smart to consider all the funds listed in the tables below.
Here's Why NHF Never Came Up in My Investment Research:
Low Distribution Rate - Generally, funds with distribution rates below 8% almost never attract my attention and the reason for that is simple: my mathematical and statistical models are calibrated to gage highly yielding closed end funds with slight price appreciations, and not growth plus income closed end fund combinations.
Expense Ratio - The expense ratio is a staggering 3.14%, which at first glance is extremely high. But after adjusting for Interest Expenses (see fee and expense chart below), the Total Expense Ratio Adjusted comes out to 2.21%, which is still high. However, in this unique case I believe the price appreciation will more than compensate me for the fund management expenses.
Betalyst View: I first learned about NHF through another Seeking Alpha contributor in the form of a comment on one of my last articles that covered Nuveen Real Asset & Growth Fund "JRI" (you can read it here). After the other contributor mentioned the fund name , I flipped through every buy indicator I usually look for in a closed end fund on Morningstar, and I immediately thought "this fund is going to surge this year". After flipping through NHF's most recent semi-annual report, I only found two main things I didn't like about NHF: 1) the 2008 meltdown performance that drastically took down the market price drastically (due to the holdings of course; CDOs, ABSs, other) and 2) the distribution rate, which is a bit lower than what I would normally prefer in my portfolio(s). However, the upside potential with NHF is a bit obvious to me and it's just a matter of time before the investing community spots the golden opportunity to post double digit returns on this position for the reasons listed above in 2014. If anyone can see any other red flags with this fund that I have not covered, would be very interested to discuss it further.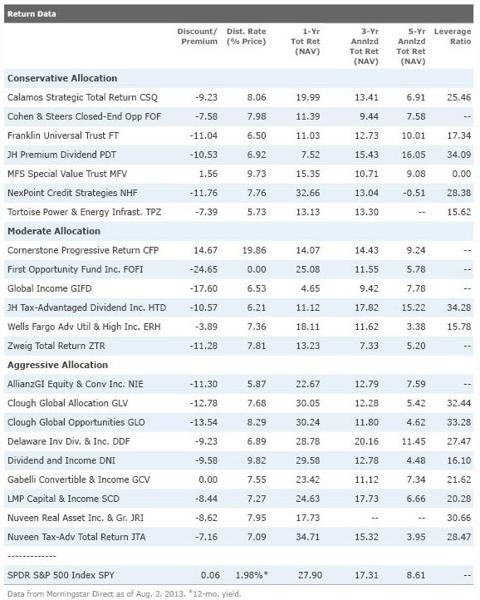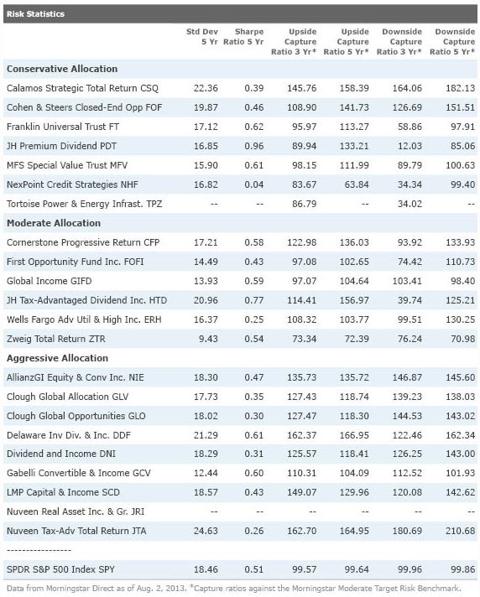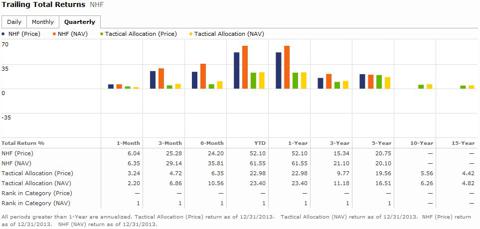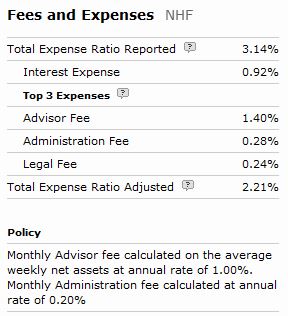 Disclosure: I am long NCZ, NCV, JRI, NHF, . I wrote this article myself, and it expresses my own opinions. I am not receiving compensation for it (other than from Seeking Alpha). I have no business relationship with any company whose stock is mentioned in this article.